New Mobility. Experience the Future of Mobility
What is New Mobility? Liveable cities instead of climate catastrophe. Connectivity and flexible sharing models instead of congested roads.

An entire branch is working on the smart mobility turnaround, improving our lives and our cities with innovative mobility concepts.
Experience the future of mobility from September 7 to 12, 2021 in Munich:
IAA MOBILITY Summit: 6 days full of world premieres and industry innovations.
IAA MOBILITY Open Space: unique vehicles and technologies from well-known brands and exhibitors at Munich's most beautiful locations
IAA MOBILITY Conference: one of the world's largest platforms for dialog on mobility topics
IAA MOBILITY Blue Lane: future and sustainable mobility solutions on the test track through Munich
More info
Sharing concepts relieve the environment and traffic. According to studies, one carsharing vehicle replaces up to 20 private cars. Since carsharing fleets are usually more energy-efficient and lower in CO2 emissions than the average vehicle fleet, carsharing is one of the building blocks for sustainable mobility in the city.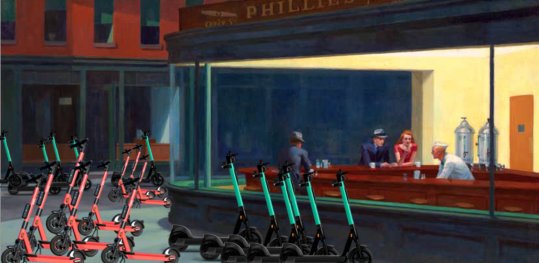 Thousands of new rental bikes and e-scooters in the cities are not enough to combat traffic jams. This is evidenced by sidewalks cluttered with scooters and the sometimes creative, but often dangerous and polluting misuse of rental bikes. Clear regulations and far-sighted planning are needed. Berlin, for example, has not only agreed with e-scooter providers on voluntary commitments to prohibit parking at frequented locations in the city, but has also set up fixed parking zones especially for e-scooters.
In Paris, where it is estimated that more than 15,000 e-scooters are on the road, the vehicles have also been banned from the footpaths. There are now parking zones for thousands of scooters there.
Image credit: Twitter@johanwicklen
Mobility chains instead of blinkers. A coexistence of bicycles, cars and public transport instead of elbows out - that is Seamless Mobility. Smart digital solutions make it possible to better manage existing capacities and thus guarantee a smooth flow of traffic. Thanks to data analysis, public and commercial transport providers can build infrastructure precisely where it is needed. One example is the Skyway in Xiamen. On the world's longest elevated bike path, bike and public transport merge into a flexible whole.
More about the Skyway in Xiamen
Sport and exercise increase the quality of life. In lighthouse projects around the world, urban planners have succeeded in merging sports venues, urban life and unique nature. We present them to you.
The boom in bikes and e-scooters is reinforcing a trend that has been flourishing in cities for years anyway: Urban Outdoor. Outdoor clothing and equipment have long since become ubiquitous in the cityscape. The mix of functionality, style and comfort is perfect for combining fast-paced urbanity and the need for balance through movement.
Whether it's windbreakers, fleece jackets or waterproof shoes for the bike commute to the office, more and more outfits are now as much at home in the city centre as they are on the mountain. Changing shoes? No need for them anymore!