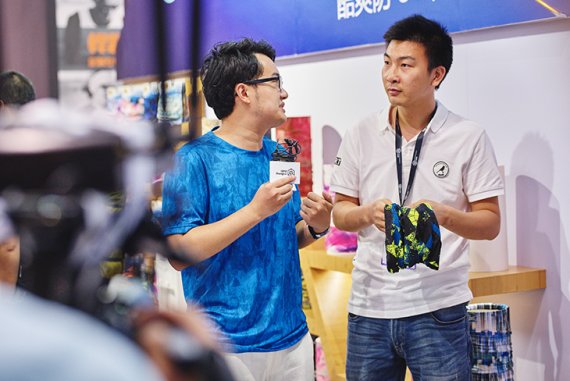 China's government has ambitious plans: The market volume in the sports segment is to rise from EUR 265 billion in 2017 to EUR 405 billion in 2020. 500 million Chinese are to actively pursue sports in their free time by 2025. While markets may be stagnating in Europe and the USA, China is steadily developing into the most important market of the future.
With ISPO Beijing, Messe München made its first step onto the Chinese market back in 2005. Following the big success of the multi-segment sports trade fair for winter sports ISPO Shanghai has also established itself as the multi-segment sports trade fair for summer sports since 2015.
In 2018, the Shanghai New International Expo Center hosted 526 companies during the fair. ISPO Shanghai attracted around 14,500 visitors.
ISPO Shanghai focuses on summer sports and the most important sporting trends in the most populous country in the world with 1.4 billion citizens. Trail running, water sports such as stand-up paddling or kayaking, outdoor activities such as hiking and camping, women and children as an increasingly important target group are only a fraction of the spectrum exhibited at ISPO Shanghai.
In addition to the numerous potential business contacts, ISPO Shanghai offers the latest Asian-Pacific market studies, which are held in forums such as the Asia-Pacific Region Trail Running Summit, the China Kids Sports Industry Development Forum, the Watersports Industry Forum and the Sports Fashion Trend Forum.
Being an exhibitor at ISPO Shanghai also means having the possibility to have your products tested on site. One day before the start of the three-day fair, ISPO Shanghai is organizing the ISPO Demo Day at the gates of Shanghai. Here the ISPO community has the chance to put some of the exhibited products to the acid test.
A special feature of the Chinese market is undoubtedly the digital affinity of consumers. Approximately 900 million people regularly use their smartphones or tablets for online shopping thereby making e-commerce an essential topic at ISPO Shanghai. For this reason, cooperation with China's largest B2C online retailer has been constantly developed. As an exhibitor, make your business ready for China by utilizing the digital expertise of ISPO Shanghai.
Become part of the ISPO community! ISPO Shanghai 2019 will take place from 5 to 7 July at the Shanghai New International Expo Center
"We decided to come to ISPO Shanghai to expand our presence in the Chinese market. There is a huge potential in the youth and the government is supporting this development as well. We want to be part of this development and one of the first ski brands in China. Together with ISPO we want to explore and develop this market."
Tomas Tauchman, General Manager, Alpine Pro
"We are in the Chinese market for nine years. China is one of our key markets by now. ISPO Shanghai is very important for us to meet our contacts. This is essential for business success in China. We shared this experience at this year's ISPO Market Introduction Program. These kind of platforms are important in terms of exchange knowledge, create new ideas and to grow globally as a brand."
Alex Koska, Managing Director, Fjällräven
"It's our second time at ISPO Shanghai. As we found good contacts here last time, we've decided to come back. The networking opportunities are great and we're looking forward to the next trade show in 2018."
Wayne Howarth, Brand Manager, Gola Sport
"We are at ISPO Shanghai for the first time. Our aim is to find distributors we can work with. The Chinese market is growing enormously. People are living a healthier lifestyle and they want to buy good and high quality sport products and equipment. ISPO Shanghai is a good platform to show our products and hopefully entering the market."
Vojtech Burianek, CEO, Haven
"For us, ISPO Shanghai is the biggest, most high-end sports exhibition in China, which is very desirable. There are many brands presenting. We will also exhibit at ISPO BEIJING, so it is obvious that we are having a close cooperation. We met many contacts at the exhibition."
Max Liang, Sales Manager, KIZER
"We can see a big improvement compared to the trade show last year. The new hall structure with its three theme words work very well. In addition, we can see a huge potential for some focus areas like Wearable Technology here at ISPO Shanghai 2017."
Soo-hoon Chae, General Director, Korea Outdoor & Sports Industry Association
"Given that we are already in the Shanghai market, it will be a beneficial time for us along with ISPO Shanghai. Moreover, ISPO Shanghai has been quite good for us, because we've connected with a number of potential clients for us. We are very satisfied with ISPO Shanghai."
Ron F. Tong, CEO Asia, LORNA JANE
"LP has supported ISPO Shanghai since its first opening. The visitor quality and number has both grown a lot this year. There are a lot of department store groups and VIP groups at the exhibition. I believe that LP will have a closer cooperation with ISPO in the future to create more business opportunities."
Jenny Shih, Asia-Pacific Marketing Director, LP
"We have met a lot of new clients as well as old friends at ISPO Shanghai this year, by which we could reach the desired goal. We are looking forward to cooperating much further with ISPO in the future."
Zichao Ni, Sales Director, Rich Loafer (Marmot)