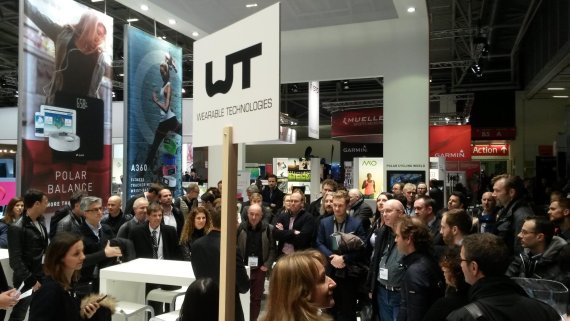 Skis that conserve energy, pulse monitors in wristbands and smart helmets – all these products may sound futuristic, but have finally become today's reality. Wearables have succeeded in penetrating the sports industry. Technology helps athletes in a variety of ways: by helping them achieve a higher performance, through data-based training records and of course by protecting them from risk. Participants in the 2016 Wearable Technologies Conference at the Munich trade fair discuss upcoming developments.

Graphene technology: from tennis to skiing

In order to reconcile tomorrow's theory with today's practice, Christian Stammel, CEO of Wearable Technologies, invited conference participants to tour ISPO MUNICH. Interest was incredibly high, with several hundreds of visitors taking up this offer and streaming through the trade fair's halls. At the Head booth, they saw a technology that had successfully made its way from tennis rackets to skis. The use of graphene, and incredibly strong but lightweight material, energy resulting from quick movements can be better taken advantage of. In tennis, this makes your stroke more powerful; for skiing, this lets you take curves better at higher speeds.

Wearables in the form of fitness wristbands and smart helmets

At their next stop, visitors familiarized themselves with Polar's A360 fitness wristband. It's another step towards incorporating professional sporting into everyday lifestyles. It's the first Polar device to measure your pulse directly through the wristband instead of using a chest strap. And the latest smart helmets from POC were also on the agenda of this technological tour. These helmets not only provide protection, but also have features like headphones and a microphone integrated into them as well. The options for using wearables seem inexhaustible and we are surely only just at the beginning. The visionaries at the Wearable Technologies Conference will see to that.