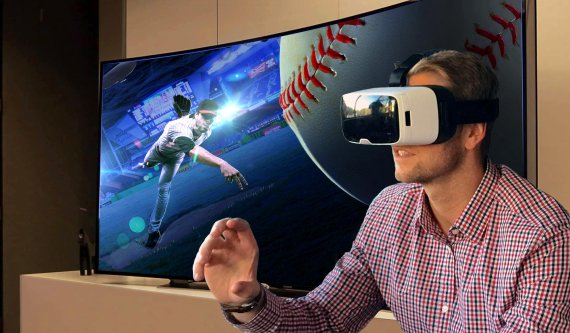 It will become the future of attending sports games – but instead of a flat screen TV you are now in two places at once. NBA is one of the pioneering figures in this field. They have already experimented with streaming a few games for Virtual Reality viewers.
Oculus VR, part of Facebook Inc., are bringing a new evolution of content to their users. This includes immersive and real-time social connections between people that are located in separate places. The Oculus Rift can be used not only for fans but for players and coaches. This takes training to the next level. It is the beginning of Enders Games, but instead of fighting in space, we are fighting on the field. A 360° camera is set up during games or practice, which can allow viewers to see the entire field on a play-by-play basis. Oculus was originally used by Dutch soccer teams and has grown since they entered the market. Of course, you can also play sports video games on Oculus, if you like that more.

HTC Vive is right behind, if not equal to, Oculus Rift, when it comes to improved sports enhancement. They also use a 360° camera in an all-inclusive Virtual Reality headset (headphones, hand controllers, etc.). Of course these headsets are not limited to watching sports, yet they do offer it as a fun add on.
NextVR is a second screen Virtual Reality headset that has collaborated with the NBA. For those that have never heard of a second screen, it essentially makes your smart phone into a Virtual Reality screen. To use NextVR you have to download the NextVR App to your smart phone, place it in the phone slot on their headset, connect to WiFi and stream content. You can simply download the App from the Oculus store.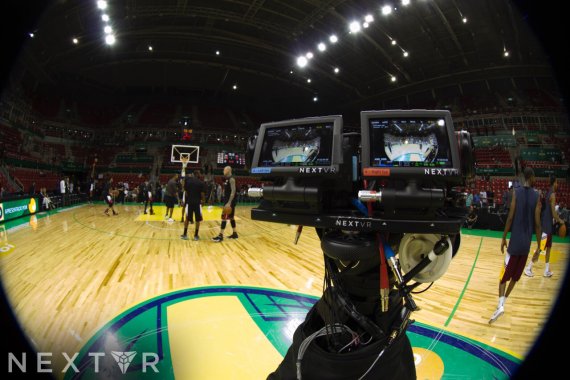 Brad Allen, the Executive Chairman of NextVR, states: "For the first time, fans have the ability to watch real time, live-action content where the viewer becomes a participant not just a passenger. Ultimately, you and me as fans will have the ability to switch camera positions, opt in or out for produced feed with graphics, have either home or away team announcers, and be there, in pit row, courtside, behind the goal, on the bench – lots of places you normally can't go."
As you can tell, the biggest team fans are willing to test this immersive experience out. The idea of going to see a game, without having to leave the comfort of your home is the picture of the future. NBA isn't the only sports company playing with this trend. NextVR has also teamed up with FOX sports and International Champions Cups.
Samsung Gear VR, powered by Oculus, is also expanding into a more immersive sports Virtual Reality experience. The cool thing about Samsung Gear is that it works with other Samsung Gear like the 360 camera, watch and smartphone. Beyond sports the viewer can also stream movies, Virtual Reality series, games, even Facebook, Netflix and Hulu. The Samsung Gear 360 is expected to release later in the year, even so it is the prime camera for shooting your teams performance. The camera has a wide angle so it can capture more activity than before. It is also very durable; therefore, if you accidentally kick it instead of the soccer ball you won't break the camera.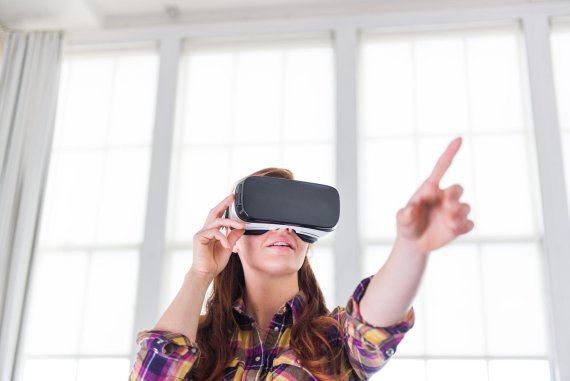 The Buccaneers have signed on with EON Sports VR to stream their games to their biggest fans. They feature Football and Baseball. This includes Live Action 360° of the sports team, to individual training sessions with your favourite players. Each lesson costs $39.99, but if you already own a Virtual Reality Headset, adding EON Sports to your smartphone is one easy step. EON is changing the competition among professional coaches too. Experience how your favourite coach trains their team.
With five companies featured, it seems like there is an open market for Virtual Reality companies to jump on the live sports emerging applications. However, they might feel intimidated by the market force of Facebook and Oculus. Even so, it will be a funny sight to see when you walk into a friends house to watch the game and they are wearing a VR headset yelling at their players. I can hear them yelling into the air now, "D-Fence!" Then you'll place your headset on and jump from the couch into a virtual seat next to them in the stands of the game. Catch you on the other side of the headset – in the virtual world.
Christian Stammel is CEO at WT | Wearable Technologies, a leading innovation and business development platform for wearables, and updating ISPO.com readers about latest trends on digitalization, wearable tech and IoT in sports, fitness and well-being. More information about WT at www.wearable-technologies.comhttp://www.wearable-technologies.com