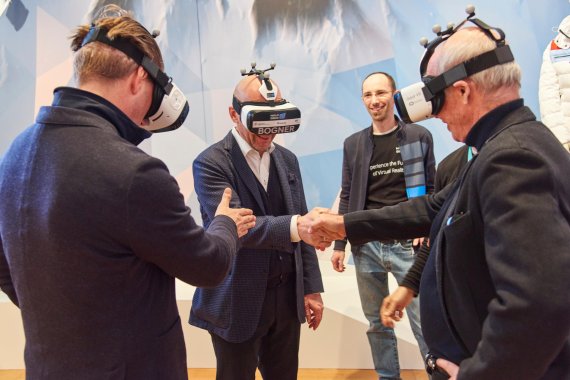 VR stands for virtual reality and what the visitors to the Bogner stand are offered in this area is already mind-boggling in itself. In short, the technology developed by Fraunhofer IIS, the ISPO AWARD Gold winner, functions as follows: The Holodeck VR is a system of real-time trackers. It offers sensor fusion and calibration functions that can be combined with virtual reality goggles and virtual content. Up to three people can take part in this experience at the same time.
Virtual fear of heights at the Bogner stand
Hardly have you put on the rather overlarge ski goggles before you find yourself right in the middle of the mountains – in a virtual sense. Weather: 1a. Panorama: even better. If only you didn't have to walk along this narrow path and at its end a heap of Bogner photos from previous decades flashing around in front of your eyes.

It's a major challenge for people who have a fear of heights. The young man who allows himself to be led along the imaginary path by one of the Bogner assistants squeals: "Oh my God, that's scary." Bogner CEO Alexander Wirth says: "We have made the path a little wider – otherwise many people would probably not even walk over it."
Read about it here: This is the Holodeck VR system:
Some rip the goggles right off in the middle of the path, totally disconcerted, and there are those who actually just refuse to do it: "I can't do that," says one lady with a furrowed brow and a guilty look.

Everything is just a bit of fun as absolutely nothing can happen, it's more a case of the brain cheating a little. Anyone who crosses the "no step" boundary only leaves the transmission range of the system and does not fall into the abyss.
Dittrich: An unbelievable technology."
Trade Fair Boss Klaus Dittrich also does not fall, but instead treks very confidently along the narrow path. However, he has had some practice at it as he already knows the holodeck from a presentation in Nuremberg – and from several similar providers at ISPO MUNICH: "I have already been on the north face of the Eiger this morning, " says Dittrich and adds with a shake of his head: "An unbelievable technology."