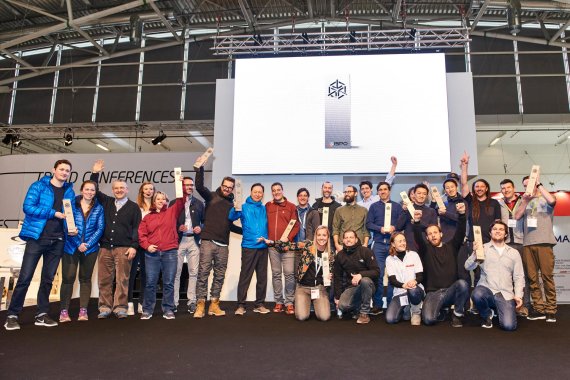 Many a mountain climber who's already lived through a couple of decades of tours could cringe to remember: apparel and equipment on the mountain was, above all, heavy and cumbersome. And in wet conditions, which were often unavoidable, they were even heavier and more cumbersome.
Outdoor products for top and recreational athletes
Today's generation of outdoor products has nothing in common with that anymore. From hobby hikers all the way to high-end athletes, comfort and low weight play a crucial role – and the products should naturally look good doing it, too
The mountain shoe Ribelle Tech by Scarpa gets to the heart of these properties: highest comfort, low weight, and steady durability. "These boots combine lightness, fit, durability, and sophisticated construction and functional properties. The perfect all-year mountain boots," says Piotr Turkot, mountain sports expert in the ISPO AWARD jury.
Outdoor classics from Europe like Berghaus and Salewa were distinguished as GOLD WINNERs in the clothing segment – but also newcomers from Asia like, two times even, Blackyak. Consistent further developments of existing products were achieved by Katadyn with the BeFree Water Filtration System (Accessories category) and Wild Country with the Revo (Equipment).
These are the ISPO Award-distinguished products in the Outdoor category!
Katadyn has developed an uncannily simple and compact water filtration system – thereby solving a fundamental problem for many outdoor fans who value low pack size and impeccable functionality: clean drinking water away from civilization and without using a water boiler.
Better belaying when climbing
Wild Country has seen to a topic that, with the distinct development of climbing sports all the way up to urban fitness, is proving to be more and more critical: safe and correct belaying. The Revo eliminates one huge risk factor: incorrectly winding the rope in the safety equipment. This could be a major contribution to safer climbing, for both beginners and advanced athletes.
You can find all of the winners of the ISPO Award 2017 here!