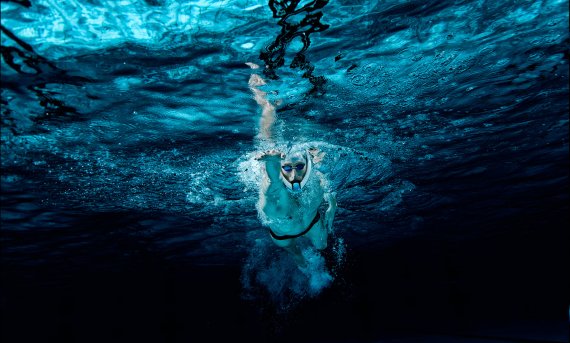 The AMEO PowerBreather offers great benefits when optimizing swimming techniques or training using the "endurance method" which is especially popular in triathlon. With this innovative snorkel the athlete is able to fully concentrate on the their correct motion sequence and posture. It's not only competition swimmers who benefit from this unique piece of sports equipment during training; it also helps beginners by providing a great safe feeling when breathing underwater and enables the swimmer to learn the correct technique from the start.
Approved by Olympic champions
The first swimmers and triathletes that were able to test the AMEO PowerBreather were the open water swimmer and Olympic silver medal winner 2012, Thomas Lurz, and Olympic triathlon champion from Peking 2008, Jan Frodeno. "The PowerBreather is an innovative and new training device in order to perform long, nonstop training sessions in the water using the endurance method", explains Jan Frodeno, who came third in the 2014 Ironman Hawaii.
Equipping professional triathletes
Already in 2012 the PowerBreather was given ISPO BRAND NEW AWARD. Since March 2015 the Munich company has been supporting the DTU, the German triathlon association, and equips the team of professional triathletes, including Anne Haug and Gregor Buchholz, with the PowerBreather on their way to the Olympic Games in Rio in 2016.
Facts:
Twist Lock System: Comfortable adjusting to individual head sizes
Speed Valve: For a quick reaction time of the valve and unresistant breathing in
AMEO Fresh Air System: Innovative 2-way separate system ensures continuous breathing in of fresh air through the always open D-tubes
Easy Fit Air Junction: Quick and simple to put on with maximum fitting accuracy
D-Tube: D-shaped profile for comfortable, secure hold with simultaneous optimum airflow (inside) and flow resistance (outside)
Comfort Bridge: Guarantees the comfortable feeling of the mouthpiece
Price: EUR 119

Links:
PowerBreather Website
http://www.powerbreather.com

PowerBreather auf Facebook
https://www.facebook.com/AMEO-Powerbreather-434867773327697/