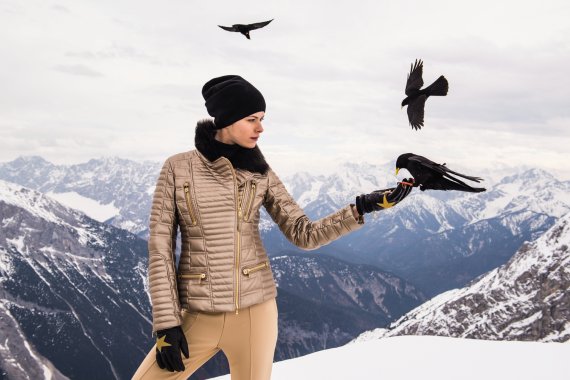 What place do biker jackets, denim overalls, or loden pants have on the ski piste? None? Far from it. Thanks to new fabric technologies, designers are managing to more and more convincingly transfer looks from the street onto the piste. Imagination no longer has any limits.
The athleisure trend has long since come out on top in the summer; now winter fashion is focusing fully on the all-round style: The ski jacket isn't just for the descent anymore, but also a fashionable accessory for the aprés-ski party or dinner after a day in the snow. These seven trends are coming out on top in winter 2016/2017.
1. Athleisure trend also in winter sports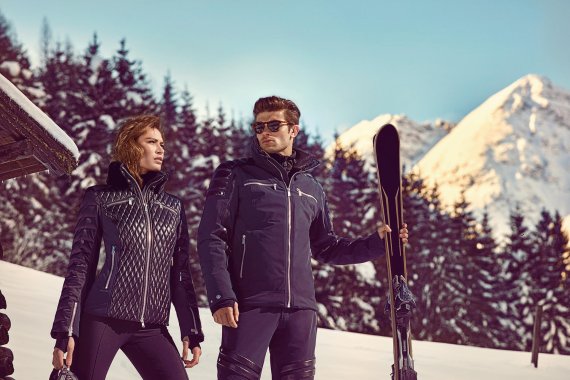 The time of only either-or are over. Skier or snowboarder? Athlete or fashionista? Work or leisure? These kind of distinctions no longer play a role. The transition between worlds, from deep snow into the big city, from bike to bar, from job to jogging is becoming more and more seamless, and nobody needs to choose between function and design anymore.

The designs adapt to needs and are becoming more and more heavily aligned towards multifunctionality. For one, this versatility is achieved through an intelligent layering setup of the outfit, where all parts go together and can be worn on top of one another. For another, multifunctionality is achieved, where ski apparel is more and more heavily oriented towards streetwear and captures its trends in colors, fabrics, and fits.

Athleisure: Off to work in sports clothes – A trend that became a lifestyle.
2. Winter sports fashion: The optical deception 
Fabric designers have really endeavored to develop lots of new fabrics that satisfy all fashionable and functional demands. What just a few years ago was considered unthinkable is now naturally finding its way into the world of sports. For example, structured fabric surfaces like linen, jacquards, twills, denims, quilts, etc.

Either they deceptively appear to be a genuine all-over print on functional weaves, or the fabrics were actually laminated and thus equipped to be highly functional. Fade-out effects, washes, and even worn fabrics, as is typical for denim, are emerging in ski collections and making for some real head-turners. For example, denim overalls!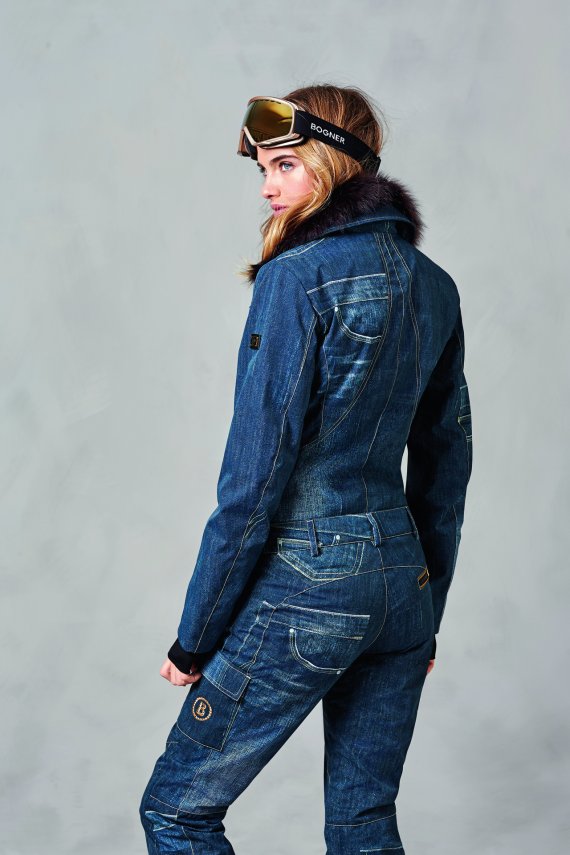 Even hide and leather looks are easily printed on the fabric and seem uncannily real. Thus, even the biker jacket – even with hydrophobic genuine leather insets – is finding its way onto the piste this winter.
3. Natural materials and high-tech fabrics
Everything needs to be athletic and highly functional, but it doesn't necessarily have to look that way. To the contrary: More and more natural materials are celebrating their comeback in sports, and don't look remotely technical doing it. Merino wool is leading the way.

It has long since become a standard in the base layer and mid layer fields, and now it's being used more and more in the field of padding and top fabrics. Knitwear as well – already a major topic in fashion – is now re-emerging in sports collections and being combined with high-performance technology that transports moisture and is fast-drying.

True high-tech fabrics with accentuated natural charisma are the new loden which, thanks to technical equipment, are now trusting themselves back onto the piste and causing a sensation, sometimes as an accent and sometimes as an entire ski outfit!

4. The trend colors for the ski piste

After years of bright colors, the color palette is calming back down. Dark, urban colors like black, brown, gray, and military green are dominating collections. Camouflage variants are playing an important role for patterns.

But there are still contrasts, for example black with white or accents in orange and Bordeaux red. Those who find that far too nondescript could get help from the new trend color of gold. The metallic luster is gladly used for zippers, and there will also be shoes in gold.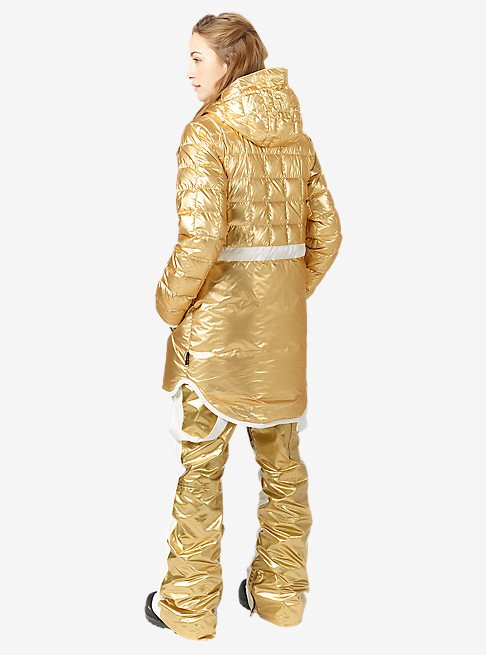 For the extra brave, golden-colored jackets and pants will even be on offer. But be cautioned, this is only something for true artists on the piste! 
5. Down: A classic reinterpreted
The down jacket is also far from completing its service this winter. Designers are thinking up more and more new stitching and chamber shapes. Just no classic horizontal stripes, reads the motto.

Instead, they're playing asymmetries, with rhombuses, diagonal and transverse stripes, ruffles, and plaid. They're often implemented in such a technical manner that the fillings in the chambers don't shift and no cold gaps appear at the seams.
Read here: Why are winter jackets already hanging in stores in the summer? The industry is planning incorrectly.
6. Technical innovations in the winter outfit
Snow wear has played in the fourth league for technical innovations since year one. Comfort and function have been part of the standards for years, and the air at the top gets ever thinner.

Fabrics are getting lighter and lighter, more and more breathable, and more and more weatherproof. 4-way stretches, stretchy paddings, and laminates enable maximum room to move and make the tight, fashionable cuts possible on the piste for the first time ever. Even tight jet pants can now be warmly lined, for example with thin, intelligent foam materials that rest between the top material and the liner and actively regulate climate.

Downs are being replaced in functional clothing by better and better synthetic fibers that can be washed with no issue and stay warm when wet.

7. Winter fashion: Transparency is on the rise
Sustainability is a real concern for many brands. The use of recycled fabrics, for example made from PET bottles or old fishnets, proves that. The proportion of recycled materials is growing steadily with the performance of these materials.

The production of down has sparked more and more public protest in recent years. That is why many brands have found suppliers who do without live feather plucking and reveal their supply chain. At the same time, the commitment to more environmentally friendly equipment is getting more and more interest, e.g. by doing away with PFC.
Many brands aim to have found an alternative to hydrophobic, but environmentally harmful chemicals by 2020, and until then are reducing their use to a minimum. 
Read here: Stylish through the summer? The industry has already determined the summer trends for 2018.