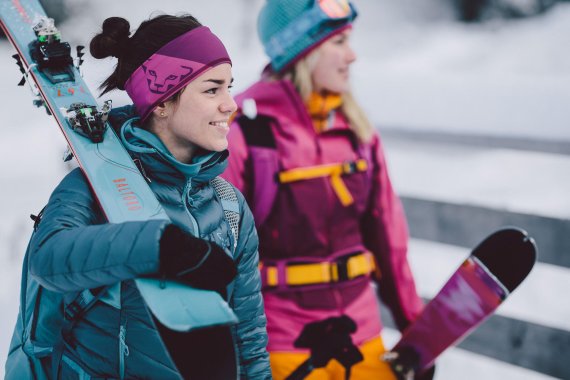 It was the authorized officer who got the issue of women's backpacks rolling at Deuter: in 2005 he asked himself if women-specific backpacks could also be a topic. Ultimately, ski models specially for women had been around for a number of years. "Then we just gave it a try," says Angela Vögele, media spokesperson for Deuter Sport GmbH, "and everyone tried on our smallest backpacks, the S models."
The aha effect wasn't long in coming: none of the backpacks fit the female employees at Deuter quite right. Even the smallest sizes were too long or too wide. "Then we just went and developed it ourselves," says Vögele. As early as 2006, Deuter had the first series with women's models at the start. Since then, it's been a matter of course that every backpack is also available in the ladies' version. In the first few years after the introduction of the women's backpacks, this was "still a battle. But overall we're definitely ahead of our time."
Women have become more discerning
Thomas Wagner has been selling skis at Sport Schuster in Munich for about 30 years. In that time, he's become Product Manager of Hardware – Outdoor and Snow. Naturally, he can still remember the time when there still weren't any women-specific ski models. "And 15 to 20 years before the topic came up, of course, we dealt in the field of looks for the first time," says Wagner.
Things are different now, according to the product manager. "In the beginning female customers naturally payed attention to the look, today they want to know what the difference is between unisex skis and ladies' skis." Women have become more discerning, the product manager has determined. Two points are central here: Ladies' skis are lighter and the mounting point for the binding is a bit further forward, which makes the skis easier to steer. The benefit of ladies' skis: Riding is less tiring, less force is necessary, and that way, it's more fun.
Wagner only has Salomon in his product range, which follows a different strategy. In terms of performance, the manufacturer offers identical skis in the unisex section and for women. They just have a different design.
Need for explanation in the women's skis sector 
However, Wagner has also determined that many women asking for a pair of top-class skis aren't thinking of a ladies' model. "A pair of women's skis are often still written off by highly athletic women as 'low swing skis,'" says the merchant.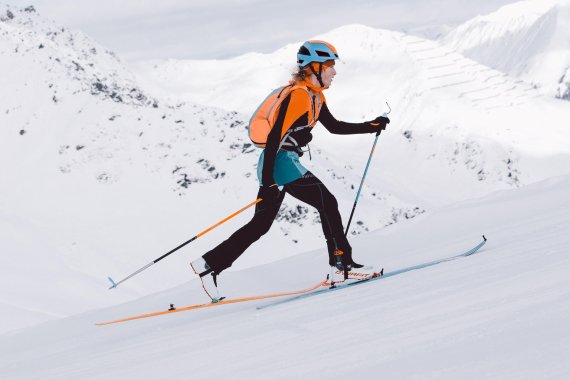 So there's still an enormous need for explanation here, that top women's models are very well developed for highly ambitious riders. He's also gone on the road with World Cup skiers who, apart from training, ride on regular women's skis and would recommend them to any top-class skier.
Potential in women-specific communication
For this reason, Wagner also sees the greatest potential in communication. Many women still aren't even aware of what benefits a pair of women's skis offer: "The products are, I believe, already very well-engineered and of good quality. But the right communication is still lacking; so, what can women's skis do? And, first and foremost, what benefits do they have?" says the Sport Schuster employee. "Lots of female customers still believe that women's skis are just softer, and therefore no fun."
Also working on this better communication is Isabel Milbert, Marketing Specialist at Dynafit. To get in contact with potential female customers, "this year we also started supporting women's freeride camps." Here, women could have much more specific details and differences explained to them.
Read here: The Women Target Group – Sports Brands Use These Marketing Tricks
Women are kept in mind by manufacturers
Dynafit has touched upon the women target group for a few years now. Female customers are always kept in mind when developing new product lines – regardless of whether it's textiles, backpacks, shoes, or ski touring products. The tour skis are nearly identical in construction, but have the advantage of being lighter, more flexible, and rotation-friendly. The mountain endurance specialist is following a double strategy here, and has four models with specific ladies' versions and 11 unisex models on offer. 
Nevertheless, it's a different story with the shoes. Since the anatomy of the foot and the lower leg is different for men and women, Dynafit's shoes are also different in fit. "For women the calf is – usually – lower, so the upper of the shoe is cut convex inward and downward. The last is also a bit narrower," says Milbert.
Female target group: Differentiated view in the biking sector
With a view to the future, the marketing specialist is just as confident as Wagner that there is still a lot of potential in the female target group. Dynafit will present a completely new range of skis at ISPO MUNICH 2017, in which the previous concept will also carry on with unisex and special ladies' models.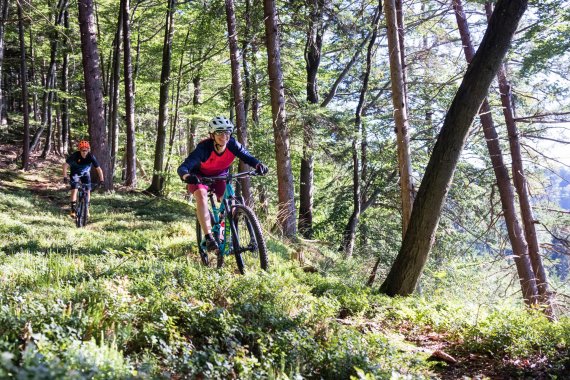 Naturally, manufacturers in the bike sector are also trying to win over women with specific bikes. One of the leading mountain bike manufacturers on the market is approaching the topic in a highly differentiated way: Specialized has always had the aspiration of offering women the exact same products as men, says Helene Pleier, PR Coordinator at Specialized Germany, "Why should men be the only ones who benefit from technical innovation?"
Specialized is getting lots of feedback from female cyclists
Very special effort is being made to listen to what women really want. In any case, there are adjustments for the "women-specific contact points," that is for the saddle, handlebars, crank, and spring elements. But what's interesting at this juncture is that Specialized differentiates in geometry: "We're building some MTBs with a women-specific geometry. But that's only the case when it offers a real benefit for women," says Pleier.
For example, the geometry wasn't adjusted for the Rhyme and Camber trail bikes, because the handling is the focus. Pleier explains why: "The female rider of the Rhyme or Camber wants to ride the same trails and benefit from the same riding qualities as the guys; the motivation for these riders is identical to that of their male counterparts. That it why it wasn't necessary to develop a geometry for women here."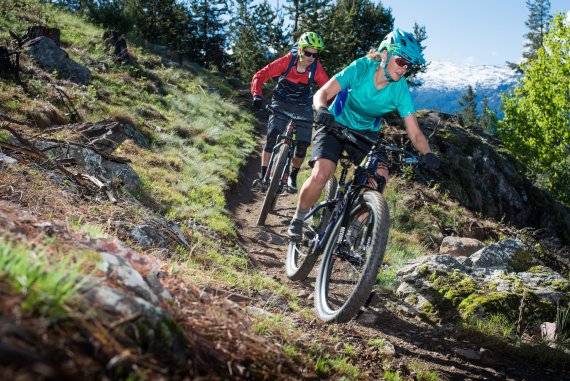 Focus nevertheless focused on the "Women's RX Tune" with aligned fork, springs, etc. In the next few years, Specialized especially wants to offer even more to women in the beginner's sector, Pleier reveals with a look to the future.
Giant registered successes with its own women's bike brand Liv
Giant took an entirely different path than Specialized. The brand is considered the largest bicycle manufacturer in the world, and established its own women's brand a few years ago with Liv. Ludi Scholz, Brand Manager at Liv Germany, explains: "It's not just about producing bikes and accessories for women, it's more about motivating women to try out a new sport, to feel more comfortable in this (still) male-dominated sport, or to just create a community with and through this sport."
Liv's interim balance sheet came out to be very positive, but Scholz also says that it's a challenge to sway critics and skeptics and establish women's bikes as an expansion in the bike scene. "Demand and sales figures confirm success," says the brand manager, "but it will still take time to outgrow the 'women's bikes' hype and accept these bikes as 'normal.'"