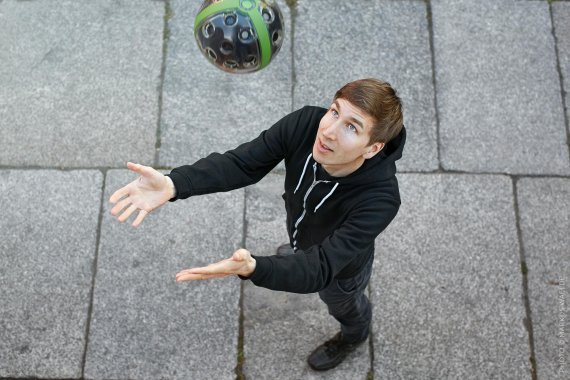 The Panono Ball Camera delivers impressive 360X360 degree panoramic photos, which were previously extremely difficult to take.
Jonas Pfeil, a computer scientist, is the inventor of this high-tech camera and co-founder of Panono GmbH, a startup in Berlin. At ISPO BRANDNEW 2016 Panono won an award in the Accessories category.
Jonas Pfeil, who has already demonstrated the device to millions on German talk show TV Total, spoke with ISPO.COM about successful crowdfunding, applications of the camera in different fields and his business goals for the future.
ISPO.com: Mr Pfeil, has photograph always been a passion of yours?
Jonas Pfeil: Yes, I love taking photos and place great worth on taking high quality photos.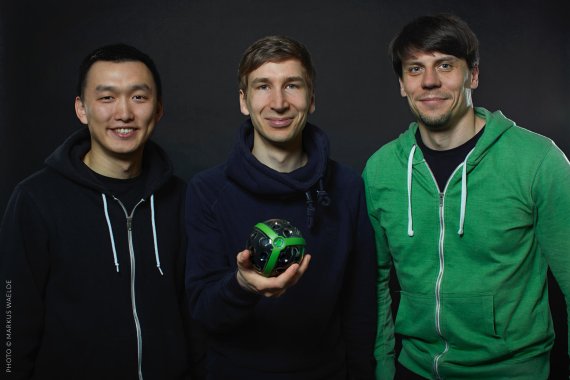 The idea of developing a camera specifically for taking panoramic photos came to you while on holiday. What did you not like about "traditional" panoramas, created manually on a computer?
Panoramic photos made in the "traditional" way, taking pictures individually and then stitching them together on the computer, takes an unbelievable amount of effort. Especially when you're on holiday, it takes up a lot of valuable time and can be a strain on your fellow travel companions! So I asked myself how this process could be sped up.
36 Cameras in One Small Ball
That was in 2007, but it was four years before the first prototype was ready. What were the greatest hurdles that you had to overcome on your way to the first functioning product?
Developing hardware requires a lot of effort and is an arduous process. You are always facing new complications. The biggest challenges were getting the 36 cameras to trigger at the same time and producing the exterior. It was also particularly tricky shrinking the necessary electronic equipment down to the size of a ball.
When did your colleagues Björn Bollensdorff and Qian Qin come into the picture and what was their function?
Björn and Qian came on board from the moment we decided to establish a company which could turn the first prototype into something that was ready for production. Björn assumed responsibility for marketing and back-end software development. Qian was concerned with the development of the website and IT infrastructure.
Read about this: this invention is the ultimate challenge for boarders and slackliners
Your first crowdfunding campaign on indiegogo.com generated 1.25 million US dollars. That's quite something. What was your crowdfunding target at the time?
We set ourselves the goal of $900,000 at the time. It was naturally overwhelming for us to exceed this target.
How do you account for this success?
Many different factors play a role here. Decisive factors in our crowdfunding success were, in my view, our relatively well-structured website and the video. Furthermore we were fortunate enough to have Oculus, a manufacturer of VR-glasses, as a collaborative partner for the duration of the campaign. We also tried to be as transparent as possible and to answer all questions from our supporters and those interested in the product as quickly as possible.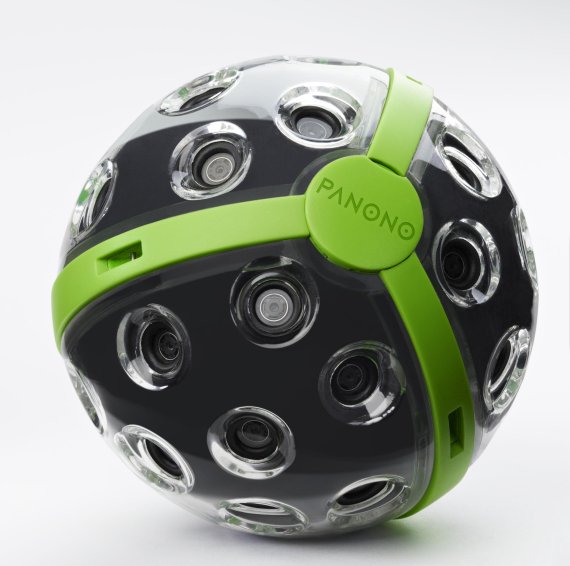 Panono Attracts Investors
Was it easy to get a platform on companisto.com for your campaign?
The success of our campaign on Indiegogo certainly had a positive effect on our subsequent crowdfunding campaign. However, the details of our partnership were of course negotiated separately.
Would you recommend crowdfunding and crowd investment to sports startups as the way to go for realizing their business ideas?
I'm no expert about the sports business, but when you have a good idea and are convinced by it, crowdfunding definitely has something to offer. Aside from the financing of the project, crowdfunding also offers the possibility of exchanging ideas with the crowd themselves, the future users and buyers of the product. Some of our supporters' ideas informed the development of our product. The feedback of the crowd showed us that there was a definite market for our product. Crowdfunding naturally also means responsibility.
How have sales of the camera been since the launch of the first camera in 2015?
We are satisfied with our sales figures. Our users have uploaded more than 150,000 pictures from the across the world onto our platform.
Panono Ball Camera Costs €1500
There is currently just one model of the camera for sale: the Explorer, which is available for about €1500. It's been said that you are also planning a "Consumer" version. Will this be cheaper? How will it differ from the "Explorer" version?
We are moving away from the original plan of releasing a cheaper, consumer version this year. Panono is currently the only camera which can take high quality 360 degree photos. We want to concentrate on this advantage. Therefore we are planning the release of a follow-up model which brings in optimizations of hardware and software which have been released since the introduction of the first Explorer Edition.
So who is your main target group? The end consumers, who are interested in taking pretty photos, or the business-to-business area?
At the moment we are focused on both kinds of consumer equally. We are however looking to increase our proportion of B2B customers.
You are working with Jochen Schweizer, BMW, the WWF, the Minnesota Vikings and Mammut, among others. How do these partnerships look in detail?
We have now got a multitude of major collaborative partners from vastly different sectors. Because of this, our working relationship with each partner is different. BMW uses the camera at trade shows. The WWF uses the Panono to document its projects across the world and the American football team, the Minnesota Vikings, captured the construction of the new stadium with 360° photos and is showing them to fans. We support our partners with the implementation of these different projects. We benefit from their reach and receive important user feedback.
Panono Makes Contacts at ISPO MUNICH
Has your business routine changed since becoming ISPO BRANDNEW WINNER at ISPO MUNICH 2016 ?
Our appearance at ISPO BRANDNEW VILLAGE was an absolute success. As well as making key contacts in the sports and outdoor scenes, we were also able to attract customers from the tourism sector. It was also great fun to get to know other startups with their innovative ideas and products.
What features and improvements are you and your team working on?
Our team are constantly working on improvements to the hardware and software. Recently we've made some new features available, for example the annotations tool, which allows you to add metadata including links and annotations to your panoramas. There is also going to be a tool for creating virtual tours from multiple pictures.
Panono Wants to Shape the Future of Photography
Can you only buy the camera in the online shop or can you get one in specialist photography shops?
The online shop is still our main distribution channel. Until now the Panono has only rarely been available in shops, but we're planning to increase our business in physical shops. 
What are your goals for the next five years?
I hope that Panono will make further progress in becoming an established company and that we will be able to help shape the future of photography with our ideas and products.