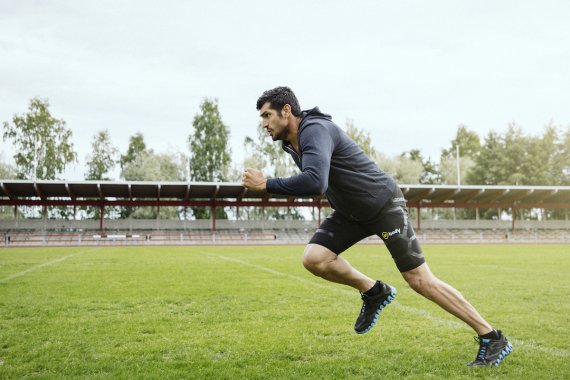 Irrespective of training and location Mbody monitors muscle load, heart cadence and step frequency and can soon be connected with "real time audio coaching". Mbody can be worn as a single item or under training pants, providing the athlete with an efficient training partner in any season and in all weather conditions, from the slopes to a cross-country ski run.
An ideal training partner that increases muscle activity
The cable-free system measures the electric activity of muscles irrespective of training location or the kind of activity. This information can be analyzed live or after physical activity helping an athlete to define how physical activity impacts on the body and optimizing technique, muscle load and efficiency.
"Mbody is the ideal training partner for anyone who wants to draw more information from their training and improve their performance",
says Myontec's marketing manager Janne Pylväs. The training results (including heart rate and covered distance) can be analyzed after the training via a mobile device or a computer. And at the press of a single button the activities will be shared on social media and will be accessible for others.
Real-time audio coaching
Until now only universities, training centers, hospitals, professional sports teams and top athletes from 16 countries worldwide have benefitted from the approved and patented Myontec technology; but this will soon change. With the help of a Kickstarter campaign Myontec will introduce a new feature: The Mbody Coach, a real-time audio coaching that turns the Mbody sportswear into an active training partner.

Information like muscle performance and balance, necessary warm up training, injury risks and other training instructions will be monitored using the body's bio-signals and are then transmitted to the athlete through an acoustic signal. This helps both the athlete as well as the coach to control the intensity of the training while at the same time also boosting the athlete's motivation during the training.
Mbody extends training options and helps prevent sports injuries
The Mbody sports pant helps prevent injuries caused by the lack of regeneration. By measuring muscle activity the intensity of the training can be better controlled and targeted. With its innovative technology Myontec has taken a big step towards a complete training analysis, giving athletes the possibility to boost their individual performance, set new ambitious goals, evaluate their training sessions and get to know more about their muscles' activities. MSRP Myontec Mbody: 549.95 Euro
Info:
Myontec Website
http://www.myontec.com/en/