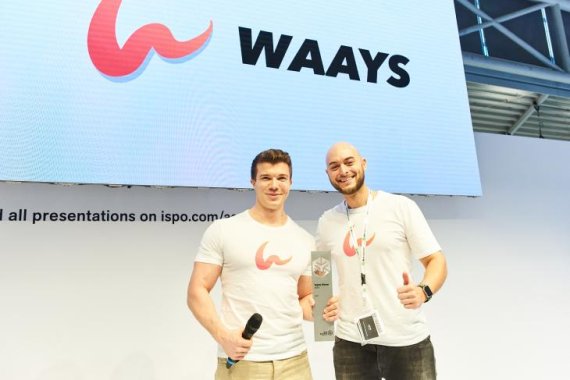 The fast bicycle service in the office, the right manufacturer for the new product, or just the right trainer for your own athletic goals: In the final round of ISPO Brandnew Digital, eight international start-ups presented their concepts for the future of the industry at ISPO Munich 2018.
This is because increasing digitization means a paradigm shift, even for the sports industry. The way in which sports are perceived and practiced is changing as much as the way in which sporting goods are being developed, produced and sold. The participants in ISPO Brandnew Digital gave answers to these future questions.
In a classic elevator pitch, the eight finalists each had 90 seconds to convince the jury of their concepts. They included such diverse ideas as Venuzle, which provides free hall capacities to athletes, the mobile bicycle service provider Life Cycle, the sports equipment search engine Sportiply, and the sponsor marketplace Sponsoo.
In the end, the best result was had by Philipp Deslandes and Michael Hiller. They won over the jury and claimed the prize with their crowd-coaching platform Waays.de.
"Waays opens up the trainer market and helps coaches find customers better and faster," explains winner Hiller.
In turn, with Waays, the customer find the right contact for their own athletic goals. A rating system helps the search for the right offer. Trainers and athletes are set to benefit in equal measure. It's not just about general fitness – Waays has offers listed in over 80 different sports, from arm wrestling and archery to javelin throwing, skydiving, and rugby.
Dr. Thomas K. Hamann, jury member
"Digitization still hasn't progressed that far, especially in the sports industry, and there's still a large field for a lot of start-ups to stake out their claims," said jury member Dr. Thomas K. Hamann. "We saw a lot of matchmaking in the competition today," he continues. Roughly speaking, this means that the start-ups' services enable providers and customers to find each other better and faster.
Juror Dr. Hamann is confident that, in the future, the sports industry will have quite a bit to do with "content in the sense of virtual reality and augmented reality-based training," especially in the international elite sports sector.
And even if the changes probably won't be as disruptive as (for example) in the automotive sector – the sports industry also needs to adapt and change, according to the keynote of the award ceremony.
Business processes and even the business fields are going to change significantly, both in the actual sports sector and in production and logistics.