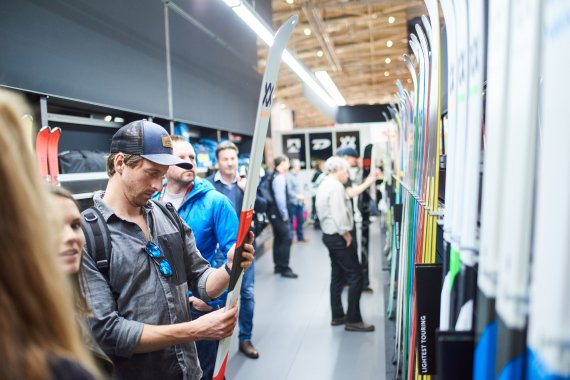 Know today what's on tomorrow. This is what ISPO Munich 2018 has to offer: exhibitors at Messe München will be showing winter sports trends for the coming Season.
In a nutshell: innovative materials, new interpretations and all-mountain gear are designed to inspire customers.
An example: HEAD! For the first time, the company from Feldkirchen near Munich is using carbon graphene instead of metals. According to the manufacturer, this makes shoes and skis particularly light and sporty.
"Graphene, carbon and so on, all the materials we use in the new Light-Tec generation of V-shapes are materials where I have an extremely high quality, extremely sporty product without any real loss of performance," explains Matthias Klaiber, promotion manager at HEAD.
A further trend: Known products are extended functionally. Bludan's snowshoes are now also downhill gliders. Spectacular: After the ascent with ski or mountain boots, the shoes become gliding surfaces in no time at all.
Josef Holub, founder of good boards
Elan also relies on flexibility. The folding skis for freeskiing and ski touring can be easily transported at the backpack or in the boot. The ski is still extremely flexible and stable when put together.
The snowboard manufacturer Goodboards also combines fun and reliability in its rotor board. "We have an all-mountain twin tip, a board with which I have fun all day long on the mountain,"explains Josef Holub, founder of good boards at the ISPO Munich 2018:" Whether I'm skiing on the slopes, going off-road or also driving in the park," Holub continues.
The board is also particularly wide to accommodate even large man's feet, the entrepreneur further explains.
One thing is certain: whether on or off the piste: Winter sports products are becoming increasingly sophisticated and individual. You will find the right equipment for every snow fun. The ISPO Munich 2018 offers the first view of this development.