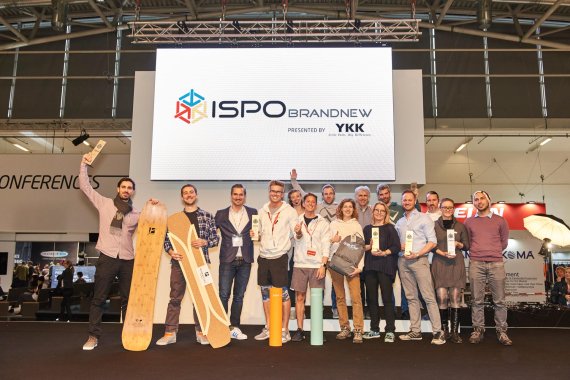 The catchy advertising slogan for "Flying Tent" is "seven seconds to the stars". On Monday afternoon, representatives from Austrian start-ups and seven other newcomers to the sports industry spent a good half an hour together, bringing them one step closer to the stars, professionally speaking at least.

Accompanied by moderator Nina Eichinger, the ISPO Exhibition Group Director Markus Hefter awarded prizes to the most innovative start-ups in eight different categories as part of ISPO BRANDNEW.
Do you think your start-up is a future ISPO BRANDNEW award winner? Then find out more about ISPO BRANDNEW 2018 >>>
Eight winners chosen from almost 400 contenders
Praising the entrants, "the sports industry needs innovation, and we have innovation by the ton here," Hefter said from the stage. He is expecting a total of 80,000 visitors to ISPO MUNICH 2017.

Many of them also take a look at the ISPO BRANDNEW VILLAGE, where the top 50 start-ups – as chosen by judges from among the 400 contenders – can present their products on their own stands.

The "crème de la crème", as Hefter called them, were named the 2017 winners in eight different categories: Accessories (YoYo Mats from the USA), Athleisure (BREDDY'S from Austria), Hardware Summer (Flying Tent from Austria), Hardware Winter (Anticonf from Switzerland), Social Awareness (Football for Life from the Philippines), Style (NoMoreBlack from Russia), Wearables (PIQ from France) and Fitness (interactiveSquash from Germany).
"Huge boost" for fledgling companies
Eva Riesemann, one of the "Flying Tent" managers, described what the award can mean for fledgling start-ups: "It is a huge boost – ISPO offers new companies a truly excellent platform. Over the past few days in Munich, we have spoken with last year's ISPO BRANDNEW winners, who have reported what the award has meant for their company's growth. And we've also seen a great deal of interest here: Both from retailers and the press, from bloggers to the Süddeutsche Zeitung newspaper."

But that comes as no surprise because the "flying tent" is truly innovative for fans of the outdoors, yet offers them numerous functions: it can essentially be used as a "hammock with a roof" that you can hang between two trees to watch the stars, as a standard tent on the ground and as rain poncho.
Super-light and sustainable snowboards

Aaron Thornton's yoga and fitness mats, which roll up by themselves at the click of a button, could be just as successful as the tent innovation.

"My wife said she loves it," Markus Hefter commented with a grin. Beautifully modeled on stage, all eyes were drawn to the brightly colored wetsuits from NoMoreBlack, who are seeking to bring an end to the color black in the swimming, surfing and diving world.

Moderator Nina Eichinger was truly surprised by the famed lightness of Anticonf's wood-effect snowboards, which can be produced significantly more sustainably thanks to their bamboo and cork core. "I hope that you will develop skis too," said Eichinger. This has long been planned for, of course.
Call for brands and top athletes
The ISPO BRANDNEW award winner in the Social Awareness category also made a plea: "We need sports industry brands and their top athletes to act as ambassadors."

They want to extend their "Football for Life" initiative – which aims to raise poor children's self-confidence and provide them with better access to education through football – across Europe. It is intended that the unifying effect of football will help refugee children to integrate more quickly in future. 

Do you think your start-up is a future ISPO BRANDNEW award winner? Then find out more about ISPO BRANDNEW 2018 >>>