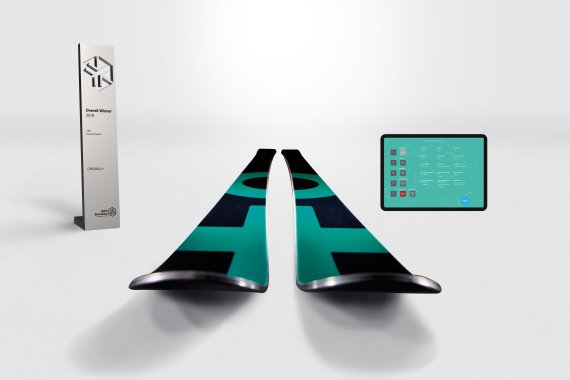 More than 400 products were available to choose from, the ISPO Brandnew jury has now decided and selected its winners in 2019. The Overall Winner Original+ wins the world's largest competition for start-ups in the sports industry. It is a product for mass production of alpine skis.
A software based on artificial intelligence interprets the biometric data of the athlete. Personal information about the style of skiing and the area of use are then combined with these parameters and all the information collected is translated into an individual ski. "The award was given for mass customization, which - if realized at competitive prices - would be a big step for the industry," emphasizes Thorsten Schwabe of Indigo, a long-time member of the ISPO Brandnew jury.
Overall, the jury chose one Overall Winner and one Winner each in the categories Accessories, Apparel, Fitness, Hardware Summer, Hardware Winter and Wearables. In these, the prizewinners surprised with personalisable functions, new safety features and unconventional ideas.
The Split Ski can be folded and transported more easily. The PowderBee drone from Bluebird Mountain shortens the search for a buried avalanche victims, the Hero Water Wear combines a functional water sports shirt with a life-saving function. In an emergency, the integrated carbon dioxide cartridge is triggered by a rip cord, which then inflates an inflatable chamber over the chest and shoulder.
"We had extremely good applicants this year: small details in design and function or presentation ultimately led to the decision. In addition to a coherent overall concept, the marketability of the product is always a decisive factor", explains David Badalec, responsible for ISPO Brandnew. The ISPO Brandnew prize winners and finalists will be on display at ISPO Munich 2019 in the ISPO Brandnew Village from 03 to 06 February 2019.
The situation is somewhat different with ISPO Brandnew Digital for start-ups in the field of digital services for the sports industry. The young companies from this "Sports Tech" environment can be found in the new ISPO Digitize Area. In a live pitch, the best concept will be chosen by a jury of top-class digital experts. Last year the winner was the training platform waays.de.