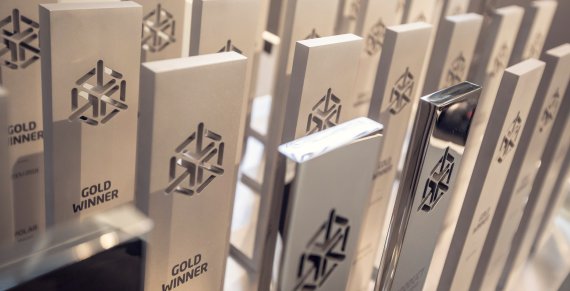 According to Fabrice Norel, this product could revolutionize the home fitness market: The experienced retailer from France is very enthusiastic about the "intelligent" dumbbells by Bowflex. "They are safe and easy to handle and make personal trainers superfluous," the ISPO AWARD 2017 jury member says after the product test.
Norel and his jury fellows voted the SelectTech 560 dumbbells as the best product in the Health & Fitness sector. Bowflex can now add the title PRODUCT OF THE YEAR to its dumbbells.

All five ISPO AWARD PRODUCTS OF THE YEAR:

Action: The Tugboat surf-snowboard by Korua Shapes.
Health & Fitness: SelectTech 560 dumbbells by Bowflex.
Performance: Cloudflash running shoes by On.
Outdoor: Ribelle Tech all-rounder climbing boots by Scarpa.
Skiing: The Vandra 3D foot scanner by Bootdoc.
The Tugboat by Korua Shapes is a definite eye-catcher for the ski lift and guarantees maximum enjoyment on the slope. With its extraordinary design, this board brings together the best of snowboarding and surfing – and is so attractive that Francois Applagnat, judge in the Action sector, spontaneously declares his love for the item: "I love this snowboard as a pure sports tool. It has a superbly minimalistic design. My congratulations to the engineers and designers for their fantastic accomplishment."
Scarpa has successfully created an exceptional pair of climbing boots with Ribelle Tech. This item marks the dawning of a new category of boots, offering both expert Alpine mountaineers and outdoor fans the best possible functionality. Piotr Turkot, a judge from the Outdoor sector, calls them "the perfect climbing boots for all seasons."
The 3D scanner is a foot's friend in need
One shoe makes it right to the top in the Performance sector: Cloudflash by On was able to convince the jury both with its cool design and top features. "Great job," says judge Aleks Tatic. "Cloudflash running shoes have a clean and harmonious look, demonstrating excellent attention to detail – an extremely credible, high-grade performance product."
Speaking of shoes: There is probably nothing more irritating for skiers than ski boots that don't fit properly. The Vandra 3D foot scanner by Bootdoc sets things right – and can therefore wear the crown in the Ski sector: The scanner identifies countless performance data such as the height of the instep, ankle circumference and foot size, and takes the skier's abilities into consideration. Using the data collected, the scanner is able to define the required ski boots and insoles within seconds.
Christof Ronge, on the Ski jury, has this to say about the scanner: "It is a strong, compact service unit with the capacity for sustainable use in all parts of the value chain. The 3D scanner helps consumers find more enjoyment in their equipment and sports."
Experience the prize winners yourself
A separate eco-jury also honored three particularly sustainable products: the Deterra Hood parka by Tierra Products, ecologically compatible ski wax by Nzero and the Tankr snowshoes by Fimbulvetr with its lifelong guarantee.