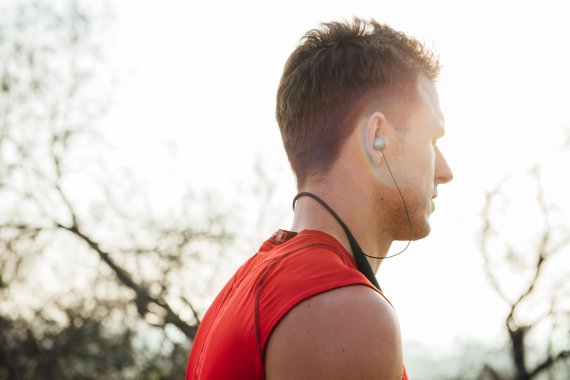 A growing number of hearable startups confirm that the ears are an awesome place for wearable tech (Read all about wearable technology on ISPO.com). Until now the focus mostly was on wrist-based heart rate monitors, but ear-based biometric headphones have their advantages.
Today we have plenty of hearable devices targeting the sports market built on the fact that the ear is potentially a better place for retrieving biometrics than the wrist thanks to the reduced movement and thin skin, which makes readings easier to take and they are also more accurate.
Let us introduce you to some exciting solutions of hearable sports tracking devices, which could be the start of a new era.
Read Here: How Wearables Can Revolutionize Healthcare
Jabra Sport Pulse Special Edition
Jabra brought their wireless Sport Pulse Special Edition to the market this year with real-time coaching, heart rate sensing and VO2 Max testing plus sweat and waterproofing. The Jabra Sport Pulse Special Edition is a great all-round sports headphone and is one of the best products out there.
It is equipped with an integrated heart rate monitor (pulse reading through your ear) and it calculates your VO2 Max level and automatically measures your fitness level. It saves your history, updates your distance and pace (GPS must be activated on your phone) with intermittent voice prompts, and includes some built-in tests and a music player that taps into your music library.
The special app Jabra is brilliant, with guided workouts and a focus on VO2 Max, as well as standard running and fitness metrics. As well as an optical heart-rate monitor for capturing continuous data from your workout and plotting averages, peak heart rate and intensity zones; they also use an accelerometer to measure cadence while running and cycling.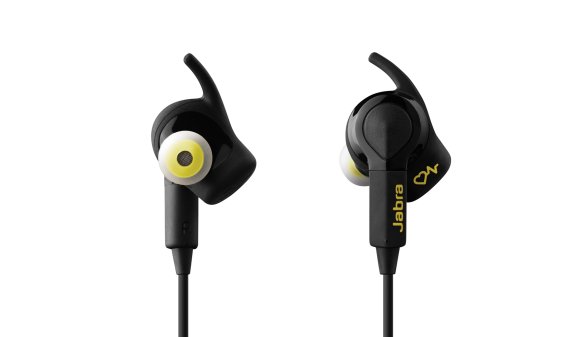 Samsung Gear IconX
Samsung's Gear IconX is now on sale and has a built-in accelerometer plus optical HR to track movement, bpm and distance travelled, spitting out a calorie burn at the end of the workout. Whether you're walking or running, it is smart enough to track your activity and give updates on essential data from speed, distance and duration to heart rate and calories burnt via a dedicated voice guide.
By syncing with your smartphone after workouts, you can check your stats and monitor progress on the S Health app. Not only is Gear IconX a highly functional fitness tracker, it's possibly the smallest music player out there, meaning these earbuds are all you need to go running. With 4GB of internal memory that holds up to 1,000 tracks, you'll run out of breath before you run out of songs to power your workout.
Vi
Vi, a Kickstarter product by LifeBEAM offers real-time coaching based on a user's own physiology. Vi is a personal trainer that lives in bio sensing earphones and finds your ideal path to fitness and coaches you in real time by paying attention to your body's movements, biometrics and progress.
It collects deep insights into your body and uses that data to optimize your workouts and even change your routine when your body needs it most.
With Vi, you will improve your running technique, burn fat more effectively, and maintain your ideal heart rate. By analyzing real-time data through sensors, Vi reads your vitals and keeps you aware of what's going on.
This hearable learns more about you with every workout and gets smarter about your energy levels, optimal rest times, challenges and limits. Of course, you can listen to your own gym playlist or listen to some motivating beats.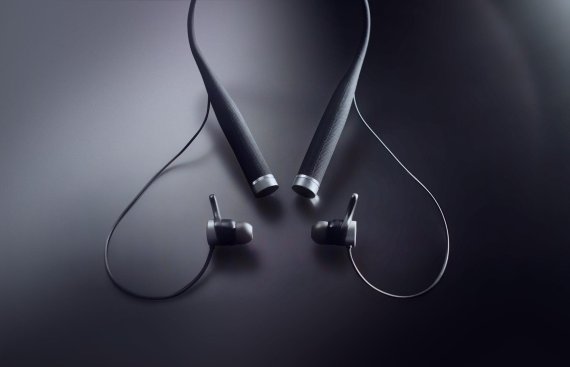 Bragi Dash
The Bragi Dash is one of the most ambitious pair of earbuds on the market. It combines a media player with 4GB of storage, a fitness tracker, complete with a heart-rate monitor and step counter and a general-purpose hands-free kit.
Running with the Dash solves so many issues for runners. Along with that truly wireless form, there's also a built-in heart rate sensor to measure workout intensity, enough storage to carry a decent amount of music and it can count your steps.
The only problem is that there is no GPS, so you have to rely on your smartphone for more detailed tracking unfortunately. But otherwise, the Bragi Dash has swim tracking, which has pretty much been based around watches you wear on your wrist or devices you clip onto your goggles.
Bragi takes that technology and shrinks it into a small pair of earbuds making it a lot easier to monitor pool sessions.
These four innovative wearable devices for the ears may be the future of sports tracking. These Hearables have the same functions as common fitness tracker for the wrist and additionally allow you to listen to music. So let's see which will be the runner up in sports: the ear or the wrist…


Christian Stammel is CEO at WT | Wearable Technologies, a leading innovation and business development platform for wearables, and updating ISPO.com readers about latest trends on digitalization, wearable tech and IoT in sports, fitness and well-being. More information about WT at www.wearable-technologies.comhttp://www.wearable-technologies.com