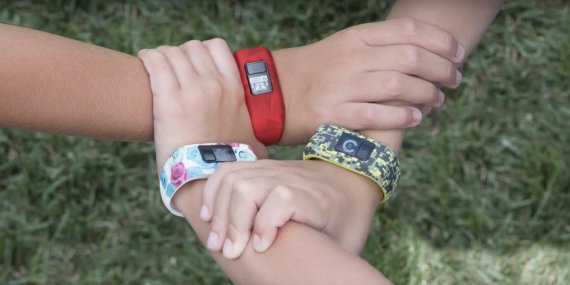 Garmin's reasoning behind the product is that too many children are overweight and not active enough. The fitness tracker will help children to "create healthy habits while they are young," says the wearable manufacturer based in Schaffhausen, Germany.

More of the latest sports business news? Subscribe to the ISPO.com newsletter!
vívofit jr. can also be used as a wristwatch. It works as a pedometer and records different activities and even number of hours spent sleeping. It will be available from October (RRP $79.99).

Fitness Tracker for Children: Parents Can Give Rewards for Activities
Garmin is promising functions specifically oriented towards children:
battery life of up to a year,
waterproof up to 50 meters,
colorful, customized silicon appearance
and a mobile app for parents.
Garmin also revealed that parents will be able to set up a rewards system for their children: "By completing their assigned chores, kids earn virtual coins to collect and then exchange for rewards you have agreed on." If the parent wants to set a time limit for a certain task, "a timer is accessible from the vívofit jr. band for a reminder that time to finish their task is ticking down."
Video: How Garmin's vívofit jr. Fitness Tracker Works