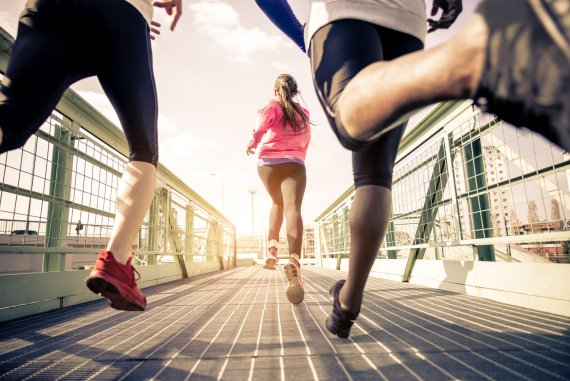 What distinguishes the Evalu technology from other fitness apps and how runners can benefit from Evalu.Run, explained by Romano Wolf and Benedikt Seitz, co-founders of the young start-up.
ISPO.com: There are many fitness apps, what sets Evalu.Run apart from other wearables and apps for runners?
Romano Wolf: Many apps deal with sports and running in nature. Trackers above all have continued to develop heavily. However, to date it hasn't gone beyond pure tracking of data. We wanted to supplement that with comprehensive coaching that helps the runner in real time, similar to a personal trainer.
Are you a passionate runner yourself, then?
Benedikt Seitz: We're passionate athletes who also run, but none us were pure competitive runners. Most of us played team sports like hockey and basketball, and couple of us even financed our studies that way.
Wolf: Together we're a very ambitious and athletic start-up where, despite our ambition, there's no shortage of fun either.
Insole and app work together
Evalu.Run consists of an app plus a sensory outsole. How did the idea come about?
Seitz: We absolutely wanted to combine our multifaceted background into a start-up, but the whole thing wasn't too cut and dry. The people in the sports industry are fundamentally more open to new things, and thus entry is easier.
The idea for Evalu.Run came from our enthusiasm for sports and our high technical expertise as engineers from medical technology, micro- and sensory technology, biomechanics, and product development. Developing a wearable with this technology was all but the logical consequence.
Read more here: everything on the topic of wearables
How does Evalu.Run work?
Wolf: The Evalu.Run insole, with the help of the app, evaluates the athlete's current training status during the run starting in the first step, on both the stress and performance side. The measurement results are analyzed by the coaching app and the deficits determined. The runner then gets helpful workout instructions and exercises for improving running form via headphones in real time, in order to reach their defined goals more easily.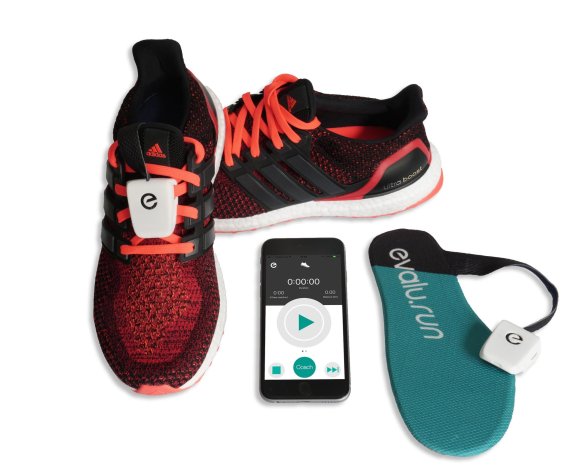 The are many reasons to run. What target groups are you addressing?
Seitz: It's currently still the ambitious runners. For the first time, the athletes can perceive themselves digitally and receive a variety of information that was thus far unavailable: actual stress, efficiency of running form, and objective training progress.
With the empirical evidence and the knowledge that we're now creating, we'd like to reach the people who thus far have seen running as troublesome, for physiological or psychological reasons. Those are the people we'd like to use Evalu.Run to help provide with a new body image, and convey the ease of running.
"Ease of running" – which still mainly stands for the simplicity of this endurance sport. Doesn't exactly this ease get lost with too much tech?
Seitz: The sensory outsole is applied once – and then the running shoe is already smart. Our software is very slim, and set up in a user-friendly way. The technology is similar to the Watt measurement in cycling, and you don't have to worry about it again after that. Then it's just a matter of putting on the shoes, starting up the app, and off you go!
Soft Evalu.Run sensors measure precise data
Don't you feel the outsole in the shoe?
Seitz: It is extremely difficult to measure precise and high-resolution data with such soft sensors, but the sole is very comfortable nevertheless. You hardly feel it, which is extremely important for competitive athletes.
And the sole works in every running shoe?
Seitz: Yes, absolutely. The sensors even work with orthopedic running inserts, since we measure the occurring forces and not the pressure distribution – at least, not yet.
You'd like to use Evalu.Run to improve the runner's form. What does a good running form look like?
Wolf: That is a very good question (laughs). A good running form is, above all, a natural running form. Evalu.Run is set to optimized this natural running form so that adverse stresses are reduced and performance maximized, in order to get as good an idea of their personal goals as possible.
We don't want to promote a certain running form and squeeze the runner into one standard box. Rather, we want to develop the runner's individual possibilities and make running easier.
Evalu.Run app can anticipate fatigue
The app first requires some of the runner's personal information. Does that assume an experienced user?
Wolf: The runner should bring certain previous knowledge with them, but Evalu.Run is set up very simply. We can determine lots of information via the sensory outsole.
The information is synchronized with our scientific database, and an algorithm then creates a custom training program, with exercises for activating and strengthening the passive and active muscular apparatuses. The app can also detect imminent fatigue and recommend rest. There's never been anything like that before.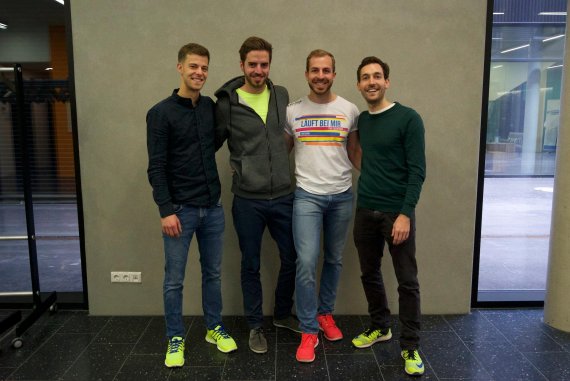 Many runners train according to heart rate. Can the Evalu.Run also be linked with a chest strap?
Seitz: Heart rate still isn't taken into account at the moment, but we're already developing interfaces, including one for heart rate.
Wolf: We first wanted to launch our product lean, in order to then grow in manageable steps. That also includes being able to transfer our coaching app to other smart devices like smartwatches in the future.
You won in the Wearables category at the 2016 ISPO BRANDNEW AWARD for your concept. What effect has this distinction had on the development of your start-up?
Seitz: ISPO BRANDNEW completely surprised us, and has pushed us on incredibly. We met many important industry contacts and got lots of positive feedback from pros and experts. The media response was overwhelming.
Finally, how are you earning money with Evalu.Run?
Seitz: The outsole is high-tech, so of course it costs a bit. The app is a classic premium model that's partially free.
Wolf: The added value is in the live coaching and the continuous support of the runner. Our business model is laid in such a way to supporting the customer sustainably via a subscription model.
When will Evalu.Run launch on the market?
Wolf: We're planning the launch of Evalu.Run for spring of 2017.
Facts on the company:
Company: evalu GmbH
Year established: January 2016
Company headquarters: 80799 Munich
Number of employees: 4
Website: http://www.evalu.io/
Evalu on Facebook and on Instagram.
Video: How the ISPO BRANDNEW jury makes its evaluations