FINIS aims to make swimming easier. With their diverse range of products, the swimming label caters for children and beginners as well as experienced professionals.
World class athletes at the Water Sports Village
Taking the plunge in the (cool) pool at the Water Sports Village to demonstrate the products were Merle Liivand, who swims for Estonia's national team, and Grant Turner, a British athlete who competed in the London Olympics in 2012.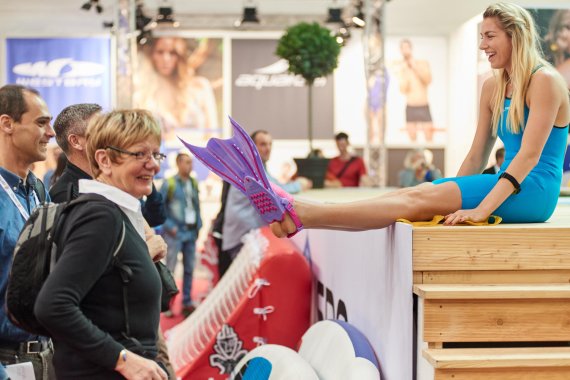 Mermaid fins and Bluetooth stopwatch
Thore Levetzow and Martin Fahnemann, who are responsible for FINIS's German-speaking markets, explained products to ISPO visitors, including the "Mermaid Fin" (fun mermaid flippers for children), "Edge" (perfect fins for training) and "Agility Paddles" (hand paddles, which train muscles and correct arm movements).