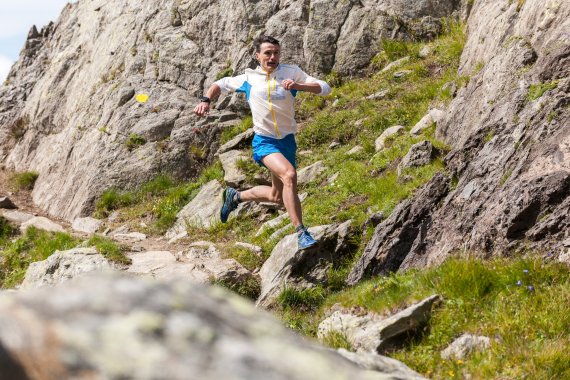 Activity Trackers are starting to become a mainstream phenomenon. These electronic bracelets count daily steps, calculate covered distance and add up burnt calories. They then send all the information to a nearby smartphone or tabloid via Bluetooth technology. But that's not all, many fitness bracelets offer more features.

Taking the pulse

Some of the new Activity Trackers, like the Samsung Gear Fit or the Apple Watch, available from spring 2015, feature optical sensors that measure pulse through skin contact. Other products, like Garmin's VivoFit or Polar's Loop, offer an optional chest belt guaranteeing a precise heart rate monitoring, especially useful for endurance sports like running.

Activity Tracking, even at night

Modern Activity Trackers not only measure movements during the day. Worn while sleeping the sensitive bracelets also record if their users wake up during the night and if so when and for how long. This information can later be analyzed with the help of graphics in an app or on the website. Some Activity Trackers, like Withings' Pulse Ox or the Runtastic Orbit, are even able to monitor the sleeping cycles thus granting a deeper insight into an important regenerative element.

Achieving your set goals more easily

Using an app most Activity Trackers are able to determine personal goals for a certain period of time, like number of steps per day or a dream weight. With Garmin's VivoFit users can define their desired calory consumption, distance covered and activity time. Bonus points and other rewards serve as additional motivation. For their FuelBand SE Nike even invented their own measuring unit, NikeFuel, which rewards the users with "Fitness Milestones" depending on the activity. Some apps not only deliver results but also give tips for a healthier lifestyle, like "get up early", "be more active" or "take the stairs".

Sharing your achievements with friends

Many fitness bracelets also offer the possibility to share achieved goals or present fitness status directly through social networks like Facebook and Twitter without manually entering the information. Of course loosing weight and fitness goals are private and therefore everyone should carefully consider which information they want to share. However, it can mean extra motivation to share one's personal progress with select friends. Some Activity Trackers are deliberately using this additional incentive: With the Striiv Touch, for example, you can compete with friends and win medals.

Controlling the intake and burning of calories

By using apps or a website certain Activity Trackers can even regulate daily meals. Some manufacturers collaborate with partner apps in order to provide ingredients and calory values of certain products. Though it's still necessary to enter the amount and portions of food consumed, the calculation with one's daily activities takes place automatically. The FitBit Flex, for example, syncronizes itself with the LoseIt! app to inform the user when they have burnt off their consumed calories. The Jawbone UP24, too, works with different apps that calculate food consumption, control weight and record covered distances. Furthermore, they are able to scan the barcodes on eatables, indicating the exact amount of calories, fat, proteines and carbs consumed.
Photo set of trackers:
Apple Watch
Apple Watch
Fitbit One
Fitbit One
Garmin Vivofit
Garmin Vivofit
Jawbone
Jawbone

Nike Fuelband SE
Nike Fuelband SE
Polar Loop
Polar Loop
Samsung Gear Fit
Samsung Gear Fit
Striiv Touch
Striiv Touch

Withings Pulse
Withings Pulse
Runtastic Orbit
Runtastic Orbit
If you have already made your own experience with activity trackers please feel free to share them in this ISPO COMMUNITY Voting. You have the chance to win a Flexi Sports Set consisting of NutraLinea and XCOs.

In the coming weeks we will present here in ISPO NEWS BLOG more of the latest fitness gadgets.