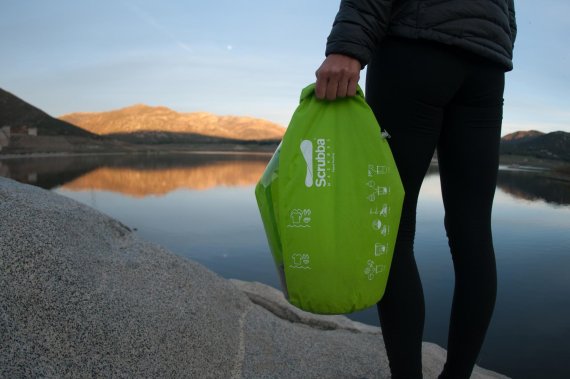 It's not bigger than a sleeping bag cover, only needs a bit of water and was given ISPO AWARD 2015. We had a closer look at the Scrubba Wash Bag and the brand-new Scrubba Wash Pack and spoke to Ash Newland, the inventor and founder of Scrubba.
Mister Newland, don't you have a washing machine at home or why would you invent a mobile pocketsize washing machine?
I had the idea in 2010 when I took four months off from my job as patent attorney to travel from Australia to Africa. Together with a friend I wanted to climb the Kilimanjaro in Tanzania. While planning the trip we noticed that we couldn't take loads of equipment and clothing with us. Everything had to fit in one backpack. First, I thought about taking a traditional washboard with me but it was very bulky and you need a lot of water and possibly also a sink. But all of a sudden this idea popped up my mind: What if you wash your dirty clothes in a waterproof bag?
Your answer on this question was the Scrubba Wash Bag?
Exactly! Since June 2012 we are on the market. The development, financing and concept took us two years. The Scrubba Wash Bag should not only wash clothes but also be easy to use – everywhere and at any time. From October 2015 on, we now also offer the Scrubba Wash Pack.
A mobile washing machine in backpack-size or how should we imagine the Wash Pack?
It's a small, mobile washing machine that washes clothes in a simple and fast way but which is also multifunctional, flexible and versatile. You can buckle it and kick off the day in an easygoing way – no matter if you're traveling or outdoors.
Who are Scrubbas designed for?
For campers, backpackers, kayakers, bikers, climbers and hikers, but also for traveling businessmen. In fact, for anyone who wants to wash their pants, shirts or socks without having to visit a laundry or a hotel.
How does the washing process work?
In six steps your clothes will be clean and ready to dry. First, you have to put water, the dirty clothes and soap (shower gel or shampoo work) in the Scrubba Wash Bag or the Pack. Then close the bag. Through a small valve you can let off air bubbles. Now move the clothes back and forth. The Scrubba Wash Bag and the Pack are both equipped with an integrated washboard on the inside that consists of hundreds of small knobs. After one or two minutes let out the dirty water and fill it with clean water to rinse. Then squeeze shirt, pants or jacket and you're done!
This year you were given ISPO AWARD for the Scrubba Wash Bag. What does this award mean to you?
A lot! The award was very important for us, the brand and the product. This is also what we hear from clients all over the world. ISPO AWARD is a true privilege for us!
Facts
Scrubba Wash Bag: Weight (empty): 145 grams / Price: USD 55
Scrubba Wash Pack: Weight (empty): 300 grams / Price: USD 89 (pre-order offer)
More information
Scrubba-Website
http://www.thescrubba.com
Scrubba on Facebook
https://www.facebook.com/THESCRUBBA