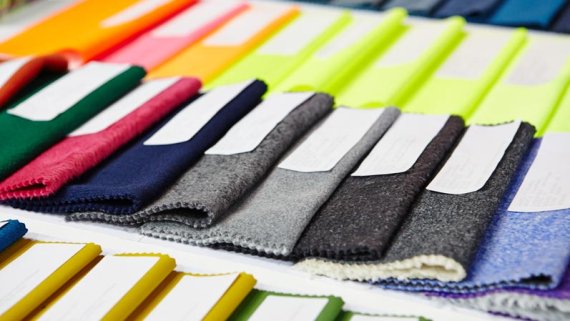 A new category is the popular Street Sports trend. Furthermore, the exhibit will highlight the common textile trends Hybrid, Nature and Lightweight.
Four years after its premiere ISPO TEXTRENDS has established itself as a valuable and popular platform for groundbreaking textile trends and innovations among designers, product managers and the media.
Expert jury nominates outstanding products
At the end of October 2015, journalists, designers and independent experts traveled to Munich to evaluate submissions from all over the globe. The experts previewed products in nine categories (Base Layer, Second Layer, Outer Layer, Membranes & Coatings, Accessories, Trims, Fibers & Insulations, Soft Equipment, Street Sports) and selected a Best Product in each category, as well as a Top 10 selection, and up to 50 additional noteworthy materials ("Selection"). In addition, they selected ten extraordinary products revolving around the common textile trends Hybrid, Nature and Lightweight trends.
Notable rise in innovations
Peter Waeber, CEO of Bluesign Technologies AG and a jury member, explains: "We have a strong growth of innovative products. The industry provided really good products to the jury. ISPO TEXTRENDS is a must for any designer to have a look and to gain some inspiration, as a neutral platform. The jury is so broadly based that you can be sure that the right products were selected."
Louisa Smith, trend scout and head judge for ISPO TEXTRENDS shared her positive review of the jury meeting: "This year companies have focused even more on sustainability. Innovative hybrid combinations embody new concepts for natural fabrics and finishes. Extremely lightweight textiles combine fashion and functionality and provide the same level of performance as their heavier predecessors."
Presentation of winning products at the end of January 2016
Trade visitors can look forward to the latest selection, including the most relevant developments in fabrics, fibers and accessories awaiting them at ISPO TEXTRENDS in hall C3 at the end of January 2016. Yet ISPO TEXTRENDS is not just an exhibition. Designers and product developers have a unique opportunity for networking and sourcing on site.
In addition, four daily presentations on current issues affecting the textile industry are on the program. If you cannot personally visit the forum, you will find all relevant information in ISPO TEXTRENDS Trend Book by the end of January 2016. ISPO Textrends App can be found at the Apple iOS App Store by searching "Textrends".
For more information on ISPO TEXTRENDS please refer to textrends.ispo.com.