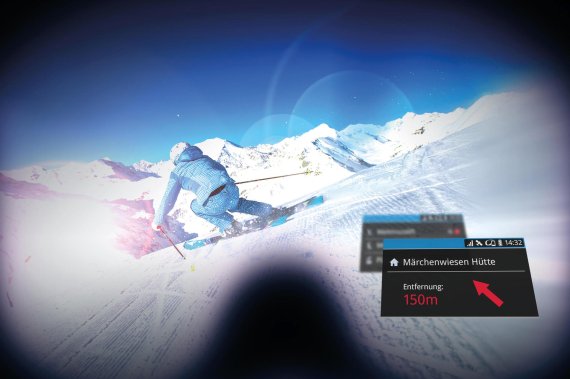 1. Smart ski goggles
Imagine how it would be to feel like Tony Stark's Iron Man. That future is well on its way to becoming reality – at least when it comes to ski goggles and helmets. Since the previous season, brands such as Oakley Airwave have been offering, for example, a head-up display. This feeds you information on speed, jumps and which friends are in the area, all into a box just on the edge of your line of vision.

You can control the goggles using your smartphone or via a wristband. But they have already upped their game: In Spring 2015, RideOn finalized a campaign on the funding platform Indiegogo and this season plans to transform the entire ski goggle visor into a screen. This will make it possible to earn points passing through various virtual "gates" or to select functions such as your phone using your eyes. RideOn users will even be able to engage in virtual snowball fights.
The downside is that in most cases, the goggles will only be fully functional when linked up to an Apple or Android smartphone. Phone users with Windows are left out in the cold. Prices start at approx. EUR 650.
You can try out previous models in the Salzburg Ski Amadé region in Austria, where a specially designed model provides all sorts of information from weather to slope conditions to the ski lift status.
2. The helmet
Alternatively, we present to you the "smart" ski helmet. It shares many functions with the goggles, except that, for obvious reasons, there is no display. So don't forget your smartphone! The Australian start-up Forcite is currently gathering funds via Kickstarter in order to produce a helmet with a camera, light, motion sensors, headset with radio and music as well as GPS.

The advantage: The components are secured relatively well inside the helmet and can be individually replaced if the worst comes to the worst. One of the highlights: The system automatically selects the 'Best of' from your descent and allows you to post them on social media at the press of a button. So no more long hours spent trawling through videos, and instant likes on Facebook.
Price predictions stand at around EUR 700.
3. Skis and snowboards
With its XON series, the US company Cerevo is offering a snowboard that measures speed and weight distribution and gives you advice on improving your own technique. This enables beginners to gain confidence faster and experts to continually improve their technique. As an addition, Cerevo is offering a headset, which converts performance data into audio and can play music from a smartphone.

The headset can also be used independently from the snowboard. Extroverts could add a camera to their order or let their friend film them from their own smartphone. The accompanying app merges the final video with the live data from the snowboard. In addition, LEDs in the binding make others aware of your position and give you the necessary space to board. Wouldn't that be just the thing for the upcoming Vine-style Facebook profile videos?
There are currently no price predictions for the binding and accessories.
The product range on the market for "smart" skis, on the other hand, is still manageable: Norwegian manufacturer Madshus has implanted a chip in its Empower cross-country skis, which allows the skier to find his or her perfect stride. However, active sport tracking is not available with these skis.
4. The smartwatch
Admittedly, the Apple Watch doesn't have its own winter sport mode. Unlike models such as the Polar V800. Nevertheless, most smartwatches can help to monitor your level of activity and are more easily accessible than smartphones.

Although with most smartwatches, being connected to your phone is still essential, using the watch means that you can store your phone a few layers away from the cold under your clothes or in your rucksack, protecting it from screen damage. Furthermore, optical pulse monitoring and data from other sensors on your wrist make measurements more accurate.
Prices for these high-end watches start at approx. EUR 400.
5. Muscle tracker
For those of you enthusiastic about sports and data, when it comes to "wearables", we can do even better: Sensors woven into the fabric of these T-shirts and trousers begin to monitor your muscle activity from the moment you put them on. Your smartphone will then tell you which muscles are still good to go and whether you are putting too much strain on one side of your body or the other.

However, you still need a so-called "core" device to use both the T-shirt and trousers, in order to process the data from the sensors and send it to your smartphone. Make sure to remove this device from the high-tech clothes before washing. Currently, only handwash is allowed. The necessary equipment can be bought from Athos and OM. Prices for the device and shirts start at approx. EUR 100-150.