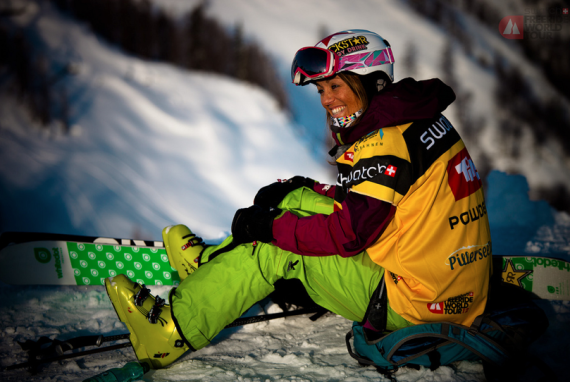 After her double at the Freeride World Tour, Walkner met with ISPO.com for a conversation about underwear, thick thighs, and nausea before the competition.

ISPO.com: Miss Walkner, congratulations on the world champion title, the second in a row. How does it feel?
Eva Walkner: As always, it wasn't so easy for me beforehand, mentally. I always wear myself out before the contest. Going up, I was about to be sick again. I actually hate competitions. I'm absolutely not the competitive type. I didn't get a wink of sleep until half past two, my stomach's turning, my knees are wobbly – it's terrible.
At the same time, you had a comfortable advantage in the overall standing.
Sure, but when my biggest competitor wins and I lose my skis, that advantage is gone. That's why I chose a line that I'm not really proud of, that I wouldn't absolutely show off. Nothing exciting.
A safety line...
Exactly. The light was really bad, the conditions brutally difficult. The snow shifted from wind-pressed to gravelly: really difficult to ski through. But that's what benefitted me – thanks to the good school at the ÖSV (Editor's note: ÖSV=Austrian Ski Association). The worse the snow, the more it suits me. Because I know the others are struggling. That's my strength. And my goal wasn't a single outcome in Verbier, but the collective title.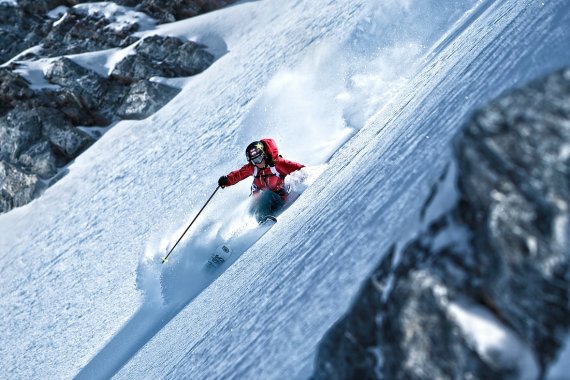 How does the freeride scene's ideal of freedom fit into a competition format?
Soul shredding, this just-for-fun freeriding, has nothing to do with the Freeride World Tour. That's something completely different. When I go skiing with my friends, without a camera, then I have fun and step on the gas. But this here is competition, it's stress.
And what happens to the fun?
Everything before my drop-in is no fun. But when I'm in the hang, everything is great. In the past two years, I've only been off the podium twice – so that's extremely awesome and makes up for the stress.
The risk of injury is always along for the ride. In 2007, you had to deal with five broken ribs, a collapsed lung, and ruptures in your spleen and kidneys. In 2012, there followed three knee operations and a two-year break...
...but I've already won again in my comeback year!
What kind of effect does a world champion title have, financially?
My brother Matthias already called me up. He's the world champion in ralley and motocross. We have an inner-family competition of who has more world champion titles. Even he thinks: "Eva, now you're set for life!" But seriously: financially, it hasn't brought me anything.
Seriously? Nothing?
No. The prize money for the world champion title amounts to zero euros. Zero. It's 6,000 euros for a single win, and 8,000 euros for each of the last two stops in Alaska and Verbier. But for a title like that, the sponsors won't give another cent.
How many sponsors do you have?
Several. But that doesn't mean that I have a lot of money. After the world champion title last year, nobody was beating down my door. I have lots of material sponsors, which is worth a lot to me. It's just great when you get the best ski underwear and the coolest carabiners. It's so cool: you go online, get the catalogues from ten sponsors and just order 3,000 or 4,000 euros' worth! And then the packages just fly in! I am a woman, after all – how awesome is that for us?! It doesn't always have to be money.
Can you live off of freeriding?
I can. The sponsors support me so I can travel in the winter and train in the summer. That way I am my own PR woman for my website or my Facebook page though.
Do the men earn more?
I believe there are some that earn 100,000 plus. It's developing in a way that the money is concentrated to a select few. But many really good guys and girls have to go work in the summer.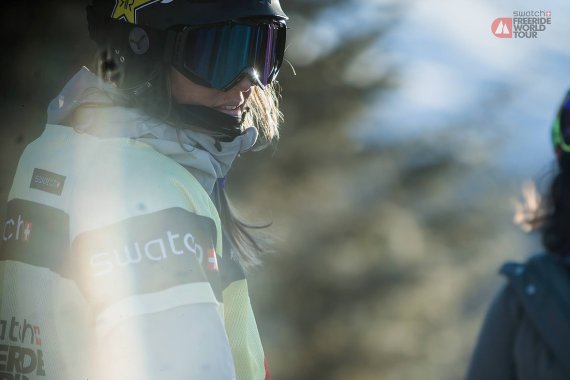 What is your summer training like?
I'm in the mountains a lot, climbing and biking. But three or four times a week I'm also in the weight room: totally stuffy, boring, sterile, doing stiff knee bends. But if I didn't do that, I wouldn't be standing and waving here. My strong legs and my fit body are part of my success.
How did you get to freeriding?
For a long time I was a racer at the ÖSV, I skied for the national team in the Slalom European Cup, but always had injuries: cruciate ligament tear, broken shoulder, busted ankle. Somewhere along the line, I didn't get anymore chances.

How did it keep going after that?
With an education as a sports journalist. I was in the soccer editorial team at the TV station Premiere for three years: Austria, Rapid, interviews with coaches, stuff like that. I just didn't want to ski anymore. To work towards this goal your whole life since you were three – and then it's gone within the span of a day at 23. That was a tough time.

And how did you still land back on skis?
During the soccer offseason, while skiing I encountered these broad freeride skiers – as an ex-racer. I knew right away: this is it! At my first contest I had just come in second – still in my racer outfit – and thought to myself, "If I already come in second without any experience, this could be something..."

Here in Verbier, the men start from the summit of the infamous Bec des Rosses; the women a couple hundred meters further below from Petit Bec, the Little Peak. Would you rather start from the top as well?
I'd like to ski the Bec des Rosses sometime – but not in competition. I think that the fewest girls would have the thighs to travel through that mountain. In that case I'd rather it be a short stretch, almost just as steep and exposed, where we women can show what we can do. You have to be honest: from that level, we're just not as good as the guys. We don't have the power.