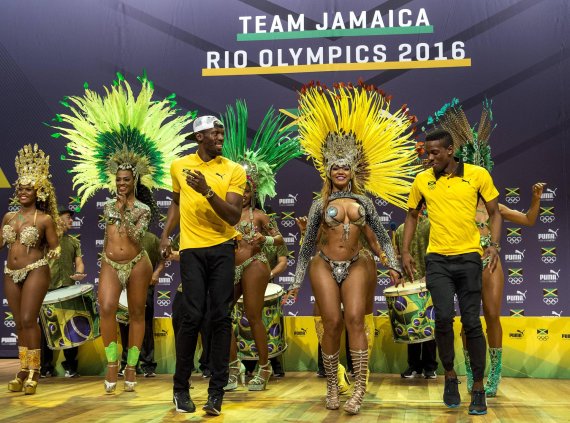 At the 2016 Olympics, the super-sprinter Usain Bolt wants to win three more gold medals. But the Jamaican will have finished his sporting career after the 2017 World Championships in Athletics in London at the latest.
Click here to read more about the 2016 Olympics and the sports business.
Bolt names Statham as his acting hero
The 29-year old could however remain on our screens - as an actor. "I'm seriously considering it", Bolt told Playboy.
The world record holder for the 100m and 200m sprints, who turned up the heat at the Olympic press conference in Rio with a racy appearance surrounded by samba dancers, named the British actor Jason Statham from action films such as "The Transporter" and "Crank" as his acting hero.
Usain Bolt may also become a footballer
Bolt, an avid football fan, could also see himself kicking a ball around professionally. He has no offers as of yet, "but I am sure that I could get one if I tried", said the multi-talented Bolt.
Usain Bolt at FC Bayern

Sprint-Star Usain Bolt zu Gast beim FC Bayern. Der schnellste Mann der Welt ist großer Bayern Fan und hat viel Spaß mit der Mannschaft. // Usain Bolt at FC Bayern. The fastest man on earth is a big FCB fan and has a lot of fun with the team.

Posted by FC Bayern München on Thursday, August 12, 2010