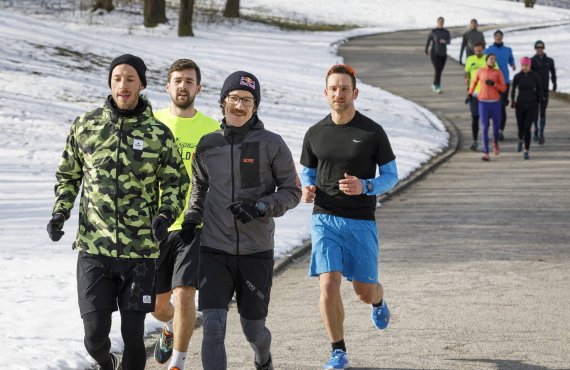 Florian Neuschwander became famous in Germany through his victories at the "Wings for Life World Run" and his triumph at the Transrockies Run (193 km and 6000 m altitude in 6 days). Furthermore,  "Flow" is a star in the runner scene because of his unconventional social media contributions. Last year, he won the Rennsteiglauf, Großen Feldberglauf, Weiltalmarathon and a 100-kilometer run in Malibu.
Neuschwander also completed his first 100-mile race at the Western States Endurance Run. On the evening before the opening of the ISPO Munich 2019 (3 to 6 February), "Flow" will be present at the ISPO Munich 2019 Night Run presented by BUFF® with as many running enthusiasts as possible.
But the preparation was not ideal. First Neuschwander had to rake a break because of injury problems, then he lost his car key while hiking and had to - instead of training - search for the key.
Mr Neuschwander, did the car key actually reappear?

I spent hours looking for the key in the forest, so I managed a total of 1000 metres of altitude difference that day. I didn't find it, of course I was totally frustrated. My father-in-law picked me up with the spare key.
The next day my girlfriend drove off with the car and once dragged harshly She was then informed by a pedestrian that something had fallen off the car. It was the key that a hiker had probably put on the car and that didn't fall off on my way back home.
After all, it's a happy ending. Otherwise the preparation for the ISPO Munich 2019 Night Run presented by BUFF® did not run optimally...

Before I had to take a longer break because of an inflammation in the metacarpophalangeal joint of the toe. My foot is okay now, but I have to get back in shape afresh.
And for an Ultralong distance specialists like you such a short distance as the 1 Mile Uphill Challenge in Munich comes in handy?

I've only planned two longer runs this year, including the Wings for Life World Run. When I've been struggling so hard with those long runs, sometimes I don't feel like it anymore. Then head and body need recovery.
Then. variety and shorter distances will do good. And if, as in Munich, there's another mountain involved, it's all the better. It's still quite good to run short and fast. Time doesn't matter. Fun is the most important thing.
And you actually want to leave it at that one mile?

I'll be on two runs. I just haven't decided yet whether I'll run the five or ten kilometres as well.
What training tips do you have for hobby runners who want to join you at the ISPO Munich 2019 Night Run presented by BUFF®?

Interval training is good for preparation. For example, run up a lighter mountain 10x200 meters. But the most important thing is to be part of the Night Run. Even if it's just for fun. I'm looking forward to everyone who's joining me.
Do you run at any weather condition?

I run at any weather condition when I'm fit. If there is too much snow on the sidewalks, you can also use cycle paths that have been cleared to some extent. If necessary, you can of course also switch to short interval runs on the treadmill in the gym. Or use the ergometer. But running outside is almost always better.