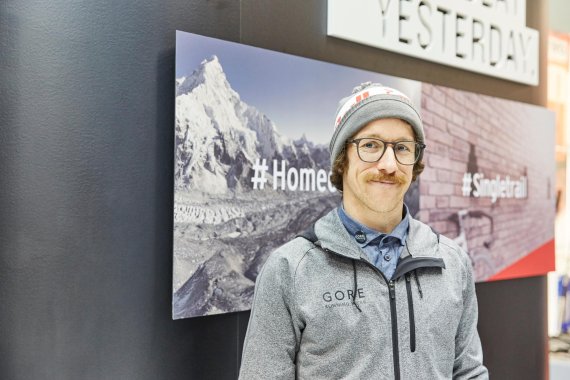 On Monday, Florian Neuschwander got a little lost during his spontaneous morning run in Munich. Couldn't find the way from his hotel in Giesing to the Isar river, was directed into the Perlacher Forst forest by an Instagram follower, took a wrong turning, still managed to set up a few records for stages of his run on Strava, missed the S-Bahn (suburban railway), hopped into a taxi – and, of course, arrived at ISPO MUNICH's health & fitness hall B4 right on time to join one of his partners, Garmin.

Read the interview with Florian Neuschwander here: This is the secret of my success >>>
"The timing still worked out," says the ultramarathon runner. In his case, running 15 kilometers with two quick intervals in between translates to: two kilometers in 6 minutes 24 seconds. Pounding the pavements has become his job. From squad athlete to a freestyler who does, runs and trains as he pleases and who through this attitude has developed into his own brand, making strong use of social media and thus attracting the attention of sponsors.
Neuschwander is a fan of those people online who, like him, enjoy pounding the pavements. He also uses Facebook and Instagram to spontaneously arrange group runs with them, especially when he is on the road. "We really will run slowly. And don't worry: we will wait for those lagging behind a little," Florian Neuschwander promises.
After all, he can pound the pavements and go faster on his own runs. Currently, he is training for a 10-kilometer run in Langen (Germany) – "in and out before you know it," says the ultramarathon runner, who plans on completing the 10 kilometers in precisely 31 minutes. And afterward he is going to run 5 x 1000m, 2 minutes 46 seconds per kilometer with increasing intervals. Neuschwander has this to say to those who think that is a little ambitious: "I'm not completely fighting fit – but, okay, I'm doing quite well."

Read here: Running digital – 7 tips for running in 2017

Neuschwander wants to hit the 80-kilometer mark at the Wings for Life World Run

The Wings for Life World Run is the highlight of the season for him: it is a global charity run by sponsor Red Bull, in which the aim is to run as far as possible before the catcher car, well, catches up with you. In 2015 in Darmstadt, he won the German run with xy kilometers and also attracted attention and established his social fame outside of the running scene. In 2016 in Munich, he finished with 63.5 kilometers. "That was nothing," says Neuschwander and lays down his goal for 2017: "I want to hit the 80-kilometer mark!"

35 km? Ach komm... Dann geht auch ein Marathon ! :-) Endzeit war dann: 2h 45:46 min.

Posted by Florian Neuschwander on Saturday, February 4, 2017
At ISPO MUNICH, Florian Neuschwander shows interest in POLYGON

The man trains hard, but also plays hard. Aside from the running zone in the health & fitness area at ISPO MUNICH, which he is attending from Sunday to Tuesday, Neuschwander was particularly taken with the action hall B6 with its new POLYGON concept: "I like the boarders and skaters," a group he was part of for many years. And B6 is giving him plenty of tips and ideas for his own collection, "Shop with the Flow." Neuschwander: "I've already had a look around and found inspiration. I'm really into flashy caps and shirts with cool prints."

Who knows what Neuschwander, who is seldom seen without a cap, will wear at the VIP dinner on Tuesday evening. Here, he will be greeted by Chairman and CEO of Messe München GmbH, Klaus Dittrich.