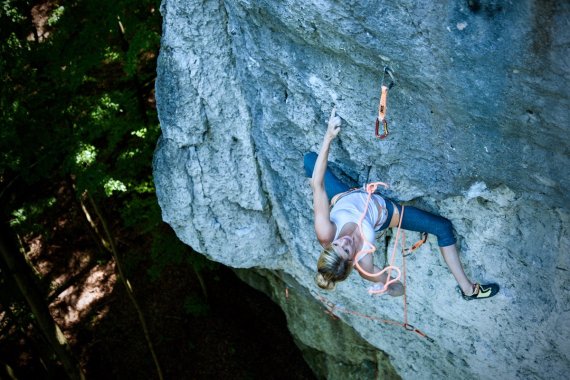 ISPO.com: What is the most important characteristic that has made you so successful at climbing?
Lena Herrmann: No doubt passion und discipline. But anyone can have a lot of discipline or a lot of technical expertise. If you are not passionate enough along with it, none of this yields any results. Whichever level you enter at and whatever your end goal may be: Passion is the most important of all. 

But passion does not arise by itself. What drives it?
For me it is an ambition to find out how far I can go and what all I can achieve. For me, climbing is such a high priority that it is not a problem at all to see anything through. I know that every moment is worth it - whether that be painful training or a project on the rock. Climbing is a sport in which, not only does performance count, but it also reflects a lot of the personality. 
At ISPO OPEN INNOVATION, experts meet with the hobby athletes – and work together with companies on the latest trends and products. Register here free of charge >>>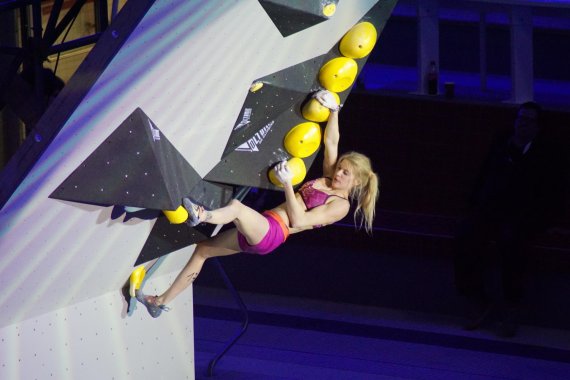 "Either you climb to the next quickdraw now or you let go, because you're scared"
You seem to know yourself well already. How do you deal with the issue of fear? For example, when you are a long way above the hook, or you are at your personal limit?
I have been climbing since I was a small child. At the age of eight I started lead climbing. If you have already trained such cognitive skills as a child, then you do not find that so bad and can familiarize yourself with situations more quickly. Even at that time, I saw that personality characteristics can help a person with this. So, either you climb to the next quickdraw now or you let go, because you're scared and you have to do everything again, right from the start. 
So you don't have any more fear at all?
By now, I don't have any fear of lead climbing, at all. Quite the opposite: When I am a really long way over the quickdraw and can no longer see the hook, then for me that is a pure moment. Then the moment of flow and my concentration are even stronger. 
Let's discuss your training. How do you divide your training between further building up your strengths and improving your weaknesses?
Periodic training planning. In the winter, when all climbers go to Spain, I am at home on the roof of my shared home and I am training. In the last two years I began to train in a goal-oriented way. For example, being able to climb a specific route on the rock or in a specific area. Previously, I did holistic training, in order to become a more complete athlete: Focus on overcoming weaknesses and, at the same time, improving the strengths.
At the moment, what are your weaknesses and what are your strengths?
I am strong in everything to do with finger strength climbing. I am particularly good on small ledges, hollows and slightly overhanging sections. This is why I also like to climb in the Frankenjura. The things I cannot do so well are super-maximal force things, sloper pincers, super vaults. But in order to improve myself, in training I also occupy myself with the things that sit badly with me. Now, however, I am considering what my goals are. Normally it is a specific route. 
When you seek out a route that you wish to climb next, how do you then approach the training?
Firstly I go to the rocks and go from quickdraw to quickdraw to see what the route demands. It is best to look at the route in autumn and then train in winter. Then you know where there is room for improvement and can align the training planning to this. 
Which routes would you like to climb?
For example, routes that were first ascended at an early stage. Wallstreet (11-) by Wolfgang Güllich or Shangri-La (11-/11) by Guido Köstermeyer. Usually very historic routes. Then the degree of difficulty there does not matter to me.  
Entry is simple: "At the start, simply go climbing a lot."
What does the training then look like for you, specifically, at home?
I start with a preparation unit, that is to say, muscle development, in order to improve maximum strength, finder strength, overall athleticism and body tension. In parallel to this, I build up basic endurance. At the end, then, is the strength endurance. I ensure that now and then I also get on to the rocks or go to the boulders, so that I do not completely lose the sensitivity to the rock. 
Which ultimate tip would you give to hobby climbers that would immediately make them better?
At the start, simply go climbing a lot. I do not understand climbers who wish to become better and are starting to train for this reason. If I would say "I want to row now!" then I do not go firstly to the rowing machine in the fitness studio. Therefore simply climb a lot.

Only climbing?
It is best to try out various climbing challenges and various boulder routes. Also to work together with motivated people, who are perhaps a little bit better than me. If your performance then slumps sometime after several years, that is when you can start to train. But at the start, a lot of climbing is the most important thing.
At ISPO OPEN INNOVATION, experts meet with the hobby athletes – and work together with companies on the latest trends and products. Register here free of charge >>>