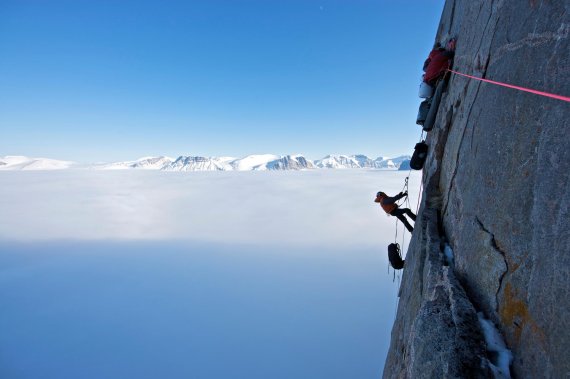 ISPO.com: Mr. Glowacz, 350 kilometers over ice, and at the beginning of the snowmelt at that – what exactly does that mean?
Stefan Glowacz: Reaching the mountain from the last point of civilization on your own power, without technical aids, and there climbing a difficult first ascent and coming back again on your own power. All of that with equipment and rations for 30 days on over 100 kilometer-heavy sleds.
How did it come to the idea of climbing in this forbidding region?
It came about a year prior in Patagonia. We wanted to overcome a 1,000 meter-high wall, but when we got there the first rock failure came down, and it wasn't going to be the last. We were unsuccessful, but we did develop the idea of going back to Baffin Island, where I had already been two times before, and nearly died in -3 °C cold water in 1999.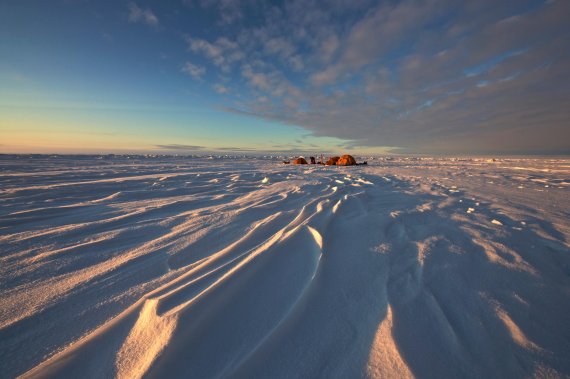 This time we wanted to go at a time when it was warm enough to be able to free climb on these gigantic walls. But that's also the transition period when the ice starts to crack. So we needed a special sled with pinned-on mountain bike rims, also known as a rickshaw, that could act as a raft/canoe in an emergency and as a sleeping platform on the rock face. The Salzburg company Mubea Carbo Tech, which is otherwise active in auto racing, built this multifunctional sled for us – a project costing a good 70,000 euros. 
Glowacz named his sled Filthy Swine
How did you know how long the ice would hold?
That was a constant consideration: go over the ice quickly but dangerously, or slower but more safely? The positive, by contrast, was that we had constant sunlight at the height of summer. Sometimes we set off at midnight because that was when the surface of the ice was the hardest. We felt as if we were moving on another planet.

It was the first climbing expedition to take place in that way. And then when we saw this 1,000 meter-tall face in front of us, I had tears in my eyes. A very emotional moment. The tour was something like a declaration of love to this place you had gotten close to in such a sacrificing way, and couldn't quickly fly into or set down from a skidoo. 
Once there, things didn't go too according to plan at first...
With this kind of adventure, climbing on the rock face is only one component, one of many disciplines. The bitter fact was that we came across signs of an ascent on our wall – so just a second ascent? Then we climbed new variants and still got into a rockfall 150 meters before the summit, after which I could barely grip with my hands anymore and Robert had to take the lead.

The fact that somebody else had already stood up there didn't take anything away from our success. But at the summit you're already on to the next step mentally: the return march back to civilization, through the ice that since then has broken even more. The natives say that the ice break has become totally incalculable and has shifted by a whole month. The tour wouldn't have been possible without the technology of our sled, which we gave the pretty nickname of Drecksau (Filthy Pig).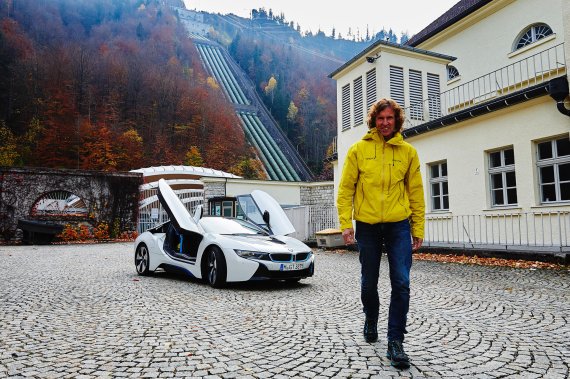 You do know your way around innovative technology as a BMW spokesman...
For me, a good day of climbing starts in the garage: when I climb into the i8 with a smile on my face. Extreme climbers have a sense for aesthetics – and have a penchant for driving fast. It came full circle with the car for me: I can absolutely get behind that. Of course we climbers are all very environmentally and naturally conscious, but we also take the right to great mobility. 
You've been on the road to the most remote corners of the world for more than 20 years. How has the nature of the expedition evolved?
It comes down to what you consider an expedition. There are few adventures like ours on Baffin Island. Creative climbers inspire me. People who don't just climb well but also, for example, sail somewhere and make a first ascent. Who consider: What's the next step?
David Lama also belongs in this league. Those are people who take the nature of the expedition to another dimension. The projects and undertakings have become so demanding that you can't assume that you'll achieve your goal in just one expedition anymore.

That's often just an approach. You go there, take a look at it, come back with experience, think the whole thing over again, go back there, get a bit further, and sometime you have to make the decision: Do I do it or do I not? Then that's the area where it get absolutely life-threatening. That's where you have to be ready to say, 'I don't give a crap, I'm risking it!'
You've been familiar with the topic of mortal danger for 30 years now, since your free solo climbing days.
I also talked about that with David Lama. He wanted to go on an eight-thousander in the Himalayas, and first told me, 'Go stick with it.' But then: 'Nah, it's not a good idea. You're too experienced already.' I asked why. He said, 'You think too much.' He's right there. Sometimes you can't keep thinking about it anymore.
Disoriented on an expedition
Are these the new climber types?
For the issues that are still left, you have to think so. When you think it over, you'll come to the decision that you're not going to do it. You don't think when you're solo climbing either. You stop thinking when you take your first step on the wall. You don't think beforehand that you can have a fatal accident, either. It's the privilege of age that you postpone the relation sometime. Everyone who's ever done such extreme climbing has that experience. Especially when something happens to you during it. I once fell ten meters down, was severely injured – in that moment the subject of solo was done with for me.
Now, without a rope I think every five meters: uh oh. You get a bit traumatized. It used to be the coolest. Just running off from the lodge with your magnesia bag, no rope, just a pair of sneakers. Your head is shut off as if you were meditating; you just concentrate on what's in front of you. Your body's releasing so much adrenaline because you're forcing it to be concentrated. You don't hear any more noise, only notice everything on the side, you don't feel any fear. That is the flow. When you get up there, it's as if you're waking up from a trance state.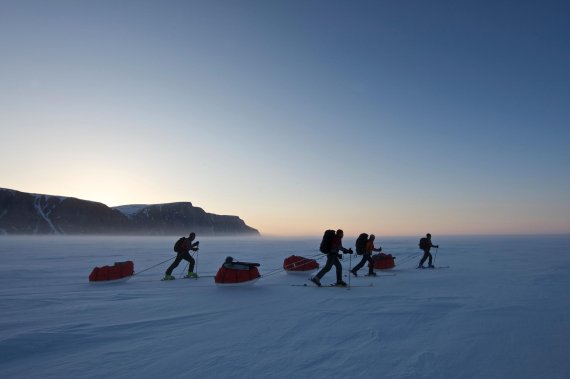 Don't you fall into a hole after that kind of an experience?
I had that after an elaborate expedition that we had worked three years for. After that I was totally frustrated. A psychologist explained to me, "It figures. You weren't on vacation for three years, you were actually occupied with the project. At some point this project is completed and it won't exist anymore. A goal is missing." That way you become disoriented, you don't have any footing anymore, you become completely depressed. You have to put in the time, body and soul, to rejuvenate yourself and look for new inspiration. The first time you don't have any motivation for half a year, you actually do fall into a hole. When you start to train, you also notice that you're completely burned out – because you were just on the road for 30 days like an ox.