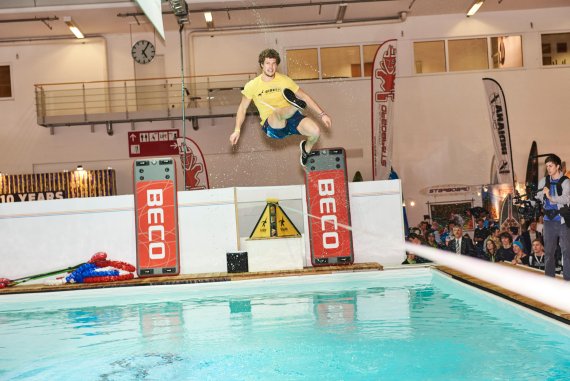 After 30 minutes on, red welts had already appeared on the torsos of Jaan Roose, Nathan Faure Vincent and Tauri Vahesaar. Grazes and scratches from the crazy stunts on the slackline hanging across the pool in the Water Sports Village at ISPO MUNICH 2017.
Test new, innovative products with some of the most exciting sporting goods brands on the market >>>
"Slackliners have to endure pain"
The slackline swings up and down when the athletes jump and catapult themselves up in the air. The slackline is tightly lashed like a tension belt on a truck's loading bed. Sometimes the athletes land on their buttoms, their feet are whacking the water. Anyone who thinks slackliners are just those relaxed guys in the park trying to balance on a line between two trees, has got it totally wrong.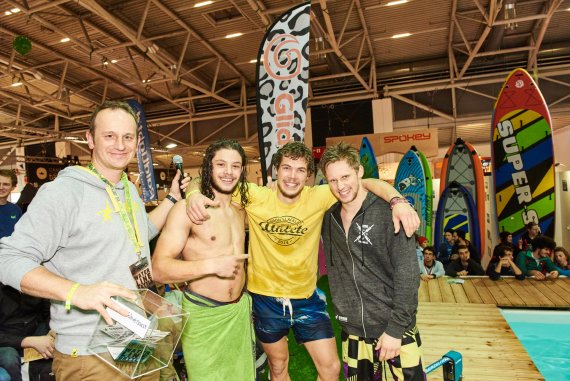 "You have to endure pain to make progress in slacklining. That's what distinguishes professional slackliners from those who only do it as a hobby," says Tauri Vahesaar. It's the 23-year-old's fourth time in a row at ISPO MUNICH: "What's so remarkable here is that so many spectators are here around the pool cheering us on."
But an hour into the contest, even Vahesaar has had enough. "It's freezing!" He runs to the Gibbon stand in hall A6 and disappears behind a curtain made of slacklines. The spectators have crowned him the winner of the competition.
Slackliner Tauri Vahesaar: "It's an honor"
The young Estonian from Tartu, Estonia's second largest city, is a professional slackliner and is even able to make a living from his passion. His main sponsor is Gibbon, in exchange for the sponsorship Vahesaar has to travel from contest to contest.

The biggest competition is the Red Bull Slackship, a ship in Gdansk with a slackline stretched between its two masts at a height of 25 meters. There is no room for any fear of heights. This is a sport reserved only for the toughest of tough guys. Tauri won second place in 2016.
The ISPO contest is not nearly so grandiose by comparison, but Vahesaar, co-starring in Assassin's Creed as a stunt man, is nevertheless here and happy to take part. "My girlfriend is German." His favorite phrase in German? In typical Munich style, "It's an honor."