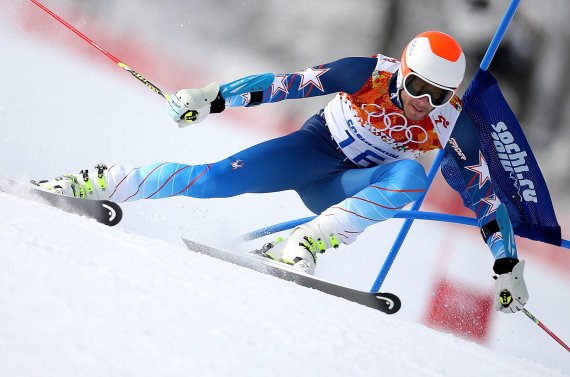 ISPO.com: Bode, how would you describe your profession to someone who has never heard of Bode Miller before?
Bode Miller: Well, I think sport is pretty self explanatory. The cool part about it is the history and the fact that it is something people have done for hundreds of years. Transportation, getting around through the snow. It's just such an experience being outdoors. And if you combine that with the high level of competition that you get in the world cup, where the margins of victory and failure get so small and the consequences of a mistake so high, that's pretty unique in that way.
Would you describe yourself still as a racer or as a business man? What is your job right now?
I think both. I mean, it has been both for a long time now. I was certainly a racer, but focused a lot of my time and energy on the business side of things as well. Even though I had such a long career I really don't feel that much different now than I did when I was in my twenties. The biggest change is my family. My priority is at home. I have so much more responsibility in that area. It becomes a different priority feeling than in the beginning. Ski racing was my top priority, now it's my family.
Congratulations for the new born, by the way! How old is Emeline Grier?
She was born on November 5th 2016.
Bode Miller got a new job at Aztech Mountain
One priority level below family there is probably your new job at Aztech Mountain. Why did you choose this brand instead of any other in the world, which for sure would have loved to work with you as well?
I have experience with Kjus. I worked with them for years and it was a unique relationship. It was a great experience for me because I learned a lot about production and the industry as a whole. I was pretty involved. At the end of that relationship I realized that I really wanted to be part of a company that has the same kind of idea for providing the materials to the people. At Aztech, we see it as our opportunity to be the very best. You stay small or you start off small and you keep your priorities very strong.

When I first met with them, we had such similar views on what we wanted to do in the States. It was obvious that we could work together. Coming more from the luxury side, Anthony and David had the advantage of understanding that angle. But I think most people in the sports clothing world do understand luxury that way. That understanding put them in a much better position because when I approach them and say: 'Look, we can make this little thing a little bit better.' a lot of companies would say 'Let's not worry about it. It's a small thing and it's going to cost us money to fix it or make it better. Let's just leave it.' And the team at Aztech said: 'Absolutely, let's do it right away!' That's a small piece of what makes us so unique. The founders truly see the value in fixing and making things better all the time and if they figure out a way to make something better, they don't hesitate to do it. That's how you get to the top and that's how you stay there as well.
Bode Miller with Aztech's David Roth (left) and Anthony Rutgers
How big is Aztech in the US? It's not that very well-known in Europe yet...
It's a very young company, only a few years old. We are sold globally in over 30 different stores.  Our International business in 2016 grew nicely, we launched in Japan & China with strong results. Although we are not huge in Europe yet, the key accounts we do have have a very strong Aztech business.  Our retail partners and our customers recognize the quality. The product speaks for itself. That's the nice thing – Aztech Mountain is truly authentic and not a product of a slick marketing team.
The challenge for us is to maintain the quality as we scale to build the right infrastructure, to find the right people to include in the company and to make sure, when we grow that we don't lose quality. Demand is on growth, everybody wants the stuff – but you need quality control and you need to maintain a customer service. Sometimes those things aren't as valuable as you like them to be and you can't just expand really easily. That is something we are all very aware of. We have very experienced people on the board and involved in the company. They came in with advantages that are very useful. We have such a great team, genuinely nice people to work with.
Check out what Julia Mancuso says: "I want to take part in the Skiing World Championships in St. Moritz"
"I've been in the ski world since I was five years old"
On which products have you been working on till now as chief innovation officer?
Everything. All the way from the shorts, the summer stuff, the flannels we have, the ski jackets. One of the things I feel very strong about and that the guys believe in as well: We can make better crossover pieces of apparel than anybody else. We can make a jacket, that is a ski jacket, but you can also wear in New York City or for Après-Ski or just for walking outside.
It's a modern way of thinking about the industry, because people don't want to have five different jackets. A ski jacket is a ski jacket and you would feel strange wearing a ski jacket walking around in New York City. Yes, people want to have a technical angle, when they are out on a ski hill. If you do it just right, you can get that crossover feel, where the jacket is stylish enough and looks great, is technical, but can transition to every other area – and then you have to wear your jacket every day. That is where I think we are better than every other company out there. We have the right knowledge and the right background to make that reality. As I said I worked on basically every piece in the line, all the way from the cut, testing material and shape of the T-Shirts and golf-shirts to the flannels, cuffs, pockets and zippers. We just keep making things better.
Read here: Skis of the Stars: What Shiffrin, Lara Gut, Rebensburg, Lindsey Vonn, and Mancuso Take Off On
A new world for you. How good are you in designing?
It's not really new. I've been in the ski world since I was five years old and I've worn jackets of every sort and been exposed to the world's most aggressive and demanding climate for your clothes. Spending that much time in the wind, in the cold and the rain you recognize what works and what doesn't work. In my time working with some other companies I've seen some of the new technical advantages in the materials and the fabrics and in the treatment for the fabrics. I have a unique experience to be able to get all these things together into one person and assimilate information.
When I start talking about how we are going to change the fabrics and do different treatments, it's from experience, it's not just speculation or not coming from an engineering side, sitting in an office, thinking: 'We need something that repels water more'. It's because I know it specifically from being out on the hill, in certain areas you don't necessarily need different materials, you can just do different treatments on the same fabric and you'll get a better result. There is no other way to do it except from the experience.
Read here: Snowboarding Is Dead? These 5 Trends Make Snowboarding Immortal
"My first ski jacket was really big, puffy and oversized, but I definitely liked it"
How important is fashion for you?
For the company fashion is incredibly important. Because if people don't feel good in their clothes, they just don't wear it that much. Me personally, I like clothes that work very well, that fit well, have the right stretch, right cut, that the pockets are perfect. Because the guys have done such a good job on the design, I just wear the stuff because it works very well, and then I start to recognize that I really like the way it looks.
I'm one of the unique people, that comes more from the other side, but in the end both parts are equally important for the company. We do not stock exactly the same as some companies, that wear red, black, blue and white. We don't like the super flashy, bright stuff. The patterns that we use and some of the stitching we use for detailing in the pockets, you really notice it. It's not just in your face and too loud. I'm very happy with it.
Do you have a favorite color?
No, I tend to like black and gray, but I like the blue and red and green of our flannels as well.
Remember your first ski gear as a kid, way back in New Hampshire?
I think my first stuff was CB. And I had stretchy pants. The CB jacket was really big, puffy and oversized, but it was warm, and I definitely liked it. We've come so far in what we've done with material, it's incredible.
How would you describe your target group?
We have a broad spectrum. That's one of the advantages of our style. We focus on incredible quality, incredible cuts, the shape of the garments and the materials are the latest and most technical fabrics. That appeals to everybody. We don't have to worry about who we're going after, whether it's a technical skier or somebody else, because there is something that fits for everyone. There is such a wide range of uses for each thing.
Read here: Skis of the Champions – What the Star Skiers Use
ISPO MUNICH is our chance to present our collection to retail and media partners
Sounds like you are very deep into it. Do you feel well in the world of business?
It's a great opportunity and it's nice when you work with someone who truly has the same values and the same goals. That makes it easy. We are in a perfect situation.
You are joining ISPO MUNICH in February. How important is ISPO for your new job?
Coming to ISPO MUNICH 2017 as a co-owner of a dynamic performance outerwear brand is an exciting new moment for me. I'm proud of my contribution to the product line that we'll be showing. This is our chance to present our collection to retail and media partners from around the globe and give them the chance to experience the product firsthand.
What does this new job mean for your racing career?
Nobody really knows. We talked about the possibility of racing this year or in the next years. It's still a possibility now. I'm fit and I'm always keeping my thoughts in the right condition. We have different challenges to work with. It's something I don't have a definitive answer for you right now, but I can say it's still a possibility.
How many ski days do you have so far?
Probably 25.
Do you miss racing?
There are parts of it that I miss. I was just doing commentating for NBC last weekend from the races in Val d'Isère. I don't miss it in a way, where I feel that I have to go back and do it. I could be okay with being finished, but I do love skiing, I love racing.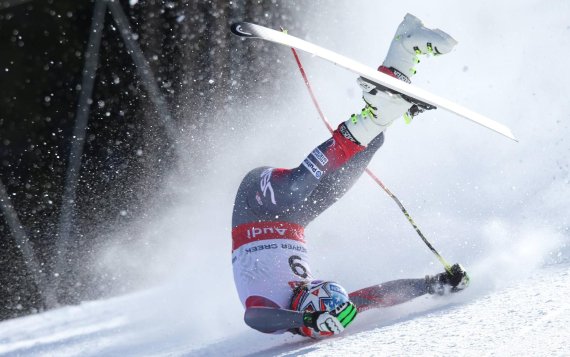 Have you been training with the US-Team lately?
Yes, for some days at Copper Mountain, Colorado.
What was that like?
I feel very comfortable. There is nothing really big standing in the way.
What would be your favorite Comeback-Station during this winter?
I don't know. The later January races in Wengen and Kitzbühel are possibilities, the world championship is a possibility, but it is still a big question mark.