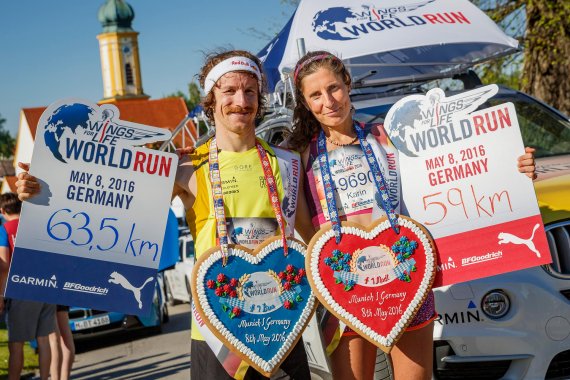 In 33 countries and 34 locations the participants ran as far as they could until they were overtaken by what is known as the catcher car. Among the men, the Italian Giorgio Calcaterra managed the greatest distance: His race only ended after 88.44 kilometers. Among the women, the Japanese woman Kaori Yoshida won with 65.71 kilometers.
Running in the sun – fitness was needed

The best German was Florian Neuschwander. He managed 63.33 kilometers. "It was super hard. I surely had to stop ten times, two of which were in the bushes. Then my goal was only still to manage 60 kilometers – there wasn't enough for more today", said Neuschwander after the race. "However, am happy that I still cracked the 60. Now, firstly, there is a party with my friends here and then a holiday. Next year I will attack the 80."

Alongside Neuschwander, other prominent athletes such as Miriam Gössner, Philip Köster, Heinz and Hannes Kinigadner, Sabrina Mockenhaupt and Anna and Lisa Hahner also took part.
Wings for Life is a charitable foundation. 100 percent of the entrance fees from all runners, as well as donations, go directly to spinal cord research. In this year, EUR 6.6 million was raised.