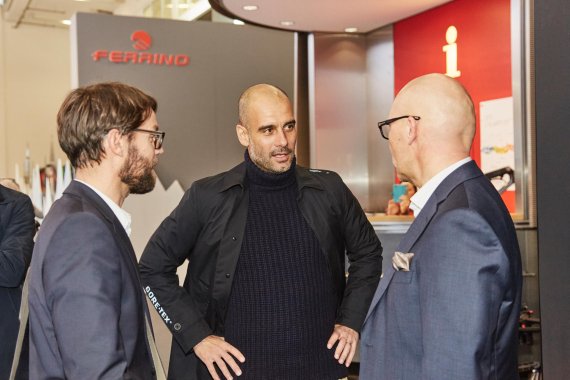 "Pep Guardiola signed a contract. Until summer 2019." The presenter from news channel Sky Sport News HD was in her element and the audience in ISPO Alpine pasture smiled. And the FC Bayern Munich coach didn't reveal anything at ISPO MUNICH 2016 either about where exactly in England he'll be going this summer when he leaves Munich and the German Bundesliga.

Only one thing is certain: The Spanish soccer coach will be taking his waterproof jacket with him. His contract with Gore-Tex, which he signed last summer, is still in place for another three-and-a-half years.
Yet one could easily think that something has happened with Pep Guardiola to ease his trademark tension. The head coach of the German soccer champions appeared more relaxed than ever before at his sponsor's booth. The usually aloof 45-year-old took countless selfies with strangers and even engaged in small talk with fans among the visitors to the trade fair.
How did Gore seal the deal with Guardiola?
Guardiola not only appeared patient but also genuinely interested when Christian Langer, Business Leader of Gore Fabrics, showed him the product range – he wanted to try out the materials and seemed determined to take exactly the kind of focused approach to being the outdoor manufacturer's brand ambassador as he does to his job as a soccer coach – albeit much more calmly.
How did Gore succeed in signing a contract with him? "I'm easy to persuade," said the Spaniard. He had to laugh because he is largely considered to be fairly headstrong. "Everyone says, 'Pep is complicated.' But I'm really quite easy."
Of course, FC Bayern is not unreservedly of the same opinion, and the reverse is true as well, with Guardiola not always feeling understood during his three years with the German record champions.

And we got a brief insight into the soul of this tactical tinkerer at ISPO MUNICH when he spoke about why not everyone has to like his constant changes to systems and line-ups. He says that every opponent is different and each game is a new start, that "you always have to react differently and in new ways, and keep the tension high – even for the players, otherwise it's boring."
The Bayern coach needs challenges
Especially those he himself can face. "After three or four years you've done everything," explained Pep Guardiola in a plea against contentment. "You need adversaries to get better. And you need to challenges to get better. You always need new challenges."
He said this to extreme climber Stefan Glowacz when both men spoke of adventure during a Gore-Tex testimonial. But if you read between the lines of Guardiola's explanation of his soccer job in ISPO Alpine pasture ("I've never been to the mountains"), you'll find the reason he's leaving FC Bayern after three years. The Premier League is his next challenge.
Is Guardiola going to Manchester City?
It may well be Manchester City. They're just waiting for him to sign. Whether the Spaniard, who is used to sun, will like it there, rainy British weather and all, is something Pep Guardiola is also asked. He took one look at his sponsor's jacket and said, "We have these products. We're safe." Gore-Tex will also be able to help Guardiola in England. And vice versa.