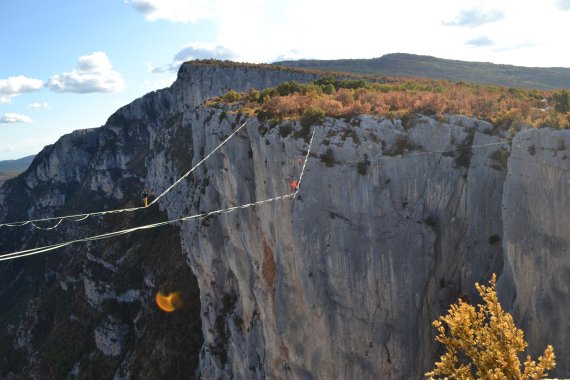 The slackline group One Inch Dreams athlete supported by Red Fox Outdoor broke his own world record by 38 metres, "Mental and physical, of course, a world record attempt demands everything from you. It is difficult to put the feelings and thoughts into words during the balancing act. The most important thing is that there is no fear", Kühne said after the successful attempt to break the record.
"I'm incredibly happy that I was able to fulfill this dream and that I was the first person to cross a 100 meter long highline without safety device.
Slackliner Friedrich Kühne: "I know my limits" 
Free Solo Highlines is the ascent of a slackline without safety device, which is between ten and 1000 metres high. According to Kühne, "it requires an extremely high degree of preparation, body control and self-confidence".
The teacher training student, who started slacklining seven years ago, feels up to the dangers: "I know my own abilities and limitations. I know at all times whether I have control of the slackline or whether I'm about to fall", says Kühne, who is about to embark on a slackline tour of the United States, including highlines in the deserts of Nevada, Utah and Arizona.