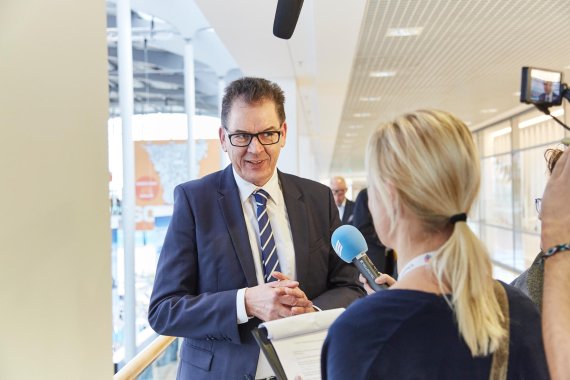 German Development Minister Dr. Gerd Müller happily uses his famous name when he goes off gallivanting – the former soccer player rose to worldwide prominence with his nickname, "the nation's bomber." "When your name is Gerd Müller, of course you feel strong ties to the world of sports. And ISPO is the world's leading trade fair after all," explains Müller about his visit to the international sporting goods industry's most important trade fair with a smile. And the Minister made sure to bring his message with him on Monday when he made his way through the booths and during his podium discussion at ISPO ACADEMY.
A living wage and minimums for environmental standards
"Sports plays a model role. And German sporting goods companies are among the world leaders in this market. The industry makes a turnover of 7.5 billion euros. We should make this fair and sustainable," said Müller. This includes guarantees that even the seamstresses working in Asia or South America at the start of the supply chain are paid a living wage. That plus compliance with minimum environmental standards.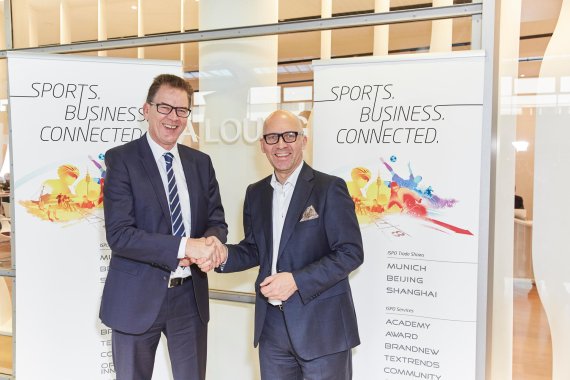 The CSU politician told of a visit to a factory in Columbia where he was given a 35-dollar outdoor jacket as a gift. The same model was sold in Germany four weeks later for 350 dollars: "That means it's entirely possible to pay one or two euros more to ensure the seamstresses receive a living wage without having to raise the price of the product. "Chic and fair are not mutually exclusive." 
170 companies are members of the "Alliance for Sustainable Textiles"
The willingness to join in this movement is great in the German clothing industry. Just 15 months after the "Alliance for Sustainable Textiles" was founded, 170 companies have already become members – about half of those in the industry.

Müller hopes to further increase the attractiveness of the Alliance by introducing a special seal to distinguish sustainable production. "Of course it would be nice if only fairly-made clothing with the green button on it were exhibited at ISPO next year," said Müller. At the next ISPO MUNICH, or perhaps the one after, consumers could then perhaps use their cell phones to scan the item's bar code and see just how sustainably it was produced.
Fair textile production should become a worldwide standard

During the podium discussion, Martin Riebel, Managing Director of Deuter Sport GmbH, praised the Alliance's approach of combining fair wages and minimum environmental standards. The backpack producer has already been following sustainable production standards for 25 years now, working with a supplier from Vietnam. And his company is also a member of the Fair Wear Foundation.  

Riebel has joined together with the minister to help minimize the administrative costs for the German textile alliance as much as possible: "And it should not just remain a German issue. It should become an international standard. The textile industry has long been active in the global marketplace."
Global approach to sustainability
This is the global approach Development Minister Müller is following. Official agreements on maintaining minimum standards in textile production are already in place with 80 countries. And the issue has already been the subject of discussion in talks between German Chancellor Angela Merkel and US President Barack Obama.

Gerd Müller says, "Textiles are trailblazers. We want to make sustainable production the standard, both across Europe and worldwide."