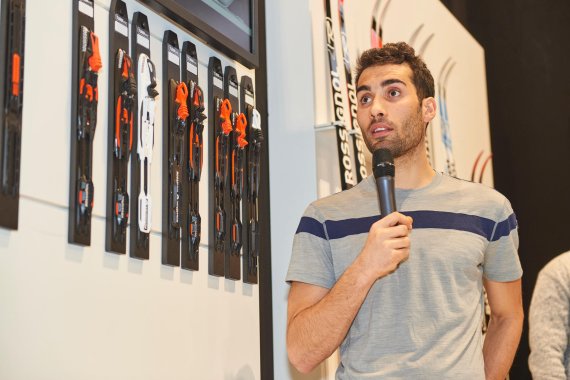 Martin Fourcade took two hours at ISPO MUNICH to patiently meet every fan's request for a selfie or an autograph. At the end of his Sunday visit, he had an informal chat with Klaus Dittrich, Chairman of the Executive Board of Messe München GmbH, who of course wanted to meet this "exceptional athlete" in person.

Test new, innovative products with some of the most exciting sporting goods brands on the market >>>
Fourcade seemed completely relaxed, even though the most important races of the season are just around the corner. On Sunday evening, the French biathlete traveled directly from ISPO MUNICH to the Austrian town of Hochfilzen, where the World Cup will take place on Wednesday.
Own product line with Rossignol
"As a fitness and outdoor fan, I have already heard a great deal about ISPO and now it's my first time here. Being immersed in the ski industry, it's really cool to see all these new products here," Fourcade enthused. At his ski company's stall (Rossignol), he presented his own product line "Martin Fourcade" for the first time, which will be available in stores from winter 2017/2018. A highlight of the collection are cross-country skis sporting a black and gold design. Black is the heartthrob's favorite style and "the World Cup will hopefully show why I've included gold."
The ten-time world champion Martin Fourcade is the resounding favorite at the highlight of the season, which takes place from February 8 - 19. In just two months this winter, he has already won ten World Cup races, beating his personal victory best.

Fourcade faces stiff competition
Even though he is well on his way to his sixth overall World Cup victory and won four gold medals and one silver at the World Cup in Oslo last year, the 28-year-old remains modest: "I would be happy if I could win gold one time. I'm really not asking for more than that." 
After all, he faces stiff competition: Norwegian biathlete Emil Hegle Svendsen and German-born Simon Schempp make him particularly nervous. "I have great respect for Simon. Luckily, the German fans like me too, even though I beat their athletes from time to time," Fourcade said with a grin. And allowed himself to be photographed with his closest fans in Munich. 
Video: Fourcade Visits the ISPO MUNICH