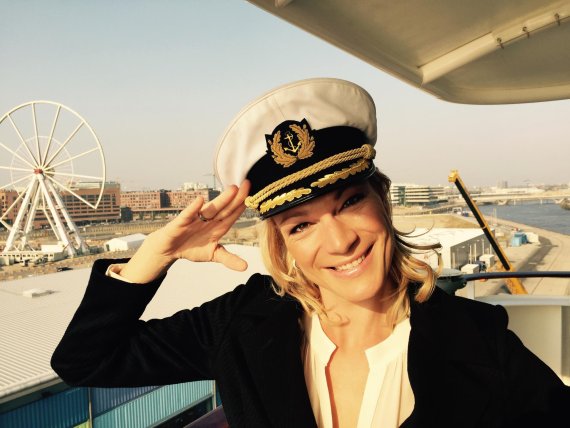 In the interview, the 31-year-old touches on her life after her active career and talks about the "Maria" brand. She explains why she wants to convince people of the benefits of eating healthily and exercising – and how she defends Franz Beckenbauer against his critics.
ISPO.com: Two years on from retiring as a professional skier, what role does sport play in your life, Ms Höfl-Riesch?
Maria Höfl-Riesch: It goes without saying that sport is still very important to me. I try to do some form of exercise on a regular basis. When I'm at home, I usually get up about 6/6.30 am and then do some endurance and strength training for an hour. It's a bit more difficult when I'm travelling because sport falls by the wayside when I have a hectic schedule.
I'm certain that didn't happen when you were skiing.
But that's precisely what I enjoy. The intensity is lower and I can train as I please – without being completely worn out at the end. You could even say it's sport with a sense of well-being. During my career, my training plan was always monitored, controlled and managed with precision, and in my final active year, I worked together with my athletics coach Heini Bergmüller. The plan for the week would come through on a Sunday evening and then it would be adjusted on a daily basis. I trained for an average of six hours a day.
And you no longer have fixed plans?
No. My endurance training is far more relaxed now, and in the summer I go outside – my favorite is being in the mountains, of course. At home in Kitzbühel, in the mornings I sometimes go straight up the Hahnenkamm mountain; I can then enjoy a lovely coffee as my reward. I don't run up it though, just walk. It takes about an hour and three quarters. I then come back down via the cable railway.
How many days can you last without doing any sport?
Three, four – then I start to miss it too much. But I don't think that necessarily comes from competitive sports. I'm certain that I would have always enjoyed exercising, even without competing in elite-level sport.
Many people say they have a weaker self – is that true in your case?
Yes, certainly. I'm more of a gourmet and I love to eat. That didn't used to be a problem in the past; in fact, I had to eat a lot. Now I have to adapt what I eat to how much exercise I do – and vice versa (laughs). But it suits me to keep at it. We've set up a gym in the basement at home, which is really practical.
Fitness has become particularly important to you. But not just as an athlete, but as a trainer too.
By the end of my career, I was fascinated by what you can achieve if you work to a personalized training program, and that's something I've taken with me. People's needs are very different and there isn't one single recipe for success. This is certainly one reason why some people are simply horrified by sport. They've read somewhere that their training needs to be high intensity, but then afterwards they are completely worn out and can't move for the next three days. I want to teach people how important and sensible it is to have a moderate, personalized training plan. To feel better about yourself, to stay fit and healthy – or even to get fit and healthy.
"How do you train, what do you eat?"
As a multiple ski World Champion and Olympic Champion, you are a prominent person that can reach out to others – do you want to be a role model for others?
Being a role model is a big concept, but I am already consciously getting involved – for example, I am working with the German Ministry of Health as part of the "Immer am Ball bleiben" campaign to raise awareness about the importance of staying fit and active. There are far too many people who are overweight, and sadly this is affecting children too. Showing people how important it is to keep active is a topic very close to my heart. I want to raise awareness of this issue. You don't have to go to the gym, but everyone needs to exercise regularly.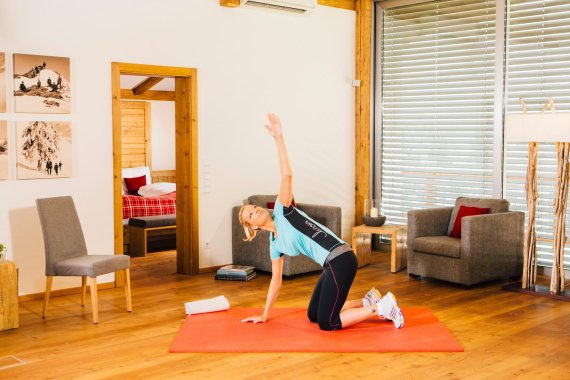 Do you have the feeling that people need an invitation and guidance to exercise, and how can you specifically meet this need?
First and foremost, it is a question of setting objectives. If somebody comes to me and tells me they want to build up as many muscles as possible in the shortest amount of time possible, I tell them that it's pointless. The first step is to establish a foundation by undertaking regular endurance and strength training. It also makes no sense if someone wants to lose ten kilos in as short a time as possible. Sustainability and regularity – that's the most important.
And what about nutrition?
I have a few simple tips that I'd like to share. For example, eat fewer carbohydrates and it's best to eat them in the morning. I often have muesli for breakfast. I add a spoonful of linseed oil to ensure I get my intake of healthy fatty acids. In the office, we often share a salad at lunch with avocado and lentils for example, so with filling and healthy ingredients. And we make our own oil dressing. I tend to avoid pasta and bread. Every now and then, I do enjoy a small sweet something from the bakery – but I'm very aware of doing so, and it happens very rarely.
Do you feel that you can reach people better and motivate them more thanks to your past and high profile?
There are always people who will have a moan. But the feedback is very positive overall. Both during my career and afterwards, I was often asked: "How do you train, what do you eat?", I'm happy to pass that information on. For example, via my training program BE.YOU, my fitness portal "Mariamachtdichfit.de", or on the MS Europa 2 cruise ship, where I use my concept to train passengers a few times a year.
Career after the career: Fashion, fitness and TV
Do you now see yourself as a business woman?
Not in the sense of having daily responsibility for a company, business plans and the like. But in the sense of things that I can do well, that I enjoy and that I can share with others: Yes.
You are knowingly establishing "Maria" as a brand. What does this brand stand for?
For sporty success, for fitness and health, for fashion-conscious, modern yet down-to-earth people who are devoted to their roots.
You're already a fitness trainer and TV pundit, and several clothing ranges bear your name. How do you see your business evolving?
It goes without saying that I will continue all of these things. Public speaking could also become a new direction as I always receive requests. This is something I'd like to look at now. But I know I still need to practice. I've had a good experience giving talks but public speaking for half an hour or longer is far more of a challenge. But one that I will gladly face!
What topics will you focus on?
My career highs and lows, and motivation – particularly after setbacks. But also about fitness and healthy living. So we could say topics where I can share my personal experience with others.
As a TV pundit and presenter, do you have role models, teachers?
I'm often in touch with Gerd Rubenbauer, he coaches me. Before important races, such as in Kitzbühel, but also regularly after my appearances. He's very open with me and tells me what was good – and not so good. I'm very grateful for the professional feedback, because my mum will always say: That was great! (laughs) Otherwise I just watch other athletes on camera: I particularly like Mehmet Scholl and Magdalena Neuner as experts.
How important is it to have a firm opinion as a TV pundit – and how important is it polarize opinions sometimes?
Of course I could stand in front of the cameras, be nice and friendly and say what everyone wants to hear. But that's not me. I speak my mind. There can be a bit of resistance if not everyone likes my opinions. But I have come to terms with that now.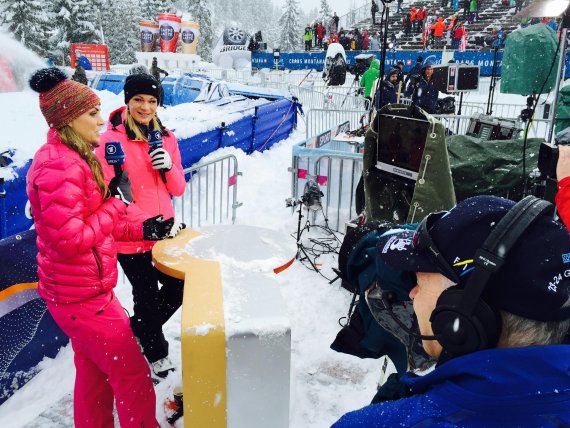 How much does your opinion influence your clothing collection for Otto?
I can say what's important to me in terms of look and functionality, for example. I'm then shown design ideas and we discuss them as a team. I can't draw any sketches but this way I can bring my experience and tastes to the table. This may be to do with something really small like a zip, but things like that are also important.
You have previously worked with Bogner – that was an exclusive collection that was also very expensive for customers. Yet now the Maria collection is available from a mainstream retailer.
Bogner has great things, no question. But the target market is very specific, it's certainly not for the masses. And it's true that it also meant hardly anyone could afford it. It also wasn't my own "Maria" brand as it is now marketed on Otto.de. I believe that if I want as many people as possible to stay fit and wear my collection while exercising, the price should not scare anyone off. But "Maria" as a fashion brand still stands for quality – that's very important to me.
How much of your own do you put into your fitness program?
One hundred percent. That was the point, and also the challenge. My method is not based on any promotional effects that may be easy to sell. I don't sell by saying: Eight-minute workouts and you'll be fit in six weeks. Some people would probably like to believe these kinds of promises. But you have to invest time to get fit and stay fit. That's the message we want to get across. The aim is not to train for four, six or even eight weeks, but to continuously do something for your fitness, so for your well-being and health.
Inevitably you can't correct someone if they are not training properly.
We spent several days recording so that all the exercises are explained as clearly as possible. And in the videos, I encourage people to watch very carefully but also to not push too hard – it's better to take a break if you need to. Unfortunately, we can't do any more than that on a digital program.
Image or turnover – what's more important?
Success used to be tangible for you: Races won, gold medals. How do you measure success today?
In terms of the fitness program, it's based on people's feedback, how they embrace it, how successful they are. In terms of my clothing collection, it's based on sales figures and how the quality is perceived. But otherwise I am delighted by social media posts with lots of likes. Above all, my measure of success is that I have fun doing what I do and that I feel comfortable doing it.
As an athlete at the top of your game, you were always being watched by the media and by fans. Has that changed now?
It's not really that different. I always feel there is a great deal of interest. Even when I'm travelling privately, I always get asked for photos. But that's not so bad. In contrast, it's lovely to see that people still recognize me and appreciate me two years after I retired.
You reveal a lot about yourself in social media by regularly posting personal pictures, for example. Is this a strategic decision in the sense of building the brand?
I handle my online presence so that it is a reflection of me and I recognize myself. I'm sure that others share far more personal content than I do. For me, Facebook and co. are a good way to communicate with the fans, and to let them share a small part of my life and my thoughts. Most of the feedback is very positive too.
How much of the social media strategy is influenced by your husband's company? And what about with other clients, such as Franz Beckenbauer, who is far less active than you?
We have a planning meeting every Tuesday in Kitzbühel. It's clear that I will not let anyone talk me into something or force something upon me. I say what we're going to do and what we're not going to do. Of course Marcus and his team provide input and tips, but I make the decisions.
Do you go by gut instinct as well? A few weeks ago, you shared a very non-critical text about Franz Beckenbauer and his role in awarding the 2006 World Cup – and you were widely criticized online for doing so.
That particular text was in our press review, I took a screenshot of it and then posted it.
The reaction to this was very clear.
That's because some people thought I had written this text. And it is not about me agreeing with every word that was written. This issue certainly needs to be clarified and this is what I'd like to say on the matter: In general, reporting on Franz Beckenbauer is too one-sided and hysterical. My post was intended to show how pleased I was that someone had also written about him from a different angle.
You are currently building your brand piece by piece. Image or turnover – what's more important?
In principle, image is more important to me. But it goes hand in hand. When the image is good and plausible, my partnerships work. And that means the turnover also matches.
Interview by: Julian Galinski
This is Maria Höfl-Riesch
Born: 24th November 1984 in Garmisch-Partenkirchen, Bavaria
Disciplines: Downhill, Super-G, giant slalom, slalom, super combined
Retired: 2014
Achievements: 3 x Olympic gold medals (two in Vancouver, one in Sochi), 1 x Olympic silver medal (Sochi), overall World Cup champion in 2010/11, five World Cup discipline titles, 27 World Cup wins.