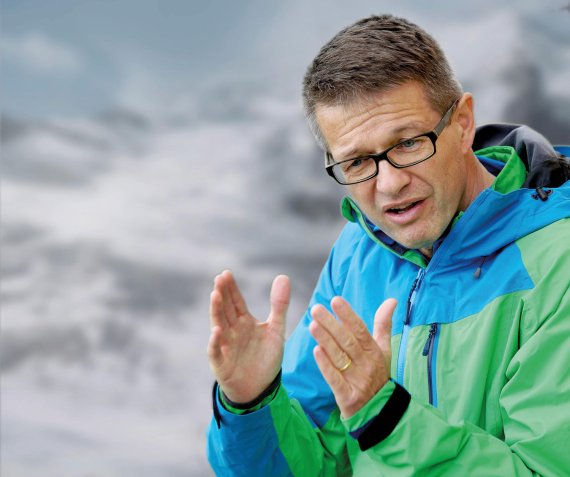 Mr. Schmid, you've been the CEO of Mammut Sports Group since 1996. What would you rather wear, a business suit or outdoor clothing?
Outdoor clothing. I almost never wear business attire, except when I have to attend the board meeting. Many of the gentlemen choose to wear ties, so I have to wear a white shirt at the very least. 
Does that mean every day is Casual Friday at Mammut?
For us, it's Casual Friday all year long. You're more likely to see flip flops than normal shoes! 
"At Mammut, our policy is sustainability"
It hasn't been long since the company celebrated its 150th anniversary, and your own work anniversary is fast approaching. In 2016, you'll have been CEO of Mammut Sports Group for 20 years. What is the first thing that comes to mind when you look back on this period?
Sustainable growth, defined by the absence of short-term, or worse, short-sighted decisions. Our policy is sustainability, a policy that may not be as fast-moving as others, but that will still be working well for us in ten years' time. As a member of the Conzzetta Group, they do not buy firms to sell them on straight away. Companies, such as Bystronic and FoamPartner, become integrated so that they can be developed in the decades to come.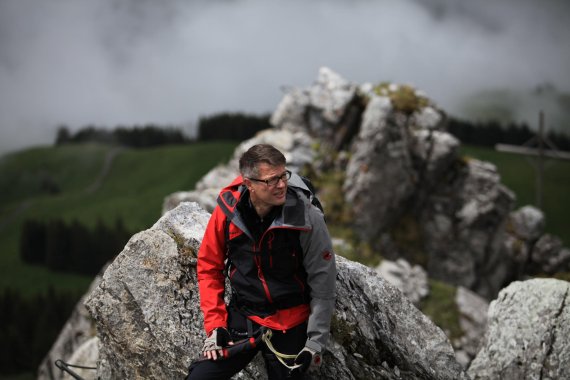 From 1996 to 2014 you have continually seen the company's turnover grow, and you once said in an interview that you have brought your products from an altitude of 4,000 meters down to 1,000 meters. Would it be appropriate to summarize your success as 'a downhill climb?'
Downhill always sounds so negative.  
Feel free to make an alternative suggestion...
To say that we have climbed downhill from 4,000 meters to 1,000 would imply that we are no longer present at an altitude of 4,000 meters. We haven't actually climbed down the mountain, we've just expanded downwards. 
The figures for 2015 don't look quite as good. It appears likely that the firm will make a loss, and the rope manufacturers in Seon has been sold. What problems is the company facing?
We are Swiss, and our company is based in Switzerland. That's our problem. In January, the Swiss National Bank decided to remove the fixed exchange rate with the Swiss franc. Our currency suddenly jumped in value by ten to fifteen percent. This meant that, within a quarter of an hour, we had lost a sum nearing the tens of millions. The second problem is that we have high procurement costs in dollars and Swiss francs. Both of these currencies have risen in value. At the same time we had sales contracts in euros and yen, currencies that have both fallen in value. We certainly do have a currency problem, but that's all. In terms of operations, everything is running the same as in recent years. We hope that we have implemented the right measures for the future.  
What do these measures look like?
The first thing we had to do was reduce the costs that we have in Swiss francs. A couple of years ago we moved the warehouse from Switzerland to Germany. The next step was selling the rope factory, as you mentioned. Then, in 2016, there will be a price adjustment in the euro area.
"I cannot expect my employees to act and work in a certain way unless it is also the way that I myself am acting and working."
For you personally, what is the most important guiding principle that you frequently remind yourself of during day-to-day business?
For me that definitely has to be the principle of setting an example. I cannot expect my employees to act and work in a certain way unless it is also the way that I myself am acting and working. Another important principle I have is to ask critical questions. Regardless of how good my employee's idea is, I try to challenge it so that I can see how passionate he or she is about it. I need to have the feeling that they will fight for the idea. If that is the case, the chances of success will be relatively high, no matter how difficult the task.
After your three month sabbatical in 2011, did you see the company in a different way?
When I returned, I realized that it wasn't necessary for me to be involved in all the details. An increased sense of autonomy had developed. I have established a healthy distance from the day-to-day running of the business and I expect my employees are quite glad to be rid of me, in the nicest possible way. 
The term 'Swissness' is often mentioned in relation to yourself and to Mammut. Does Mammut still have much 'Swissness,' and what does the term mean to you?
In our case, 'Swissness' is about the mountains, about authenticity. As a Swiss company, it is easier to present ourselves in front of the Matterhorn and to claim that we know something about mountaineering. If someone from Holland tried to do that in a flat landscape, it would definitely be less convincing. I also associate the term with the attributes of quality, technology and sustainability.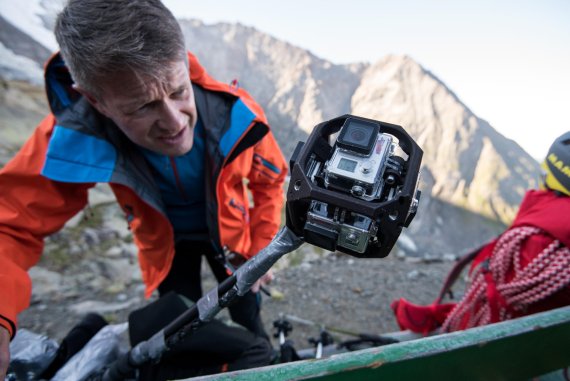 "Korea is a dream market for any outdoors company"
In an interview with the German newspaper 'Die Welt,' you described your company's products as the Ferrari of the outdoors industry. You say you want to gain market share in Asia – how well are Ferraris selling there?
Well, at the moment I don't think there is anywhere in the world where you can see more sports cars than in Beijing, although I'm not sure how things are going for Ferrari in particular. Asia is frequently lumped together as one region, but I have a more differentiated view. The market in Japan is very well established and is years ahead of all the other Asian countries. It is a place where there are proper specialist retailers and Mammut enjoys a positive reception there. The best market is Korea, which happens to have the second biggest outdoors market. Koreans would never wear jeans to go up a mountain. Even for the smallest hills, the Koreans are as well-equipped as a European climbing Mount Everest. It is a dream market for any outdoors company. However, we came to the Chinese market rather late, and we assume the big growth figures that we've seen in recent years will fail to appear.
Establishing Mammut stores around the world is something you have promoted. How important is e-commerce to you, and how well equipped do you think your company is for the digital age?
These days, it is vital that brands are active in all of the sales channels i.e. specialist stores, own label stores and e-commerce. In terms of online social media, I think we are very well represented. The one thing we don't yet have is a web store, but in the coming year we will be taking our first steps towards this goal.  
"These days, it is vital that brands are active in all of the sales channels."
There are currently two very contradictory trends in the clothing industry: high-tech and sustainability. How does Mammut manage to balance the two?
I do not think that the two are mutually exclusive. For me, the key is durability. A product that contains more chemicals may not necessarily be more environmentally damaging per se when taking into account the whole chain. The most environmentally friendly products are those that last for a long time. It doesn't help anyone if a biodegradable jacket falls apart after its first outing.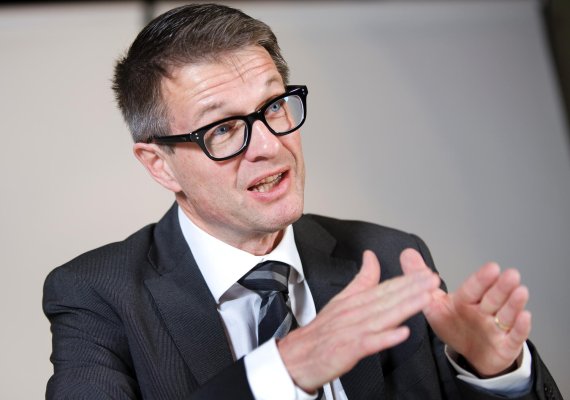 Mammut recently introduced the Responsible Down Standard. In one sentence, why is this standard so important?
Unethical practices are sadly often used in the production of down, though techniques which harm animals, such as force-feeding and live feather plucking. A fact that simply can't be tolerated in the nature-related outdoor sports business, for customers as much as for us as a company. The standard ensures the species-appropriate handling and treatment of geese and ducks, improves animal protection and guarantees the traceability of feathers within the whole global down industry.
Why is it that despite so much research and high-tech materials, we still haven't found an alternative to down?
In relation to weight, compressibility and isolation value, down hasn't yet been surpassed by any synthetic alternative – that's why the natural material remains our first choice.
"The retailers have to become more focused"
Alongside developing the network of stores, you have also introduced a new sales concept with new minimum requirements for retailers. How are the figures looking after the first few months?
It has proved that you can achieve more with fewer customers. The retailers have to become more focused, and this results in a win-win situation for both parties. At the same time, it is of course painful to lose big clients such as Sport Ebyl, which, after it was taken over by SDI, no longer met our standards concerning the consultation and presentation of products on the sales floor. This decision caused us to lose many millions overnight.  
Which outfit will you wear to ISPO MUNICH 2016, your finest business threads or your slightly more casual flip flops?
We're at ISPO as a member of the casual outdoor sports industry, so sporty-classy is obviously the best. You definitely won't find me in a €4000 pair of shoes, but I guess they'll have to be reasonably sensible!