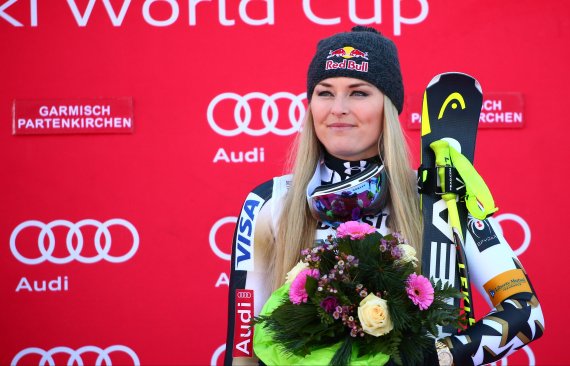 Lindsey Vonn is the most colorful figure in the women's alpine circus. The American athlete has been combining athletic achievement with glamour for years. The downhill and super-G specialist has won the overall World Cup four times, with the last overall triumph dating back in 2012.
With 77 wins so far (prior to the 2017/18 season), Vonn is the most successful female World Cup ski racer, ahead of Annemarie Moser-Pröll (62 wins). Her 18 World Cup wins in one place (Lake Louise) are also unique.
Nevertheless, injuries have continued to frustrate Vonn. Last season, she was sidelined for an long period of time due to an upper arm fracture. At the start of the 2017/18 Olympic season she gave up, exasperated, after a botched first run in the giant slalom of Sölden.
After a fall in Lake Louise in early December, she took her foot off the gas, looking to the Olympics: Due to knee problems, she passed on starts in Val d'Isere and Courchevel shortly before Christmas. 
Vonn still wants to resume her career by 2019. Inn addition to the 2018 Olympic Games, she's also targeting the everlasting World Cup win record by Swede Ingemar Stenmark. Vonn only needs nine more wins to catch up to Stenmark. And Lindsey Vonn even wants to compete in a downhill in the men's World Cup – but so far the FIS global association isn't playing along.
But is Lindsey Vonn really the most successful female skier? In November 2017, the American athlete engaged in a skirmish with her competitor Mikaela Shiffrin. The 22-year-old was chosen by "Outside Magazine" as the "greatest female skier of all time." Lindsey Vonn didn't want to let that stand. On Twitter, she posted a long list of her accomplishments – addressed to @outsidemagazine. 
Mikaela Shiffrin reacted calmly – and with humor: "Trust me girl, we all know you are #GOAT and my name isn't even close to making that list yet." 
Vonn also had trouble with supporters of President Donald Trump. After the athlete distanced herself from Trump in a CNN interview, emphasizing that she was representing the USA and not Trump in Pyeongchang, abuse was hurled at her social media profiles. For Vonn, no reason to backpedal: On Facebook, she advertised for an open, tolerant America as a reaction to the firestorm.
Achievements:
Four-time winner in the overall World Cup, two-time world champion, and one-time downhill gold at the 2010 Olympics in Vancouver. Lindsey Vonn is the most successful female alpine skier of her generation.
Eight small crystal globes for downhill World Cup wins demonstrate her dominance in the high-speed discipline.
Social:
Instagram: 1 million followers
Facebook: 1.315 million followers
"Drama queen" Lindsey Vonn is the clear number 1 among the stars of alpine skiing on Instagram and Facebook. Even the alpine men can only dream of her follower numbers.
Skiing with funny text, tightly/sexily clothed, and always with well-dosed insights into her private life – Lindsey Vonn knows exactly how to get her fans on social media excited. That's what made her a "fan millionaire," considered worldwide to be the poster child of alpine skiing.
When her break-up with boyfriend Kenan Smith came out in fall 2017, she shared a cryptic tweet with her fans. "Sometimes, no matter how hard you try, you're just not enough," tweeted Vonn.
Outfitters/Sponsors:
Head (skis), Oakley (goggles), Leki (sticks), Briko, Reusch, Rolex, Red Bull
Income:
110,000 Swiss francs prize money in the 2016/2017 season (partially injured), estimated yearly income 2.5 million euros
Thanks to her successes and her fame, she's a big earner in the global skiing scene. She's priceless for her advertising partners, as she breaks through barriers both privately (liaison with Tiger Woods) and athletically. Her run with a pair of men's skis brought global headlines for her ski brand, Head.
She'd most like to attempt her duel with the men in the World Cup. At the FIS World Ski Federation's fall meeting, the US federation submitted a motion that Lindsey Vonn, due to her years of dominance among women, intended to take part in a men's downhill race in the 2018/19 season. The precarious petition was postponed until next spring. 
At the 2017/18 season opener in Sölden, Lindsey Vonn repeated her request that she absolutely wanted to race in the men's downhill in Lake Louise, in her US home. "This isn't for show, it's a personal goal of mine," said Vonn, "I want to see where I would stand." While active teammates like Anna Veith are responding with disapproval ("She wants to be seen"),  Olympic champion and ARD reporter Maria Höfl-Riesch sees the appeal of the idea: "I'm confident she'd be quite capable in Lake Louise. She wouldn't make a fool of herself."
In demand online:
Her relationship with pro golfer Tiger Woods made Lindsey Vonn a subject of headlines worldwide. The celebrity couple may have separated in 2015, but the topic continues to be one of the most-searched on Google. Recently, nude photos of the couple stolen by hackers appeared online. Incidentally, Vonn is now more athletically successful than her ex, whose dominance in golf has long since been broken. And the same is true in social media.
She celebrated her 33rd birthday on October 18 with her sister, Karin Kildow, at the pool – and, of course, with a pretty pose on Instagram. 
"Strong is the new beautiful" is Lindsey Vonn's motto, who also shows strength when it comes time to process personal misfortunes. On November 11, 2017, she publicly mourned the passing of her grandfather, showing multiple photos of her and the "beloved grandpa" who taught her how to ski on Instagram. She wrote: "Dear Grandpa, I still can't believe you're gone. No words can describe how much you mean to me and how much I love you. I wish I had more time with you but I will cherish the memories we had. I'm proud to be your granddaughter and I will think of you always. Please look out for me. I love you Grandpa. Lindsey."