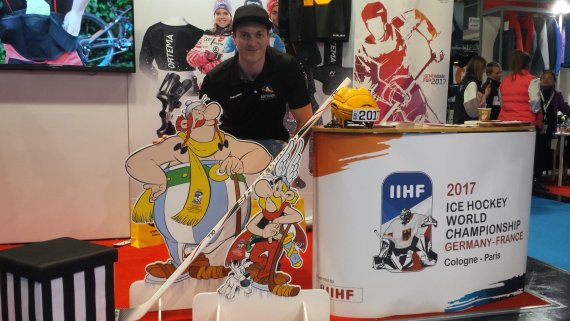 Konrad Abeltshauser was born and bred in Bavaria, hardly any German ice hockey player is as keen to speak dialect as the man from Tölz. It goes without saying that Abeltshauser struggles a bit when he suddenly has to speak French. Fortunately it is only a short cellphone clip at ISPO MUNICH 2017, which will be used to promote the World Championship in Cologne and Paris. "Bienvenue à Paris et Cologne," says Abeltshauser, struggling a little with the accent. 
Are you also a winter sports fan? Test the new Dabello ski boot here >>>
Ice Hockey World Championship in Germany: "Together for 2017"
It is a good thing that the second sentence is in English: "Together for 2017!" Abeltshauser played in America for seven years, but never managed to enter the best league in the world, the NHL. However, with the national team now, he will meet some of the best players in the world in spring 2017.
The German Ice Hockey Federation and the knee orthosis manufacturer Orthema have invited Abeltshauser to ISPO MUNICH 2017 (Hall A5, Stand 237) as an ambassador. The mascots Asterix and Obelix are in front of the stand. Abeltshauser considers them to be a perfect fit for the national team. "Asterix is Yannic Seidenberg," laughs the 6 ft. 5 ins Hühne. Seidenberg, the brother of the NHL star and Stanley Cup winner Dennis, is only 5 ft. 7 ins tall and is a teammate at EHC Red Bull München.

"Obelix is Dennis Reul; he does not need any more energy drinks in order to hit the opponents on the head, like the Romans," says Abeltshauser about the defender from Adler Mannheim, who is 6 ft. 4 ins tall and weighs 243 lbs.. 
Abeltshauser is the jester in the team
The comparison with the Gauls seems somehow apt: The German ice hockey players have never been a heavyweight in ice hockey. Getting the fourth place in the last home World Championship brought hope as the team surprisingly came fourth. "I was also there at the opening match at Schalke with 60,000 fans; that was immense." After that there were hardly any more great sensations, but rather only disappointments. Marco Sturm, who has been the German Ice Hockey Federation trainer since 2015, has shaped the national team into a strong team again. "It is great fun with him, and he also speaks Bavarian, so it is easy for me," says Abeltshauser.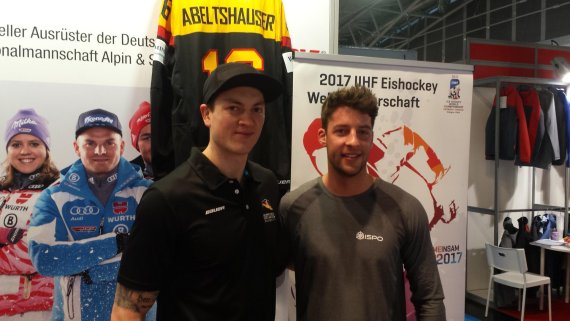 Now Abeltshauser himself wants to write ice hockey history. With 10 goals and 19 assists, he is one of the top defenders in the German Ice Hockey League. He is the fun guy on the team, who always has the right thing to say. "In the team I am Cacofonix, the guy with the harp," laughs Abeltshauser. But he is much more popular with his teammates: At the Super Bowl Final 2017 his teammates at EHC Red Bull München also let him watch.