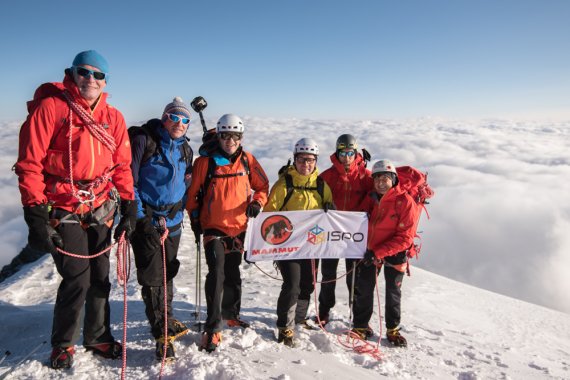 The idea to climb the Alp's highest peak together came to life at ISPO MUNICH in February of 2015. "We chatted about our shared passion for the mountains. I told him that I had planned a tour to Mont Blanc several years ago that had to be canceled due to bad weather. Before long we came to the decision that together we would make another attempt to turn this longtime dream into reality," explains Klaus Dittrich.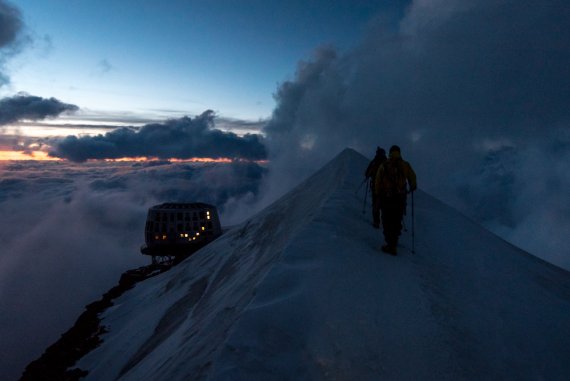 Pre-Tour Planning a Day Before the Ascent

Journalists Michael Acker (Münchner Merkur) and Julian Rohn (4 Seasons Magazine) were to accompany Klaus Dittrich and Rolf Schmid on their endeavor. On the evening before the planned tour the group meets with three local mountain guides to discuss the ascent. Due to the current weather situation it is decided to climb Mont Blanc in a "one shot ascent". All participants feel up to the challenge to overcome a vertical difference of 2,500 meters in one day.
The Ascent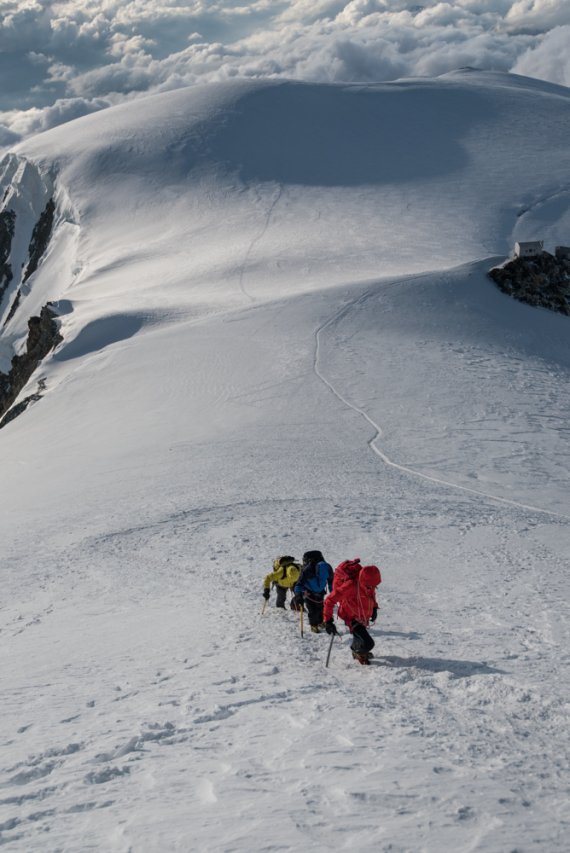 Using the Bellevue gondola and the tramway the group arrive at Nid d'Aigle (2,367 m) and heads towards the Gôuter Refuge (3,835 m) at 10:00 am, which the alpinists reach at 2:00 pm. Due to technical problems with the cameras mounted on Rolf Schmid's backpack for the Mammut #project360, the planned rest stop is extended from one to two hours. Around 4:00 pm, under bright sunshine, the group starts heading towards the peak.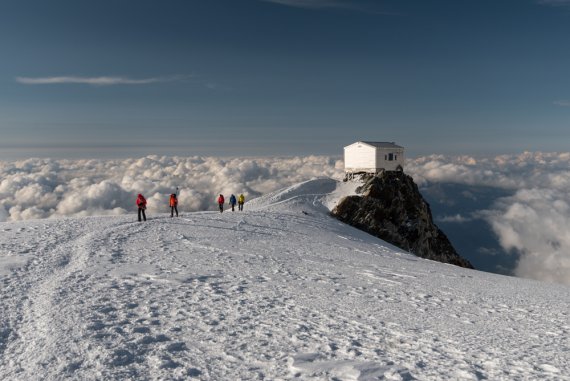 Dramatic Shift in Weather Conditions

The final ascent towards the peak is accompanied by strong winds, and around 7:00 pm the group has to deal with a dramatic shift in weather conditions. Dense fog wafts up from the Italian side, temperatures plummet, and within minutes icy winds cover backpacks and clothing with frost. The ascent can no longer be considered safe, and the mountain guides announce their decision to abort and return to the Gôuter Refuge as quickly as possible.
Descent in the Fog

It is now up to the mountain guides to show their mettle. It is not an easy task to follow the tracks created by the ascent in fog and impending darkness, and to safely descend across the glacial territory. Around 9:00 pm the group reaches the safety of the refuge lodge where the day's spectacular adventure is discussed while enjoying an energy-replenishing three-course menu.
The next morning Julian Rohn, Michael Acker and one of the mountain guides ascend the peak with the cameras for the Mammut #project360 to ensure that the Mont Blanc becomes a part of the virtual experience for everyone to be launched by the end of September. The images will also be presented at ISPO MUNICH 2016 (January 24. – 27.)