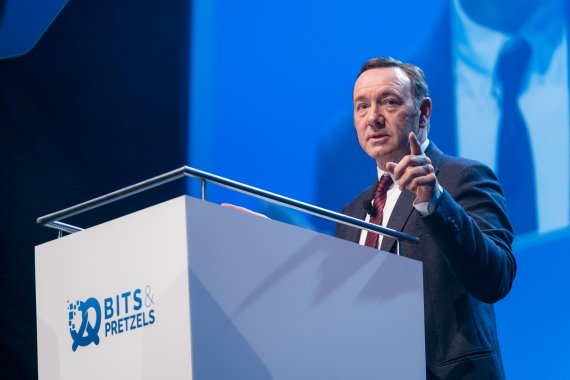 Award-winning actor Kevin Spacey started his keynote at Bits & Pretzels with an impersonation of his acclaimed character "Frank Underwood", the president of the United States in Netflix' hit show "House of Cards". He would have only been choice number two, Spacey told jokingly, number one being US presidential candidate Donald Trump. Who didn't come to Munich, Germany for two reasons: "Because of all that people there he hates most: foreigners", and "because he's pissed that Germany tore down that perfect wall."
Kevin Spacey visits the Oktoberfest
After letting Frank Underwood make is political view clear – and reciting is visit at the Oktoberfest with some Schnaps at the Käferzelt – Spacey turned to business. One thing he made sure everyone in the audience understood was: Taking risks is paying off – and necessary.
Ein Hauch Hollywood auf der Wiesn! Der zweifache Oscar-Preisträger Kevin Spacey hat am Samstag im Käferzelt vorbeigeschaut. Mehr Bilder von Promis auf dem Oktoberfest findet Ihr hier:

Posted by Oktoberfest on Sunday, September 25, 2016
While Spacey himself had to steal an old lady's invitation to a party, just to slip into a casting he really wanted to get into (he's not proud about that one), Netflix "flipped everything up and down" by releasing whole seasons of series on one day. Why? Because the users and viewers demand it. "Let them binge", Spacey exclaimed. "Give people what they want, when they want, in a form they want – and for reasonable price."
"No one breaks new ground by playing it safe"
Then he moved on to the next big thing coming, ready to bring "a quantum leap for storytelling": Virtual Reality. "It's already used in medical and engineering applications, even in sports. It will be a game changer – foremost in educational uses", Spacey said. For the last decades, people have experienced stories through screens: "Now we can step through the window of a different world."
Kevin Spacey concluded his speech with two points of advice for the Bits & Pretzels Community. First: "You cannot stay hydrated by Bavarian beer alone – drink water!" And second: "Bet on those who are not afraid the challenge the powers that be. No one breaks new ground by playing it safe." The audience sent him off with roaring applause and standing ovations.