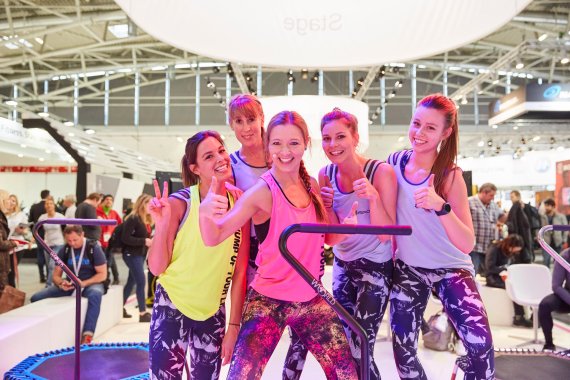 A monster dunk, virtual misunderstandings, an impressive six-pack, a cheerful X Games winner and a hard core ultramarathon runner. Those who kept up with ISPO MUNICH 2017 exclusively on social media learnt one thing above all: that everyone was having a lot of fun!

Tough business? There was certainly plenty of that at ISPO MUNICH. However, many of the over 85,000 expert visitors were predominantly interested in trends and the enjoyment of meeting people. They show their friends and followers on social media the trade fair from their perspective.

The best Instagram shots and videos at ISPO MUNICH 2017:
With over 26,000 views on Instagram, the monster dunk performed by French-born Guy Dupuy (126k followers) has received the most attention. It was taken on the third day of the trade fair on the basketball court in action hall B6. We see the expert dunker jump over four (!) people before slamming the ball into the basket. Absolutely amazing!

A video posted by Swiss scooter rider Benjamin Friant (119k subscribers) was the funniest: he filmed an ISPO visitor so immersed in his virtual reality glasses that he completely misses a very real young lady performing a sexy dance to attract his attention. Much to everyone else's amusement. This video was viewed almost 8000 times.

Napapijri put its best foot forward for its superlight parka: the brand's post with model and blogger Debi Flügge (505k subscribers) was liked by more than 3700 people.

Ultramarathon runner Neuschwander feeds addiction
Ultramarathon runner Florian Neuschwander (32k followers) usually leaves everyone behind in a race. At ISPO MUNICH, he paid health & fitness hall B4 a visit to feed his running addiction on the treadmill by Tacx. His shot received approximately 1900 likes on Instagram, with the video version seeing 22,000 likes on Facebook.

Gestern auf der ISPO: Keine Zeit gehabt morgens zu laufen, dann hab ich meine 15 km schnell und spontan auf einem Laufband abgespult. Training doch noch abgehakt ! 😊💪 Ich wünsche euch einen schönen Tag Leute!

Posted by Florian Neuschwander on Wednesday, February 8, 2017
Does HE have the most extreme torso of all ISPO MUNICH visitors? Aaron Thornton (21k subscribers) is not only the creator and founder of YoYo Mats, winner in the Accessories category at ISPO BRANDNEW, but also sports an impressive six-pack under his business shirt. His impressive six-pack selfie achieved more than 1000 likes.
Professional Spanish soccer player Pedro Mayo is given more than 3500 likes for his selfie, taken after a tough day at ISPO. Wow!
X Games winner pays outfitter a visit
Okay, we'll admit: we wouldn't necessarily have recognized Finnland's Enni Rukajarvi immediately either. The X Games snowboard-slopestyle winner posted a cheerful shot for her 31,800 subscribers. Rukajarvi, who won a silver medal at the 2014 Sochi Winter Olympics, gained almost 1800 likes for her shot, taken at the Vimana stall (hall B6, 209).

And then there is also a video posted by exhibitor Indo Board (hall B5, 338) on Tuesday evening and which was viewed more than 2300 times. Quite impressive balance – especially for day three of the trade fair!
ISPO MUNICH 2017 on Instagram and Facebook – almost as exciting as the trade fair itself.
Video: Trade Fair Boss Klaus Dittrich Takes Stock