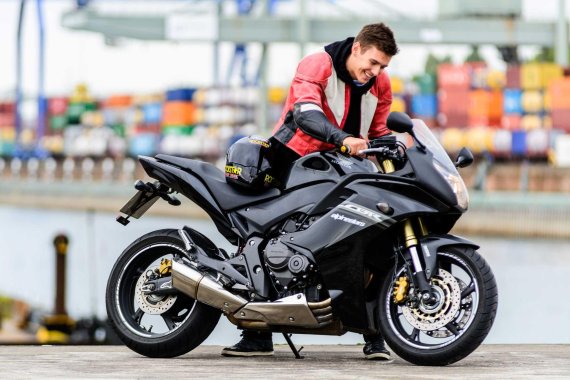 When you talk with Leber, you realize that he really isn't your average 20-year-old. He goes about his work in a very though-out way. 
This is something that even Google has now noticed; he joins the Internet giant in consulting companies on the topic of YouTube and influencers. But at the same time, in an interview he also criticizes a current development at YouTube. 
Want to become an influencer yourself? At ISPO OPEN INNOVATION, you can work together with sports brands on developing the latest trends and products. Register here free of charge >>>
ISPO.com: Mr. Leber, since your Abitur in 2015, you've been fully concentrating on your YouTube channel in the action sports sector. Not the classic path for a young man from Mannheim...
Michi Leber: That's right. The whole thing started in 2010, with an iPod Touch 4 that I'd strapped to my head with some of my mother's kitchen tape. Back then I was 13, and actually wanted to product precisely the style of videos that I shoot today.

The actual Michi Leber YouTube channel has been around since 2012. After the iPod, I filmed with the video function of my low-budget Canon, and then finally I ended up with a GoPro. At some point I learned about the GoPro family. Then I tried really, really hard for them to discover me. After some time they actually did come to me and said that they thought it was cool what I did, and that they'd like to support me.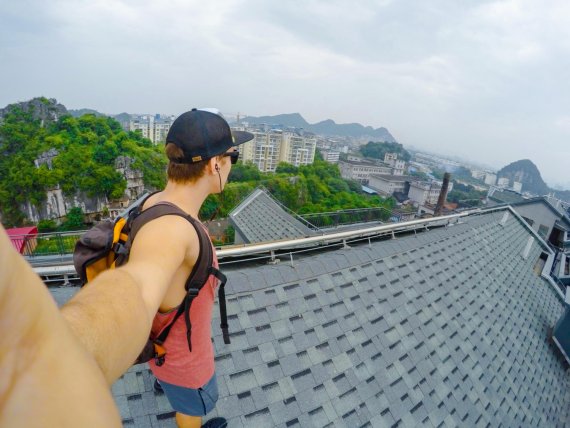 Majority of viewers from the USA
What kind of people watch your YouTube channel?
Among the top three regions, roughly 55 percent of viewers come from the USA, 25 from England, and twelve from Germany. The German percentage is currently increasing because I've had some features in German newspapers.

65 to 70 percent of viewers are between the ages of 18 and 25. That's where I'm lucky that people over 18 tend to be more interested in these "extreme topics." I'm currently also getting some very interesting sponsorship inquiries that way. After that come the 13- to 17-year-olds at 15 to 20 percent. Unfortunately, it's a male-dominated channel: that percentage is at 85 percent.
YouTuber Michi Leber: Why are antisocial YouTube channels tolerated?
Besides yourself, naturally, what channels are your YouTube hit tips from action sports?
That's a difficult question because there are so many YouTubers who would have gotten much more success. Unfortunately, there's such a "winner takes all" principle online right now. It's such a shame. I just appreciate this "alternative" YouTube direction, with people who stand for quality, who are funny and down-to-earth. People who say what they think and aren't manipulated by big advertising contracts.
That sounds a bit like criticism...
Yes, that's right. There are so many great, little channels by people who are savvy in the issue and that reflect what they make. But what I think is much worse is that, just this and last year, people have "trended" – as it's called in the technical jargon – who preach the completely wrong values.

It's absolutely shocking for me that channels with, for example, homophobic content or absolutely antisocial behavior have several million subscribers. I always ask myself what I think is worse, the content or the fact that there are so many people who follow these people. I also think poorly of YouTube that something like that is tolerated. And I have to say that even though YouTube is a major part of my life. 
Since your Abitur you've been a full-time YouTuber; how do YouTubers make their money? Where does their income come from?
At the moment, I'm still in the comfortable position of living with my mother, not paying any rent and having a full fridge (laughs). But to cover my high expenses for flights, etc., I do have some sources of income now.
The YouTube channel, this is where I earn money from the ads that play before my videos.
For about three years now I've also produced videos for clients, among them ski resorts and universities. They then integrate the clips into their app, an image production, or something similar.
I also have a German YouTube video course.
I'm booked as a lecturer.
I consult companies in collaboration with Google once a month.
And then I also have collaborations with some brands. 
Those who focus on YouTube will find the right influencers
How do these collaborations come about?
I don't go to companies at all anymore, I have to say. That's where you're automatically in a very poor negotiating position. But generally I am always open to cooperating with companies. The prerequisite is that the products are cool and that I'm convinced by them.
How can companies find the fight YouTuber for them?
When companies want to become noticeable to influencers or YouTubers, they should act in the field that interests them. It's all about who's out there and how can I cooperate with them? Most YouTubers will write back.

Of course, I would pay most attention to whether the niche fits; a paragliding company definitely won't work together with a beauty channel. It's better to take the smaller bloggers or YouTubers, spend a bit less, but have a "more targeted" target group, that is, people who are actually interested.

When you deal with the topic in marketing, and try a couple of search terms on YouTube and Google, you'll definitely find fitting creators with the corresponding target group. 
Testimonial advertising and influencer marketing complement each other
If the first impression fits, what should companies look out for before a cooperation?
I would always pay attention to the views – that is, how many clicks the videos get, and to the "trust." That means, how does a person deal with tests, etc.? Do they say their actual opinion, and how do they do that?

I think that's going quite well for me right now, since I'm getting lots of products just sent to me. But I still reserve the right to criticize things.
So, when GoPro came out with a drone, I didn't think that was that great. I communicate that very openly, too; I think the cameras are that much better for it. And that honesty is in demand. Naturally, it's also a bad sign when one person is cooperating with lots of firms that don't actually have anything to do with their YouTube channel.
How can companies best gauge whether they should invest in YouTubers or more "classic" sponsorships?
I would definitely adopt a two-pronged approach. I wouldn't exclude collaboration with celebrities or pro athletes. When you cooperate with bloggers or YouTubers, the goal is somewhere completely different.

Testimonial advertising is natural for mass appeal – provided you have the necessary budget for it. Daniel Craig for the TV advertising, then Michi Leber does the "low-key" advertising in a cool way on his YouTube channel.

Influencers don't work in an infomercial; then they lose their authenticity. Some firms have very successful two-pronged approaches. For example, eBay had a very successful campaign with an inventor from England.

He got a certain production budget from eBay, was allowed to shop on eBay, and make something from it!
Want to become an influencer yourself? At ISPO OPEN INNOVATION, you can work together with sports brands on developing the latest trends and products. Register here free of charge >>>