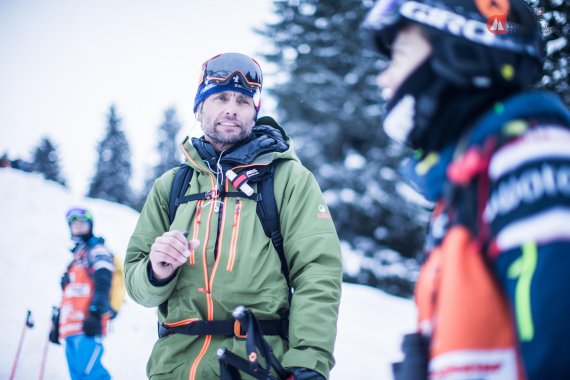 ISPO.com: Monsieur Hale-Woods, you grew up in Lake Neuchâtel. That's 430 meters above sea level. How did you become inventor of the most vertical ski and snowboard competition in the world?
Nicolas Hale-Woods: I learned how to ski in Verbier, was there every weekend, lived here as a student – and today I'm still here. All because of my grandma.
Your grandma?
Yes, Grandma Paulette taught me skiing as a young boy. I remember one day particularly well: I was about eleven when she took me with her to Mont Gelé. That was absolutely off-piste territory. Super snow conditions, powder snow, we skied the whole mountain down to her chalet. Grandma Paulette was super fit, great skier. That was in April. In September she died of leukemia at age 63. That was hard. But she infected me with this freeride virus. Since then, I don't just ski on the slopes anymore.
At some point, you then switched over to the snowboard...
1985, age 17, I met a couple of guys with snowboards, we became friends – and suddenly we were in the deep snow three times as fast as the skiers, who back then still skied on those thin slats. We on the other hand had this special feeling of sliding, of floating away. We founded the Swiss Surfing Association – as the first country without access to the sea.
Where did you surf?
South Africa, France, Indonesia, Mauritius. We even sent a team to the World Championships – similar to the Olympic bobsledders from Jamaica.
Did you join in too?
Once, in 1995 at the European Championships.
How did you finance the costly travel?
We found a sponsor: Victorinox, manufacturer of the red Swiss Army knife. So our snowboards and surfboards were red with the Victorinox logo. That was our first step into the sport sponsorship business. We produced a film about the parallels between surfing and snowboarding. One day we rode the Bec des Rosses, this extremely steep mountain, and had a photographer with a telephoto lens at the gondola station across. And suddenly, more than a hundred spectators spontaneously gathered and watched us jump over the cliffs and rocks. That's when I had the idea: we should bring the best snowboarders in the world here to show this niche sport to a wider audience! Verbier with the Bec des Rosses, the cool nightlife, and this freeride lifestyle was the perfect set-up. That was 1994.
What happened next?
We sent plans and proposals to hundreds of companies, one of which was Red Bull Switzerland. Our budget was 200,000 Swiss francs – today that's 1.4 million. We said to Red Bull, 'If you want to become sponsors, it'll cost 90,000.' They said, 'Okay, we'll pay 45,000, and for the other 45,000 we'll deliver pallets of Red Bull cans to your garages for you to distribute. That is to say, we have no sales.' And so in 1996 the first competition emerged: Verbier Xtreme. Today, more than 15 people work in the company the whole year, and more than 200 during the event.
Your most faithful sponsor is Swatch.
They've been with us almost from the onset, and right now we're negotiating over extending the contract until 2019. A wonderful partner. Each year they release a special Freeride World Tour Edition.
All of that, just because you went down this crazy mountain Bec des Rosses one time. Was that your first time?
Yes. There were already a few people down there in the 80s. But you see tracks in the snow there only very rarely.
How often have you rode down Bec des Rosses it so far then?
50, 60 times. On average two, three times a year.
How long do you have to climb?
A good hour.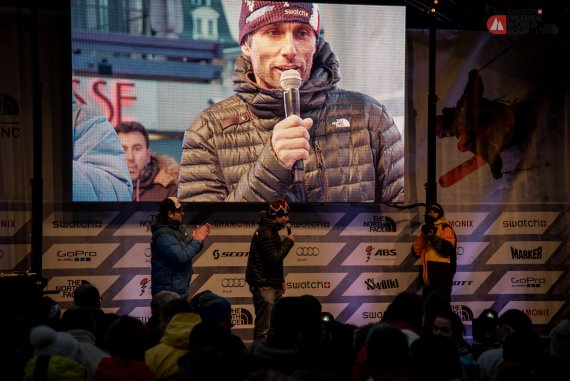 What makes the mountain so special?
In the last few years we've tried to find similar spots – but they don't exist. The first third is up to 60 degrees steep. If you fall there, you don't stop falling for another 800 meters down. The mountain is huge so it offers an awful lot of lines, and it's different each year so you can discover new lines even after 20 years. From the start on, you can hear the fans on the other side of the valley. It's a salvation for any rider who makes it down in one piece. We knew immediately that we have a one of a kind show here.
The riders aren't allowed to do any "test runs" beforehand, but just look...
On the day before the event, there's a face inspection from the opposite mountain station with binoculars. But some riders have already been there a couple of days before, and try to choose a line and memorize it. They look at videos from the past years and talk to experienced athletes – a wonderful solidarity! Ultimately, they're opponents on the mountain.
What abut injuries?
There were three falls that could have gone really badly. In 2000 Jerome Ruby broke one of his snowboard bindings, just below the summit. He fell several hundred meters down, was unconscious, had fractures in his face and a broken knee. An Austrian woman once fell 200 meters down and broke part of her spine. And a kid from the area around here once fell over several rocks, but only got a couple of fractures. 20 years, each one around 30 riders, which makes about 600 downhill runs – and only three serious injuries. But if you fall here, you could be dead. Since it's so steep, in a fall you spend more time in the air than on the ground. And in a gorge you mostly get washed up in the middle, where there's still the most snow. That's the theory.
How often have you fallen here?
Once. Luckily, I was able to brake after two flips. I knew that I had to slow down quickly.