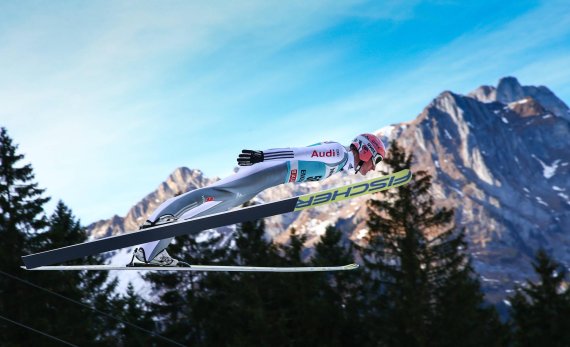 In the first month of the winter 2016/17 World Cup, Severin Freund has already earned 34,150 Swiss francs – or just under 32,000 euros – in prize monies.

He could add another 10,000 Swiss francs per win to this during the Four Hills Tournament, which runs from 29 December 2016 to 6 January 2017. That sounds like a lot of money. However, compared to world class athletes in disciplines such as soccer or tennis, it's peanuts.
ISPO.com talked to Severin Freund and his managers and explains which sponsors support Freund, what has changed since he became the overall World Cup winner and world champion in 2015, and how the 28-year-old is making provisions for the time when his active career will be finished.
The cash prizes earned by Severin Freund
Last winter, 2015/2016, Severin Freund came second overall in the World Cup, which earned him 169,500 Swiss francs (around 158,000 euros) in cash prizes from the International Ski Federation FISS.

The winter before that, he made only a little bit more, 198,900 Swiss francs (almost 186,000 euros), despite winning two world championships and the fact that he was the overall World Cup winner.

In comparison: When Sven Hannawald celebrated his historic grand slam victory at the Four Hills Tournament 15 years ago, he collected a total of 330,000 euros for these four jumps alone. Back then, the Deutscher Skiverband (DSV) paid bonuses in addition to the prize monies that are no longer paid in this form.
These are Severin Freund's sponsors
Severin Freund has two official sponsors, Manner (head sponsor) and the IKK Classic (ski sponsor). They are joined by equipment providers such as Fischer (skis) and Uvex (helmet & goggles) and his other partners Audi, Würth, the Deutscher Skiverband (DSV – German Ski Association) and Freund's marketing agency ASP Sports.
Almost all of them pay not only a basic bonus but also bonuses that depend on success. Severin Freund collaborates long-term with all of his partners, he also produced TV commercials for Manner and the IKK Classic last winter and the winter before last.

"We have few, but strong partners," says Hubert Schiffmann from Freund's marketing agency ASP Sports. Schiffmann says that compared to the ski jumping boom times with Martin Schmitt and Sven Hannawald a decade ago, the earnings had gone down "a bit".
Marketing agency ASP Sports MD Martin Schmitt says that "financially, top jumpers like Severin aren't doing too badly these days, either." All in all, he can probably earn in excess of an estimated 500,000 euros a year – before tax.
What changed for Severin Freund after becoming world champion
Of course, the two world championship titles he won in Falun in 2015 and the fact that he won the World Cup overall paid off for Severin Freund. On the one hand, because of the bonuses he receives from the sponsors and equipment suppliers for wins, and on the other due to better contracts.

"We would not have done our job well if this hadn't had a financial impact," says Schiffmann. However, there have also been some inquiries which they turned down. "We are wary of accepting anything and everything; after all, it also has to be right for Severin and has to fit into the present structure."

In the active German winter sports athlete popularity rankings, Severin Freund comes second behind alpine skiing star Felix Neureuther in most surveys.

Since this winter, Severin Freund also has his own hashtag in the social media channels: #SFly.
Severin Freund's thoughts on money
"We certainly can't complain, even though there are winter sports disciplines where you get considerably more. Money as such is important to me only in the sense that it allows me to pursue my sport as professionally as I am currently able to do," says Severin Freund in an interview with ISPO.com.

He goes on to say that the financial rewards aren't his priority. "The experience is more important to me than the money."

He is careful with his income from ski jumping. "I generally tend to be someone who saves their money. You don't have high overheads as a competitive athlete, and your career is limited by age: that's why you should put something by. However, it certainly won't be like I don't have to worry about money again for the rest of my life."
Why Severin Freund wouldn't want to trade places with the soccer millionaires
Despite their higher earnings, Severin Freund "would never want to trade places with the soccer stars, even though I'm a Bayern Munich fan."
The main reason for this: "The 90 minutes on the playing field are cool. But what goes on before and after that isn't so cool. Whether transfer rumors or injuries: everything is taken incredibly seriously. As if the world depended on it. But it's only a sport, after all."
How to protect yourself against the consequences of injuries
"All participants have to prove that they have accident insurance. The event organizers accept no liability in the event of accidents and their consequences, not even towards third parties." That's what it says on the Four Hills Tournament competition entry form.

Severin Freund also has to take out insurance privately. In line with the risks, his insurance premiums are high.
Severin Freund's plans for when his active career is over
Along with pursuing his sports career, Severin Freund is also studying International Management at Ansbach University of Applied Sciences.
"I've been studying as well as competing for quite some time now, but I can't say yet what fate has in store for me afterwards. For some people, it may be a good idea to have a master plan for the time when their career is finished, but at the moment, I'm a ski jumper and I do that 100 per cent," the 28-year-old says.

He's not worried about the future: "I don't need an emergency plan, I'm sure I'll find something exciting to do afterwards. I also got married this year and I essentially want to have kids."