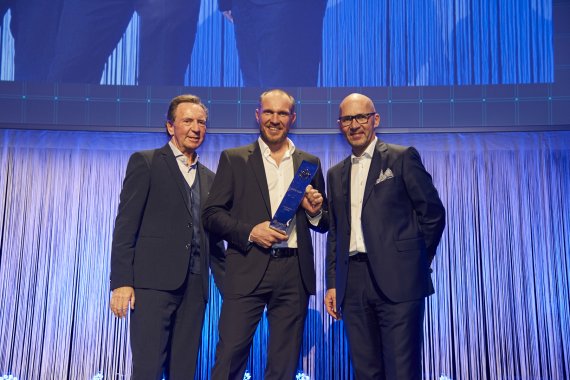 Awarding the ISPO trophy since 1971
Of course that's not the reason Hermann Maier, 44, two-time Olympic champion at Nagano in 1998, three-time world champion and four-time winner of the overall World Cup title, was awarded the ISPO trophy, which has been given to exceptional athletes since 1971.

"He is a legend, but what really sets him above the rest is how he just kept clawing his way up. That makes him a role model to others," explained host Klaus Dittrich, Chairman of Messe München GmbH's Executive Board.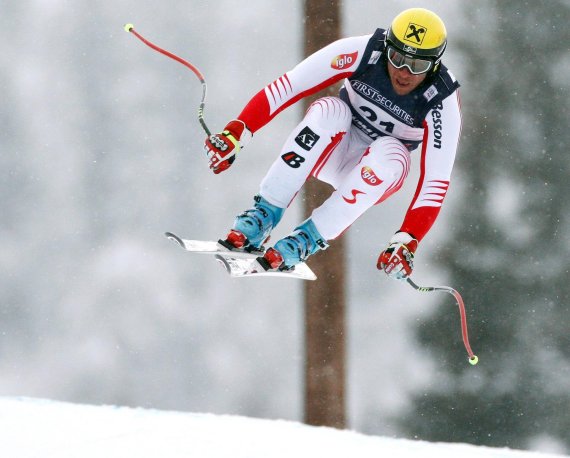 "And that is, after all, the fundamental idea behind our ISPO trophy: not only rewarding athletic performance but also social engagement. The Herminator is a great guy. And he's a role model to anyone who has suffered setbacks. He shows them that they too can make a comeback."
Read more here: Award presenter Gerd Rubenbauer's interview about Hermann Maier
Dittrich recalled "the great races and terrible falls, the many medals and dire pain" – and especially "how he never gave up after his horrific motorcycle accident." And all that in spite of suffering a serious break in his lower leg from the accident in 2001 that even threatened him with amputation.
Hermann Maier – "Strength and the courage to face life head on"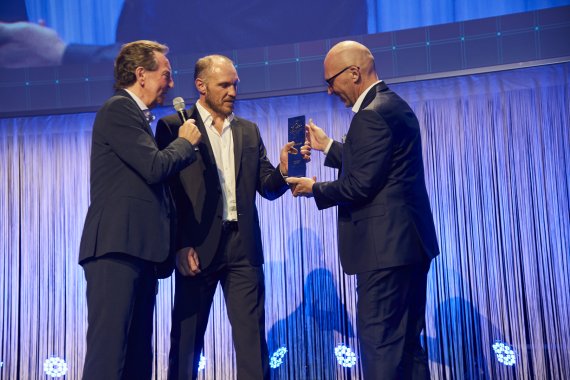 Yet Maier made a kind of comeback after a two-year break from the World Cup, one that particularly impressed Klaus Dittrich: He won his first post-comeback race in 2003 and even won gold at the 2005 World Championship in Bormio in giant slalom.

After this kind of turning point in a person's career to simply say, "'Hey, I'll give it another shot. I'll get back to the top.' That's admirable to me," said the trade fair boss. "This courage to face life head on, this strength – that is extraordinary and remarkable." He said all this and awarded the Herminator the ISPO trophy.

The illustrious audience of around 350 people, including CEOs of major companies in the sports business and sports legends like surfer Robby Naish, extreme mountain climber Stefan Glowacz and ultra-runner Florian Neuschwander, filled the room with their applause.
Read here: Klaus Dittrich takes stock of ISPO MUNICH 2017 so far

Hermann Maier is proud
"I'm proud to now stand alongside such amazing athletes who have won this award before me," said Hermann Maier. "Everyone who has won is truly excellent."  

He cannot recall receiving any awards like this since ending his career in 2009. "I'm all the more pleased to be able to enjoy this moment," said Maier.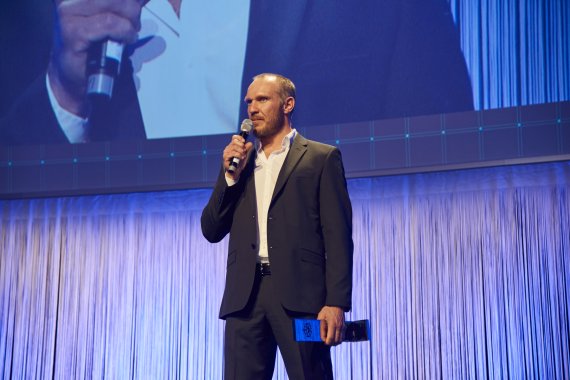 He was particularly happy to be honored for his strength of character and his courage to face life head on: "I've personally always looked up to those who fight their way back," said the Herminator. "And I admire those who have succeeded in getting up again after facing setbacks in their personal lives as well."
Award presenter Gerd Rubenbauer jokes about Maier
Bayerischer Rundfunk reporting legend Gerd Rubenbauer gave a speech honoring Hermann Maier. "Hermann here is a legendary figure in the skiing world," Rubenbauer had said previously in an interview with ISPO.com: "Nothing's been given to him."
During his speech, Rubenbauer joked about Maier: "I was there with him from the first second to the last. 13 years with Hermann Maier is like 200 years of marriage." This friendly quip generated amusement from the audience.
Maier enjoyed his evening at the ICM as well as the awards ceremony and celebration in his honor. He otherwise tends to make himself scarce, hardly ever appearing at public events. "Even before, I was never one to be constantly on display," said the man from Flachau. "But I feel right at home here among all of these athletes and sports companies."