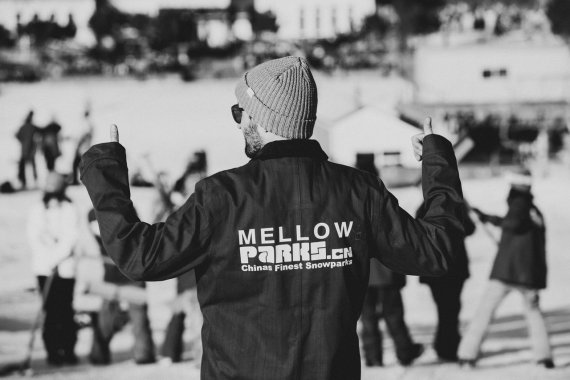 Mellow Parks has developed from a three-man company to the market leader for terrain parks in China. Approximately 30 people are employed under the leadership of CEO Steve Zdarsky and his partner Marco Huang.
Austrian-born Zdarsky has almost 20 years of experience in China in the bank and has been given the nickname "Godfather of Chinese snowboarding" by members of the snowboarding community.
You can gain even more unique insights into China's sports business at ISPO SHANGHAI – inform yourself here! >>>
During his home leave in Graz (Austria), ISPO.com spoke with the China veteran about the beginnings of Mellow Parks, why many western companies still find China a challenging market, and why energy drinks are essential for snowboarders.
ISPO.com: When we first met in China, you were introduced with the name: "Godfather of Chinese snowboarding." How did that come about?
Steve Zdarsky: Oh, God. Just to make this clear, I didn't come up with that name. That is actually what people call me in China. At the beginning, I thought it was a bit stupid, but now I think it's quite a cool name to have. Ultimately, in this sense we are no different from our competitors. We need to promote ourselves and our company – so in a way it is not the worst name to have. We were unique on the market for the first ten years, however our commitment to the Olympics five years ago has helped us progress. 
An Austrian heading his own company in China – that's quite unusual. How did your success story in China begin?
Back then, I didn't come to China to go snowboarding. I studied sinology and economics in Vienna 18 years ago. A scholarship took me to China, and in the six weeks of my winter vacation, I contacted every ski resort asking for a job as a snowboarding instructor.
18 years ago...there can't have been many resorts to contact back then.
That's very true. I was accepted by Yabuli and spent my winter working there. That's also where I met someone from near Beijing who ran a ski resort. He offered to pay my tuition fees for another year if I worked for him over the winter. So that is how it all began. I was the first to open a snowboarding school and park in China, as well as to host the first snowboarding event. And so I somehow ended up at Mellow, which at the time was run by the Austrian Thomas Marsh and started out with parks at the Kitzsteinhorn mountain in Austria, among others. At the beginning, I also worked for Quicksilver and Nike Snowboarding and before you know it, 15 years have gone by. Thomas has now left the company and I manage it with my partner Marco Huang.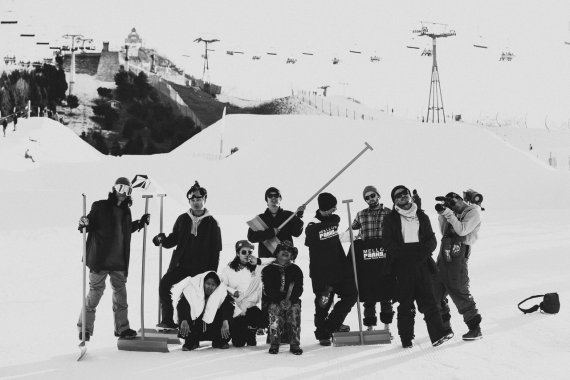 What made you decide to dedicate yourself solely to Mellow Parks?
That decision wasn't 100% voluntary. In November 2012, Nike informed us that they would be withdrawing completely from the snowboarding business and as our sponsor, which meant that four years' work just disappeared overnight. From then on, we decided that we didn't want to work for one brand anymore, but with everyone and represent snowboarding in a way that suited us. The company has now grown to include four terrain parks.
However, Mellow Parks no longer limits itself to terrain parks. What else does your company do?
The parks and event organization aside, we are now in our tenth year of producing snowboarding movies. In 2016, we hosted 22 event stops across China, with more than 1,000 guests at the premiere in Beijing.
What do you hope to achieve through these movies?
When I started snowboarding all those years ago, I owned two video tapes that I would watch and re-watch until they broke. Back then, that was the only way to find out more about snowboarding. These didn't even exist in China ten years ago, so we started producing them. Of course everything has changed with the internet and YouTube, so our tenth movie will also be our last. Also, kids these days have a maximum attention span of five minutes, so it isn't worth producing a whole movie anymore. Now we are focusing on shorter webisodes, with footage shot predominantly by our park shapers and our snowboarders. Marco and I only really act as supervisors.
The youth of China: How well do China's snowboarders do at events?
It is important to differentiate here. There are kids who were take out of gymnastics schools and are now professional snowboarders on the national team. And then there are kids who just enjoy it and want to be as good at snowboarding as they can. The girls in the national team are particularly strong performers in the halfpipe at FIS events; unfortunately, it's a completely different story with the boys. The slope-style discipline doesn't demonstrate such a strong division. That means that the athletes can snowboard for the national team and train independently, and still enjoy the support of their association. I am amazed by what the kids get up to these days. Ten years ago, a neat 5er would have won you the event; nowadays, it gets you last place. It's simply a completely different level.
What is Mellow Parks' target audience in China?
For us, it's definitely all about popular sports, about enjoying snowboarding as a sport. Everyone should be able to join in. We only host hardcore competitions once a year, at the Nanshan Open. The top snowboarders are invited to such events.
How much time and effort does it take to organize such a slope-style event?
If the event is set for January, we start preparing at the latest in September. Actually, we often get in touch with sponsors and start designing the course even earlier than that. In September, invitations are sent out to the judges, snowboarders are selected, and so on. The entire event needs to be planned by November. Another reason the process takes so long is that we not only want to offer our snowboarders a two-day event, but also an all-inclusive package. It has to be worth their while to come to China – and ten years ago, that was the key to success. Great Wall of China, Tiananmenn Square, party in Beijing or an extra day of training – all of these were very well received.
Mellow Parks not only plans the courses and sites but also maintains them. How difficult was and is it to find suitable shaper staff in China?
We started out with just Thomas Marsh, who came over twice a year to present his ideas to us and implement them, and Marco and I worked as shapers. After while, a few snowboarders joined in and we now have a team of almost 30.
What was the biggest problem for you when Mellow Parks was starting out in China?
Money, money, money. The ski resorts don't want to pay for you to build a park. Sponsors are at first reluctant to pay for your branding. It's always the same, although the situation has improved in the last few years, given that snowboarding is in decline in Europe and people are starting to look to China.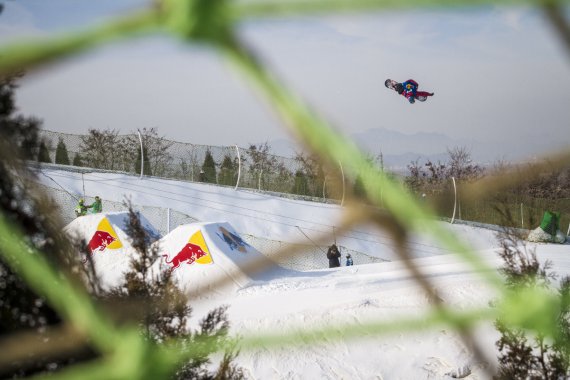 How did you manage in the initial phase?
We organized ourselves and our work so that we could get by and were paid for snowboarding. You don't really give a damn when you're young. You just want to have fun and get as much snowboarding under your belt as possible. And then Nike and Red Bull started investing a lot of money in China as sponsors of the snowboarding industry. For example: As Nike's snowboarding logo was orange, they came up with the idea of coloring the entire mountain orange when the next event came around.
How difficult is it to acquire sponsors at the moment?
It has never been easy to find sponsors for the snowboarding industry. We tend to work more often with distributors – and they want to make money instead of spending it. So we have to look around for sponsors in sectors that aren't necessarily linked to snowboarding. Let's be honest: Red Bull is not the healthiest beverage, but the whole action sports scene revolves around energy drinks. These companies provide the necessary funds and commitment. For example, Burton has withdrawn from ISPO MUNICH because the brand needs to save the money. How is that supposed to help core businesses spend money on events?
You already mentioned the difficulties snowboarding is facing in Europe. Are we being dazzled by the current boost in business, or is snowboarding really more popular than skiing in China?
Let me put it this way: More often than not, people who buy their own winter sports equipment will be snowboarders. Weekend warriors who want to give winter sports a go at the weekend tend to choose skiing. However, snowboarding is seen as the cooler sport in China.
You can gain even more unique insights into China's sports business at ISPO SHANGHAI – inform yourself here! >>>
Winter sports in China have increased in popularity immensely since the 2022 Olympics were announced. Would you say that events such as the Ski Resort Tour taking place after ISPO BEIJING help to attract more western companies to China?
I have lived in China for a long time now and am seen as more of a Chinese citizen than an Austrian, and there is one thing I have noticed time and again, something which remains a big problem: Westerners often see themselves as intellectually superior to the Chinese. The cliché of "China can only copy others" lives on, but of course the Chinese are going to look to the West for inspiration – after all, they are not going to invent the snowboard all over again. There is little understanding when it comes to the culture and language and decisions are often made by the wrong people. That is why I truly believe that projects such as the ISPO tour help to get rid of such prejudices.