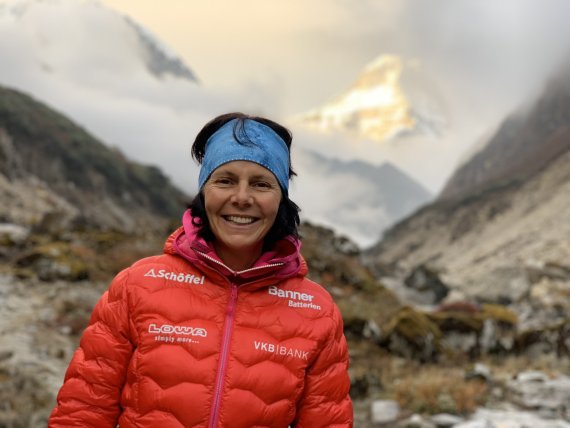 Gerlinde Kaltenbrunner climbed all 14 eight-thousanders without additional oxygen and without high altitude porters. She is one of the most successful high altitude climbers in the world and was awarded the ISPO trophy in 2016. After her divorce from Ralf Dujmovits in 2015 - with whom she partly lived in Germany - the native Upper Austrian went back to her homeland and lives at the tranquil Attersee. In addition to the mountains and nature, a vegan diet, meditation and yoga play a major role in her life - but she doesn't attach any importance to records.
The extreme mountaineer Gerlinde Kaltenbrunner turns 50 on 13 December. A good opportunity to take a look back at the past years. A conversation about gratitude and joy, deep silence on mighty peaks as well as patience and self-reflection.
ISPO.com: If you look back over the last decades, what are some of your personal highlights and what would you have done differently with today's knowledge?
Gerlinde Kaltenbrunner: The first thing that comes to mind is K2 from the north side. To be able to take the last steps to the highest point of this mighty, beautiful mountain, to feel the sudden, deep silence inside me, the feeling of being at one with everything, is certainly one of my absolute highlights, and I am very grateful for that. The only thing is, that I would start with meditation and yoga at a very young age in my next life.
You have written mountain history - were there also times when you doubted your profession as a professional mountaineer?
No, I never doubted it. However, when I spent the night in a high camp tent again (on Broad Peak) for the first time after the avalanche accident on Dhaulagiri, I left the tent countless times at night to check if we had put it up in a really safe place. I developed a real control compulsion and could not sleep. Back then I had to make a clear decision the next morning. Either I pack up my things and stop high altitude mountaineering or I consciously decide to trust in life again and to make the best possible decisions. I decided to do the second.
You celebrate your 50th birthday on 13 December - joy or melancholy - which will prevail?
Joy and great gratitude for my life so far, with all its ups and downs. Grateful for all the experiences and adventures and the many, wonderful encounters with the most diverse people in the most diverse countries.
Which dream would you like to fulfil in the near future?
A big dream of mine is to realise a day care centre for children and young adults with disabilities in Nepal together with my partner Manfred and Nepalhilfe Beilngries. We have already started with it. And after 11 years I would love to go to Pakistan next summer for an expedition on a beautiful 7000 m peak.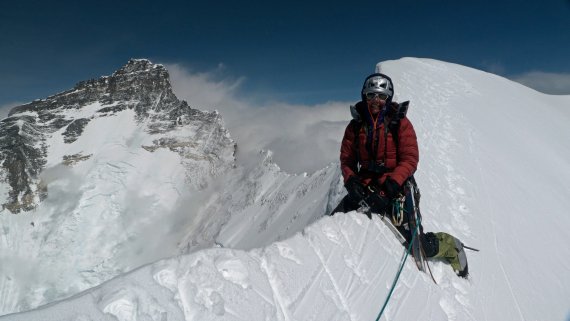 Higher, further, faster - life as a professional mountaineer has changed a lot in recent years. What is your advice to young women who want to follow in their footsteps?
My recommendation to all young people is to feel inwardly to see where their true abilities lie and whether they really want to follow this path from the bottom of their hearts. Enthusiasm and devotion, willpower, discipline, patience and self-reflection are very good prerequisites for achieving one's set goals - no matter in which area. Listening to one's own intuition and the "healthy return" should always have the highest priority.
The Upper Austrian grew up in Spital am Pyhrn, where the parish priest took her on numerous mountain tours on Sunday after mass. The mountain passion of the pastor Dr. Tischler was transferred to the young Gerlinde Kaltenbrunner and marked the entrance into the vertical world. The love of climbing also goes back to this time. During his training as a nurse in Vienna, Kaltenbrunner used every spare minute to go mountaineering and climbing. At the age of 23, she fulfilled her biggest dream to date by climbing the Broad Peak pre-summit (8,027 m) in Pakistan.
The desire to climb more high mountains was kindled and she put her nurse's salary into expeditions. After the ascent of Nanga Parbat in 2003, which was her fifth peak above 8,000 meters, she made a decision. The decision to become a professional climber. With the ascent of the 8,611-meter-high K2, the second highest mountain on earth (August 23, 2011), she is the third woman to have climbed all 14 eight-thousanders - and she is the first woman to succeed without additional oxygen.
However, the Upper Austrian was never interested in breaking records - but in a harmonious cooperation - with people and with nature. An attentive, respectful and loving interaction with nature and all beings are the cornerstones of her life. In lectures and seminars she passes on her experiences and wants to inspire.